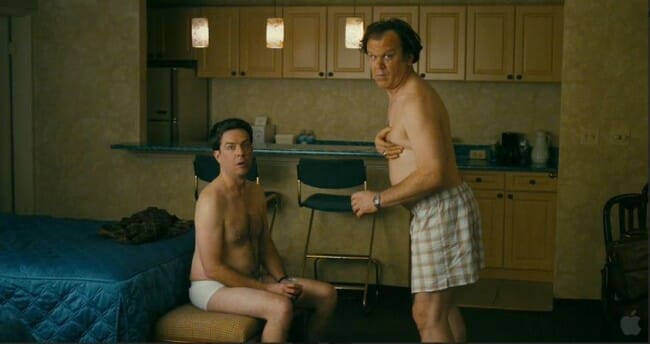 Director: Miguel Arteta
Writer: Phil Johnston
Cinematographer: Chuy Chávez
Starring: Ed Helms, John C. Reilly, Anne Heche, Isiah Whitlock Jr., Sigourney Weaver
Studio/Running Time: Fox Searchlight Pictures, 86 min.
This could have been another one of those average, hit-and-run comedies that invade theaters for a few weekends before retiring to Netflix. It has all the trappings: a popular TV actor (Ed Helms) from a hit comedy series (The Office) in his first starring role, and it co-stars that comic constant, John C. Reilly. But thanks to a surprisingly touching, while also hilarious performance by Helms and a savvy script from newcomer Phil Johnston, Cedar Rapids is a refreshing change from the norm.
Tim Lippe (Helms) must attend an insurance convention in Cedar Rapids as his company's representative. Having never left his white-bread hometown, it becomes apparent that Tim has led a very sheltered life. Every new experience—meeting the hotel's resident hooker, rooming with a black man, having an alcoholic beverage— becomes a moment of exploration. However, instead of grossly exaggerating life's discoveries into utter slapstick as seen in films like Steve Martin's The Jerk, Helms' stays within the naïveté of his character in a sometimes endearing portrayal.
Instructed by his boss, Tim is to earn the Two Diamonds Award for his company, and is to keep away from bad influences like Dean Ziegler (Reilly) who is also sharing the room with Tim and Ronald (Isiah Whitlock Jr). Whitlock steals the scene at a house party when he goes "gangsta".
The advice from Tim's boss seems sound when Dean gets him drunk and fellow conventioneer Joan (Anne Heche) seduces him. But Tim soon becomes enlightened by his newfound friends, and some marijuana, and begins to doubt the intentions of his employer.
Everything Tim does—performing in the talent show, navigating a climbing wall, having sex—is done with such blatant honesty. When he wakes up in Joan's room he's devastated because he feels he has betrayed the woman back home (Sigourney Weaver) that he has sex with once a week and believes to be "pre-engaged" to. He immediately calls her to confess, sobbing, only to find she never considered their relationship a serious one anyway.
Director Miguel Arteta gives light, deft strokes to the film. Simple scenes—the small town airport, the hotel with its indoor pool, the hotel bar—are perfectly shot and help illustrate a homogenized middle America.
In its framework, the script isn't that original. But the meat of the script is fresh, and the one-liners are usually gems with Reilly getting the best of them. Johnston and Arteta allow their characters to be, if not totally real, at least a lot less comically stereotypical. In Cedar Rapids, less is more, and a whole lot funnier.