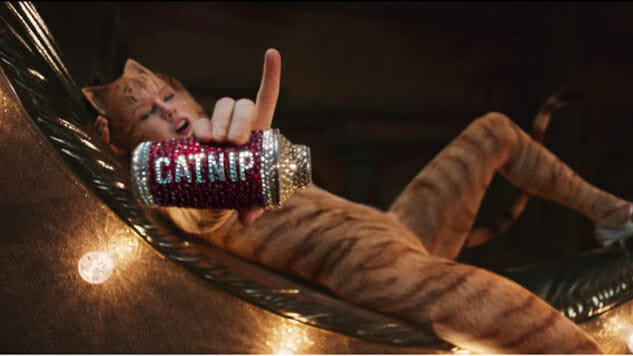 Just when it seems like there are no more uplifting stories left in the world, comes the news we've all been waiting for: confirmation of the existence of the "butthole cut" of Cats.
What's that? Haven't heard all about the BUTTHOLE CUT? Well, the colorfully named alternate version of Cats was claimed to have existed before intensive visual editing was called in late in the game to remove a plethora of digital buttholes from the film's cast. At the time, one of the main questions was obviously "Why were there buttholes in the first place?" Now, according to a visual effects editor on the film who spoke to The Daily Beast, we know the answer: They were inadvertent buttholes, but quite widespread through the film, only being discovered when the movie was half complete. Suffice to say, it was something of a surprise for everyone involved:
"When we were looking at the playbacks, we were like, 'What the hell? You guys see that?!'" the anonymous source told Daily Beast. "We paused it. We went to call our supervisor, and we're like, 'There's a fucking asshole in there! There's buttholes!' It wasn't prominent but you saw it … And you [were] just like, 'What the hell is that? … There's a fucking butthole in there.' It wasn't in your face—but at the same time, too, if you're looking, you'll see it."
Apparently, it was less "intentional buttholes" and more the unmistakable illusion of buttholes that was so vexing for the VFX artists, seemingly an inadvertent result of the much-touted "digital fur technology" that was so widely reported about during the film's development. As a result, one hapless crew member was hired specifically to fix the film's glaring butthole problem. Imagine, for a moment, dedicating a few months of your life to that particular task.
Perhaps even more significant in this story than all the butthole talk, though, is what the VFX artist also had to say about working with director Tom Hooper, who he accused of deeply lacking the knowledge necessary to make a feature involving huge amounts of digital animation work. At various points he calls Hooper "disrespectful," "demeaning" and "condescending," ultimately adding that "he talks to you like you're garbage," saying his crews were working 90-hour weeks for months at a time in the mad rush to finish Cats. And yes, some of that time was spent on removing buttholes.
"It was pure, almost slavery for us, how much work we put into it with no time, and everything was difficult," the source said to Daily Beast. "We were so rushed on the project that we'd have no time for anything. So when people say, 'Oh, the effects were not good,' or 'The animation's not good,' or anything, that's not our fault. We have no time."
At press time, Hooper and Universal hadn't yet responded to requests for comment from Daily Beast and Vanity Fair.