Brie Larson Swaggers Her Way Through New Captain Marvel Special Look
Images via Marvel Entertainment/YouTube
Movies
News
Captain Marvel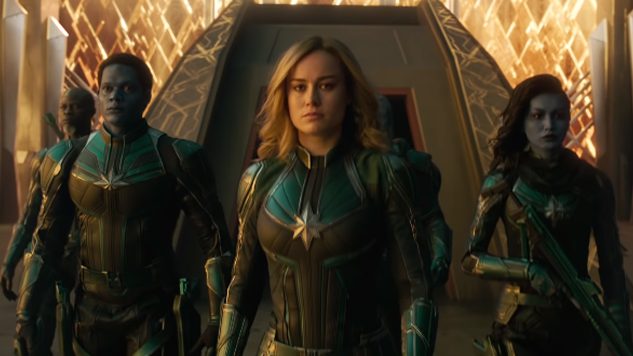 On Jan. 7, just three months ahead of Captain Marvel's release on March 8 of this year, Marvel released a special look at Brie Larson's debut as Carol Danvers.
The first two trailers have given us a nice peek into her story, from Captain Marvel's forgotten past to the film's '90s setting. This special look builds on the lost memories theme, as Danvers' mentor Mar-Vell (Jude Law, looking too much like James McAvoy) commands her to "let go of the past."
"I don't remember my past," replies Captain Marvel.
The clip mainly delivers on the idea of Danvers as a new hope, and on the quintessential Marvel quips. One of the only references to the film's retro era comes from Nick Fury (Samuel L. Jackson) telling Captain Marvel that "grunge is a good look for you." Danvers gets in her own jabs, as well, reminding Fury that a cap with the S.H.I.E.L.D. logo is hardly covert. It's Larson at her most likable, and it's clear that she's having fun as the Kree soldier-turned-superhero. Captain Marvel rocks her way into her scenes, casually releasing photon blasts and committing elder abuse (not really, it's a Skrull shapeshifter). This is the most insight we've gotten into Danvers' personality and so far, her standard screw-up persona is showing signs of life.
You can get tickets now from Fandango. Watch the Captain Marvel special look below and catch up on everything we know about the movie here.