Penelope Cruz and Javier Bardem to Open Cannes 2018 With Asghar Farhadi's Everybody Knows
Photos by Vittorio Zunino Celotto/Getty
Movies
News
Cannes Film Festival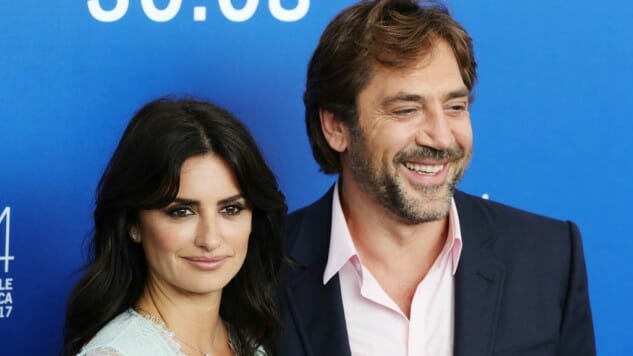 Finally, the announcement has come: The 2018 Cannes Film Festival will see Oscar-winning couple and Cannes regulars Penelope Cruz and Javier Bardem grace the red carpet on opening night with their film Everybody Knows. The drama/thriller from Oscar-winning director Asghar Farhadi marks the second-ever Spanish-language film to open the festival. The first was Pedro Almodóvar's Bad Education in 2004.
According to Variety, Everybody Knows "follows the journey of Laura (played by Cruz), who travels with her family from Buenos Aires to her native village in Spain for a celebration. The family reunion gets disrupted by events that change the course of the characters' lives."
Farhadi previously directed two in-competition films at Cannes, 2016's The Salesman, which went on to win the Academy Award for Best Foreign Language Film, and 2013's The Past, which earned Oscar nominee Berenice Bejo the Best Actress prize at the festival. Cruz previously won the Best Actress prize at Cannes for her 2006 film Volver, which also earned her an Academy Award nomination. She then went on to win the Academy Award for Best Supporting Actress for Woody Allen's 2008 film Vicky Cristina Barcelona, in which she costarred with Bardem. Bardem won his Academy Award for his supporting performance in 2007's No Country for Old Men.
Cannes has always been a place to inspire artistic dialogue and conversation between artists around the world. Last year, Farhadi described the festival to Variety as "a place where people enthusiastically dialogue with each other about cinema and share memorable moments." Cannes artistic director Thierry Fremaux has aimed to bring together critically acclaimed auteurs with stellar casts to lead the festival. In recent years, opening night films have included Cafe Society, Mad Max: Fury Road and Grace of Monaco, to name a few.
Earlier this year, it was announced that two-time Academy Award-winning actress Cate Blanchett would preside over this year's Jury for the 71st annual film festival. Cannes runs from May 8-19 and it serves as a major hub for some of the largest film business deals to take place. North American distribution rights are still available for Everybody Knows.
The full selection of films to compete will be revealed soon, according to an Instagram post issued today by the official account of the international festival. Be sure to check back for the full list soon.