Netflix Pulls All Films From Cannes 2018 Amid New Ban
"The festival has chosen to celebrate distribution rather than the art of cinema"
Photos by Francois Durand/Getty, Ian Gavan/Getty
Movies
News
Cannes Film Festival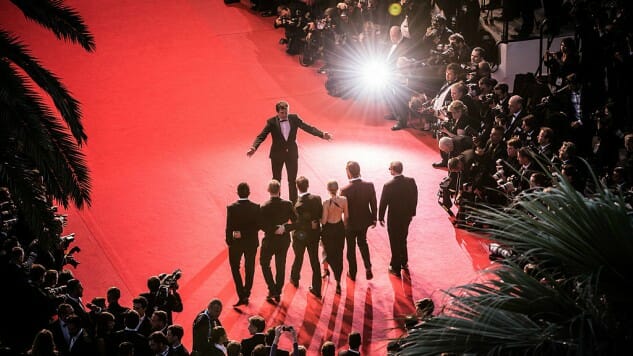 Looks like Netflix will not grace the elegant and flashy Cannes red carpet with a premiere this year. Recently, a new rule implemented banned any film without a France theatrical release to be in competition and therefore vie for the coveted Palme d'Ore. In an interview with Variety, Netflix's chief content officer Ted Sarandos says their message is quite clear by pulling all films from screening at the 71st film festival.
"We want our films to be on fair ground with every other filmmaker," Sarandos says. "There's a risk in us going in this way and having our films and filmmakers treated disrespectfully at the festival. They've set the tone. I don't think it would be good for us to be there."
The ban would still allow Netflix films to appear at the festival but Sarandos feels that serves no purpose for his filmmakers and films. "I don't think there would be any reason to go out of competition," he said. "The rule was implicitly about Netflix, and [Cannes artistic director Thierry Fremaux] made it explicitly about Netflix when he announced the rule."
When asked whether the decision to screen zero films was Netflix's, Sarandos responded, "Well, it was not our decision to make." He continued by explaining, "Under those rules, we could not release our films day-and-date to the world like we've released nearly 100 films over the last couples of years. And if we did that, we'd have to hold back that film from French subscribers for three years under French law." The term "day-and-date" refers to when a film is released in the theater, VOD, and DVD all on the same day. In the case of Netflix films, that's practically all of them, including the Oscar-nominated Mudbound and Angelina Jolie's First They Killed My Father.
It's an interesting paradox, Sarandos believes: "Film festivals are to help films get discovered so they can get distribution." This was the initial reasoning many film festivals began in the first place, but Sarandos also says in the interview, "It's just that the festival has chosen to celebrate distribution rather than the art of cinema. We are 100 percent about the art of cinema. And by the way, every other festival in the world is too." This little paradox brings up the question: can film festivals celebrate both? It's a tough decision but it seems they can, since last year Netflix had two films in competition.
Netflix made a fairly large impression in 2017, with two in-competition films screening: Bong Joon-ho's Okja and Noah Baumbach's The Meyerowitz Stories. Both of those films were day-and-date releases. Since the controversy began at the 2017 festival, French theater owners and unions have protested the inclusion of Netflix films to Fremaux, who is not the one solely responsible for this ban—rather, it's his entire board, made up of many exhibitors.
Sarandos remains positive, though, with the hope of the ban being lifted: "I do have faith that Thierry shares my love for cinema and would be a champion of changing that when he realizes how punitive this rule is to filmmakers and film lovers."
Some of the Netflix films that were eyeing Cannes included Alfonso Cuarón's Mexican drama Roma, Paul Greengrass' biographical drama Norway, Orson Welles' long-lost The Other Side of the Wind, Morgan Neville's Welles documentary They'll Love Me When I'm Dead and Jeremy Saulnier's Hold the Dark, starring Alexander Skarsgard and Riley Keough, according to IndieWire.
Officially, we do know that Ashgar Farhadi's Spanish drama Everybody Knows, starring Penelope Cruz and Javier Bardem, will open the festival and the Star Wars spinoff Solo will also premiere there.