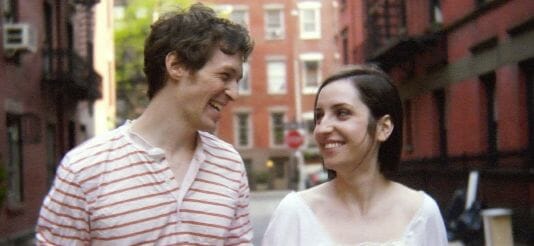 Release Date: Out Now
Director: Daryl Wein
Writers: Wein, Zoe Lister-Jones
Starring: Wein, Lister-Jones, Julie White, Andrea Martin
Studio/Run Time: Mister Lister, 88 min.
Longest. Break-up. Ever.
The first 40 seconds of Breaking Upwards are the film's most tortuous. Daryl (Daryl Wein) lays horizontally over Zoe (Zoe Lister-Jones), and can barely muster the energy for coital thrusts. Zoe, sighing, tells him to go ahead and come: "Really, it's fine." Based on the true story of the co-stars' relationship, this SXSW selection follows the twenty-something New Yorkers as they ease out of their shared yoga classes and into a break-up by "taking days off" from one another. An original conceit, but the rest of the film trudges through the familiar break-up playbook: Zoe often calls Daryl in tears, Daryl wants to know where Zoe is, and lingering glances toward strangers indicate inevitable hook-ups. The entirety of Breaking Upwards is nearly as joyless and dull as the first 40 seconds, and as it drags on, the film seems unable to do what Zoe wanted from the start—finish, already.