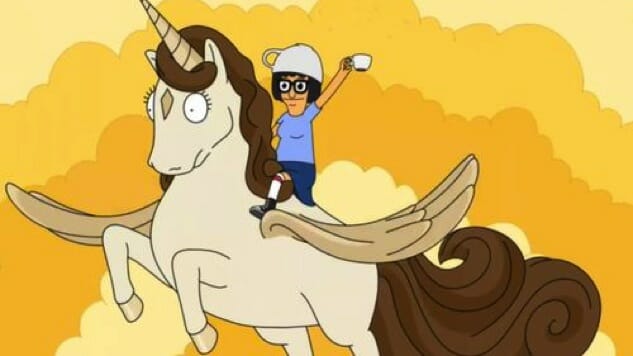 Exciting news comes to us today, for all the rabid fans of the Belcher family in the audience—Bob's Burgers is getting a movie in 2020. According to Deadline, who broke the story, the Emmy-winning FOX comedy series will come to the big screen via 20th Century Fox, with a prospective July 17, 2020 release date.
Bob's Burgers just collected its second Emmy for Outstanding Animated Series, and began its eighth season on FOX only days ago, on Oct. 1. The show has been a critical and popular darling ever since its 2011 debut, cited for its signature musical numbers, well-developed characters and instantly iconic, heartwarming family dynamic.
"We're thrilled to be invited to bring Bob's Burgers to the big screen," show creator Loren Bouchard said to Deadline. "We know the movie has to scratch every itch the fans of the show have ever had, but it also has to work for all the good people who've never seen the show. We also know it has to fill every inch of the screen with the colors and the sounds and the ever so slightly greasy texture of the world of Bob's – but most of all it has to take our characters on an epic adventure. In other words, it has to be the best movie ever made. But no pressure, right?!"
If you've somehow never caught an episode, Bob's Burgers follows the triumphs and travails of the Belcher family, who live a colorful life as the oft-struggling proprietors of a wharfside, titular burger restaurant. Bob Belcher (H. Jon Benjamin) must balance the stresses of operating a challenging business with the unique condition of his family life and unusual wife Linda (John Roberts), plus three kids: neurotic Tina (Dan Mintz), raunchy Gene (Eugene Mirman) and frighteningly mature Louise (Kristen Schaal). Other characters include restaurant regulars such as the dim-witted but popular Teddy (Larry), who consumes burgers on a nearly daily basis.
"A Bob's Burgers film fits perfectly with our initiative to redouble our family and animation efforts," said Twentieth Century Fox Film chairman and CEO Stacey Snider to Deadline. "We're grateful to [Fox Television Group chairmen Gary Newman and Dana Walden] for trusting us with this beloved property and we're so excited to be working with Loren and his team."
We can't help but wonder what kind of adventure Bob's Burgers will present us with in a feature-length format. Who will have the A-plot? Will Louise take over the world? Will Teddy find love? Will Bob actually make the restaurant into something of a success? And by god—what kind of crazy, big-budget musical numbers is this film going to yield? The possibilities are as mouth-watering as Bob's "Baby You Can Chive My Car" burger. We'll just have to be patient until more details begin to leak out.
In the meantime, check out some of our Bob's Burgers lists, such as the show's best puns, or its best musical numbers.