A Young Black Panther Fan Wrote Chadwick Boseman a Letter Entirely in Wakandan
Photo by Gareth Cattermole/Getty
Movies
News
Black Panther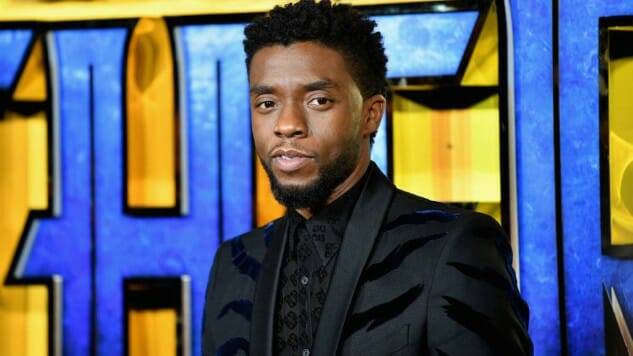 When facing a UN assembly, T'Challa, aka the Black Panther, said, "In times of crisis, the wise build bridges while the foolish build barriers."
One fan has taken these words to heart by writing Chadwick Boseman, who played the now-iconic Marvel character, in his native tongue—Wakandan.
The young fan, Ben, sent the Black Panther star a photo of himself holding a piece of paper with a message written in Wakandan.
The hieroglyphics-esque writing, according to fans in the comments, translates to, "Dear Black Panther, my name is Ben. I am your biggest fan. Could you please write back?"
Boseman did more than just writing back and shared the sweet message on Instagram, along with a caption answering the touching letter.
"How cool is it that Hannah Beachler created an incredible alphabet for #BlackPanther and now I'm getting fanmail like this?" Boseman, who most recently appeared as T'Challa in Avengers: Endgame and is set to reprise his role in the highly anticipated Black Panther sequel, wrote. "Thanks for letting me know you're my biggest fan, Ben. You're awesome and your letter means a lot to me."
The king of Wakanda is probably flooded with fan mail, but it seems like Ben figured out how to stand out by dropping the English and studying up on Wakandan, and the result was absolutely adorable.
Beachler, a production designer-turned-amateur African linguist, nabbed an Academy Award for Best Production Design for Black Panther, and was the brains behind Wakanda's spoken and written language.
While Wakanda's spoken tongue is rooted in the South African language of Xhosa, known for its clicking sounds and spoken by more than seven million people today, the two written languages of Black Panther find their origins in the ancient Nigerian pictographical language of Nsibidi, which dates back into the 4th century. In an interview with Indiewire, Beachler also cited Chinese, Arabic, and the African languages of Dogon and Murci as inspiration.
Instagram commenters mentioned the symbols had a striking resemblance to the North African language Tifinagh.
So on that note, we'll leave you with a phrase that we're sure Ben and Boseman would approve of: Wakanda Forever.