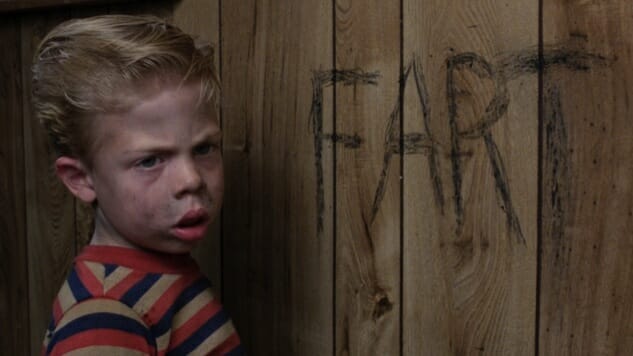 Of all Paste's curated Best 100 lists, the top comedies of all time has probably been the toughest to put together. It's not because there's any shortage of great comedies out there—as a category, the film comedy has existed from pretty much the beginning. But while all lists, no matter how objective a scale one tries to apply, have some degree of subjectivity to them, few things are as subjective as humor. For some, slapstick and farce hit the spot while more cerebral fare falls flat. For others, deft character studies that find the humor in our all-too-human foibles are the only comedies worth watching. In considering the top comedies ever made, there are as many flavors of culturally specific comedy as there are cultural sensibilities (and, of course, there are plenty of folks capable of enjoying more than one type). Faced with this challenge, we've decided to approach this particular list in a manner that seeks to guarantee laughter and amusement for the people most likely to look to it when seeking something that will bring some joy to the daily grind. These films have been chosen (and ranked) based on how many laughs we think they are likely to generate for the modern audience. That, in turn, means a couple of things for what might otherwise be the usual suspects on a Best Comedies list.
So, what's the criteria for our list of best comedy movies of all time? First, it means some great films that are also comedies may appear lower on the list than they would if we were weighing technical execution of those non-comic elements equally with humor present. In some cases, that may mean just a spot or two lower on the list. More often, it'll mean a more precipitous drop. Second, there are some films—and some comedic actors—whose importance to the development of the genre is unquestioned even as their appeal to modern audiences has waned due to changing times and tastes. Or perhaps, as with Laurel and Hardy and the Three Stooges, the type of humor they pioneered has been adopted and developed in iterations that have the end result of bumping them down or off the list. Finally, and related to the previous point, since this list does not weigh factors such as "cultural impact" or "pioneering importance" as heavily as it could, it inevitably skews more modern. This should not be seen as a slight (intended or unintended) against any director or movie. We appreciate those pioneers, but there are plenty of lists out there giving them their due.
Ultimately, when creating a list of the best comedies ever it's all about the laughs. Every film on this list should be a dependable source of grins, chuckles and guffaws. After all, life is hard, people can suck, misfortune may indeed lurk around every corner, and we all know how it ends. Let the films on this list of best comedies ever made—and the laughter they elicit—help balance the scales.
(Note: Because so much of the impact of foreign comedies relies on language, we've only included English language films on this list.)
Here are the 100 best (English language) comedies of all time:
100. Clerks (1994)
Director: Kevin Smith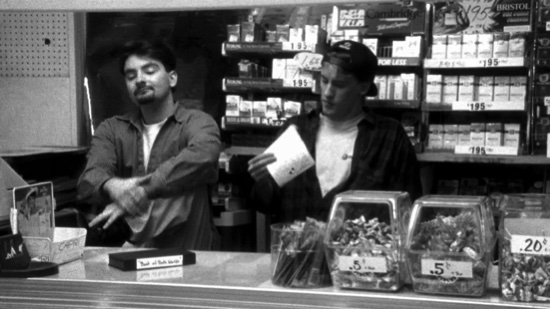 Sometimes a labor of love becomes something much bigger. When Kevin Smith spent $27,575 to film a black-and-white film about a slacker working at a Quick Stop, no one could imagine how much it would resonate. Filled with philosophical discussions on relationships, purpose and the relative innocence of construction workers on the Death Star, it established Smith as a unique voice for at least a corner of the slacker generation. Smith would return to the world of Dante, Randal, Jay and Silent Bob many times (and with modestly larger budgets), but it would never feel quite as a perfect as the original. —Josh Jackson

---
99. Waking Ned Devine (1998)
Director: Kirk Jones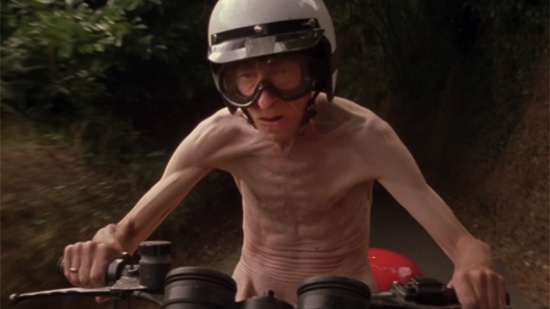 Waking Ned Devine may be the most feel-good heist flick ever made. Ned is an old-timer in a small Irish village who wins the lottery and dies from the shock of it. Two of his old-timer buddies, Jackie (Ian Bannen) and Michael (Fawlty Towers' David Kelly), decide to scam the big-city lotto agent into thinking that one of them is Ned, alive and well. What ensues is not so much a con-artist caper but more an Irish celebration of community, camaraderie and the spirit of human generosity. Other Irish themes championed: whiskey, lush landscapes, poetry, naked old dudes riding motorcycles, whiskey and the fiddle. Did we mention whiskey? —Ryan Carey
---
98. This Is the End (2013)
Directors: Evan Goldberg, Seth Rogen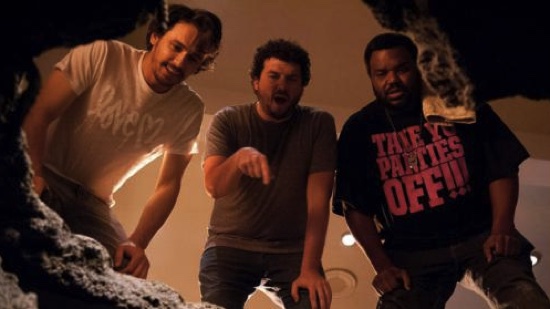 Too often, Hollywood comedies aimed at a male audience skew more towards the single-digit side of the age scale. Yet there's a pretty potent distinction between puerile and "late-juvenile" humor. The former—all fart, poop and pratfall—is the stuff that the eye rolls of girlfriends and wives is made of (not to mention a good portion of Adam Sandler and Kevin James' careers). But the latter, done right, is an equal opportunity amuser. (Oh, eyes may still roll, but they do so while laughing.) Fueled by a mercilessly self-skewering ensemble effort from its principles (Craig Robinson, Danny McBride and Jonah Hill round out the core cast), the humor of This Is the End goes turbo as soon as the End is near, providing scene after scene that is dependably funny and frequently riotous. In comedies especially, the "actors starring as themselves" approach is so often more painful than funny, especially when a brand-conscious star betrays an ego-tinged reluctance to make fun of oneself. The stars and bit players of This Is the End show no such inhibitions. (In fact, Michael Cera seems intent on presenting the worst—though still hilarious—version of himself possible.) If anything, this willingness to mock themselves makes the characters all the more endearing, especially as the initial bro-mance between principles Jay Baruchel and Seth Rogen reasserts itself amid flames, desperation and demon cocks. As over the top as many of its scenes are, it's hard not to credit the apocalypse itself for This Is the End's sustained hilarity. Though plenty of the film's scenes possess an honed improv feel much like the extemporaneous riffing of Anchorman, they are also usually more focused—in terms of plotting, there's so little time to waste when the end is nigh. —Michael Burgin
---
97. Elf (2003)
Director: Jon Favreau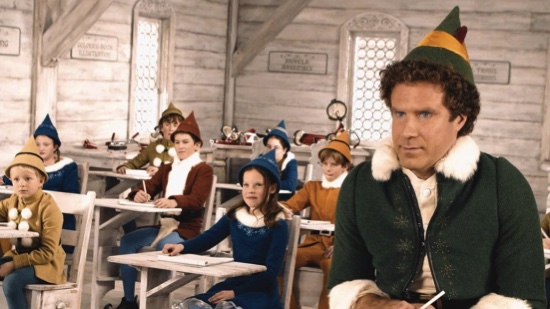 In a sense, making Christmas "funny" can be as easy as responding to something meant to be sincere and joyful with cynicism and darkness. Is there any comedic Christmas character that embodies a genuine love of Christmas? Thankfully, we have Will Ferrell's fearlessly committed performance as the titular elf to answer this question with a resounding yes. Nothing represents Christmas cheer better than Will Ferrell in yellow tights, a green parka and cone-shaped cap. He wrings a ton of comedy out of responding to everything with wide-eyed, childlike wonder. Arguably our generation's classic Christmas movie, watching Buddy the Elf makes you laugh, makes you smile and, to paraphrase from the Grinch, makes your heart grow three sizes bigger. Even if the movie devolves into a formulaic, race-against-the-clock flick in the last 30 minutes, its myriad gifts outweigh its problems. From endlessly quotable nuggets like "cotton-headed ninnymuggins"; the hysterical fruit spray scene; Zooey Deschanel showcasing her pre-She & Him singing chops; Mr. Narhwal and the arctic puppets (a band name if I ever heard one); to, finally, Ferrell's infectious enthusiasm, Elf is instant holiday merriment. —Greg Smith & Jeremy Medina
---
96. 21 Jump Street (2012)
Directors: Phil Lord, Chris Miller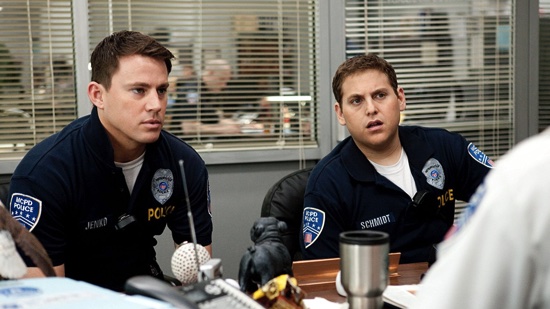 Against all odds, 21 Jump Street—a movie based on a Fox television series remembered mainly for helping launch the career of Johnny Depp and briefly reminding the world that Dom DeLuise had a son—is an immensely enjoyable, frequently hilarious film. The premise is unchanged. Two youthful-looking (and since this is a comedy, spectacularly incompetent) police officers are assigned to a special division that places undercover agents in schools in an attempt to stop illegal activity. For officers Schmidt (Jonah Hill) and Jenko (Channing Tatum), fresh out of the academy, this is not so much an opportunity as a richly deserved exile. Their mission, as delivered by a purposefully prototypical Angry Black Police Captain (Ice Cube): Contain the spread of a dangerous new drug that has shown up at a local high school. For Jenko, the return to high school represents a return to his glory days. For Schmidt, it's more of a return to the scene of a crime where the body outlined in chalk looks suspiciously like his own. Unlike so many comic remakes, reboots and long-delayed sequels, 21 Jump Street doesn't overly rely on nostalgia to generate its laughs. Hill isn't doing anything he hasn't done before, but that doesn't make his deadpan-acerbic delivery any less funny, especially alongside the earnest doofus-ness of his partner. Hill and Tatum are supported by a strong ensemble of recognizable faces, including Rob Riggle, Ellie Kemper and Chris Parnell. But though "ensemble piece" usually refers to cast and crew, 21 Jump Street is even more impressive when viewed as an ensemble of comedic approaches. There are laughs to suit all tastes—from sarcastic jibes to pratfalls, from pokes at film conventions ("I really thought that was going to explode.") to exuberant, undeniably infectious, juvenile displays. And each is conveyed in a measure appropriate to its form. As a result, there's just not much time spent watching 21 Jump Street without at least a smile on one's face. —Michael Burgin
---
95. In the Loop (2009)
Director: Armando Iannucci
If clever verbal humor were easy, we'd have more comedies like In the Loop from Veep and The Thick of It creator Armando Iannucci. But it's not, and this one stands in a class of its own. It's the most quotable film of the 2000s—by miles—and the cynical potty mouths on screen are so articulate and creative that, after the avalanche of witticisms, you're left with the lingering sense that you've seen not just a funny movie but also a wicked political satire of the highest order, the kind where the absurdity speaks for itself. —Robert Davis

---
94. Talladega Nights: The Ballad of Ricky Bobby (2006)
Director: Adam McKay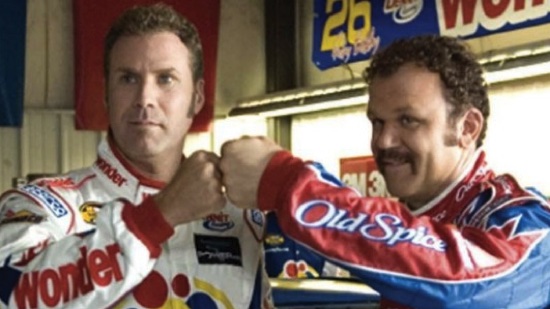 Will Ferrell and John C. Reilly go together like reconciliation and getting thrown out of Applebee's. In one of the finest films directed by Adam McKay, the duo play race-car drivers in a loving send-up of NASCAR culture. Sacha Baron Cohen is perfect as Ferrell's European foil Jean Girard, and the film is jam-packed with both sight gags (the live cougar in the race car) and brilliant dialogue (the prayer to eight-pound-six-ounce-newborn-infant Jesus). His sons Walker and Texas Ranger, the random appearance of Elvis Costello and Mos Def in Girard's back yard, and Amy Adams recreating the Whitesnake video in the bar all provide Hall of Fame moments from the Judd Apatow canon. —Josh Jackson
---
93. What's Up, Doc (1972)
Director: Peter Bogdanovich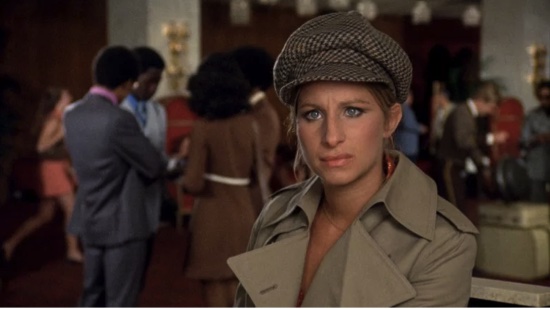 Half the pleasure of Peter Bogdanovich's What's Up, Doc? is its velocity. The other half, of course, is its treasure trove of punchlines, but those punchlines aren't merely delivered to us at rapid speed: They're enhanced by it. A slower version of this film doesn't work as well. The humor is predicated on overwhelming the audience with too much laughter, keeping us in fits of giggles without a chance to regain composure. The effect is additive, best exemplified in a scene where mischievous Judy (Barbra Streisand) accidentally orchestrates the combustion of Howard's (Ryan O'Neal) hotel room. Rube Goldberg couldn't invent a more roundabout means of setting a space on fire, much as the Coen brothers, or even Alfred Hitchcock, couldn't come up with a "mistaken identity" plot this convoluted. What's Up, Doc?'s habit of tying itself in knots is perhaps its greatest claim to fame, more so than its pronounced irreverence and fundamental bedlam. Comedies need not be straightforward. When occasion calls, they can be utterly labyrinthine. Bogdanovich effortlessly leads us through the maze, even as its many moving parts close in on each other and the story grows ever more madcap, culminating in a car chase that ends with everyone in court and Liam Dunn passed out on his desk. By the time the credits roll, you may be so out of breath that you'll join him soon after. —Andy Crump
---
92. Girls Trip (2017)
Director: Malcolm D. Lee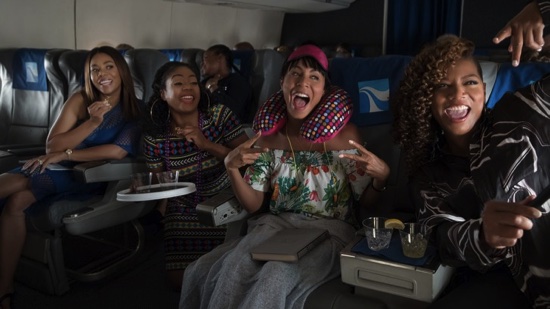 While it's great to experience movies that are powerful and groundbreaking and devastating—we all love to weep at the theater or in our homes, wiping away tears as the credits roll on movies like Call Me By Your Name—but some of the best movies can be both well-written and unapologetically fun. And I'm not sure anybody had more fun this year than those of us who experienced Girls Trip. You go in likely expecting a solid, heartwarming tale about a group of friends who reconnect on a trip to New Orleans, but you leave wondering how you'd gone your whole life without experiencing this sort of black, female-centered version of The Hangover. It's not just that Girls Trip, is so reminiscent of those raunchy, absurd (and kind of disgusting) comedies, it's that the shocking, laugh-out-loud moments are so earned and so excellently delivered that it's easy to forget there's some kind of message wrapped up in it all. That's a good thing, because it makes those final confrontations and confessions at the end of the film all the more compelling. Of course, what really made this movie one of the most beautiful and hilarious movies of the year was its cast, featuring performances from an incredible group of women with the kind of chemistry you dream of seeing on screen: Regina Hall, Tiffany Haddish, Jada Pinkett Smith and Queen Latifah all turned in phenomenal work. Haddish has been (rightfully) celebrated as the breakout star, but her comedic prowess could have been lost on a lesser script. Luckily, writers Tracy Oliver, Kenya Barris and Erica Rivinoja laid an impeccable foundation for director Malcolm D. Lee, and the result was one of the biggest blasts—among any genre—of the year. —Shannon M. Houston
---
91. The Jerk (1979)
Director: Carl Reiner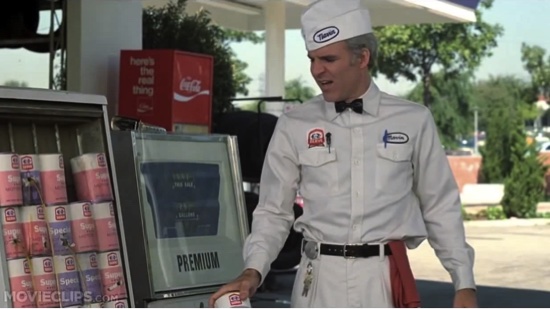 From the first couple of lines, co-writer/star Steve Martin and director Carl Reiner establish how much they're willing to sidestep any traditional narrative norm in favor of whatever joke pushes the limits of irreverence and extreme silliness. Here is the pale image of Steve Martin's face, about to invite us into a melodramatic series of flashbacks concerning his character's tragic life, and he begins the story with, "I was born a poor black child." From there, whatever episodic shenanigans that Nevan—Martin's ode to painfully self-unaware idiots everywhere—finds himself in, these plot points are used only as excuses to string together as many dumb jokes as possible. It's hard to call The Jerk a parody, since it's not necessarily lampooning a specific genre or a popular movie (Martin and Reiner left that to Dead Men Don't Wear Plaid and The Man with Two Brains), but its manic addiction to extract as many chuckles out of any random situation, pushing the boundaries of exaggeration and then pushing it some more, places its tone squarely into the Zucker, Abrams, Zucker camp, who were on their way to perfect that approach with Airplane at the time of The Jerk's release. Just look at the scene where Nevan storms out of his house, taking random belongings out of spite. It reaches an extreme point of comedic exaggeration, and then pushes it even further, finding a spot beyond mere parody. —Oktay Ege Kozak
---
90. Napoleon Dynamite (2004)
Director: Jared Hess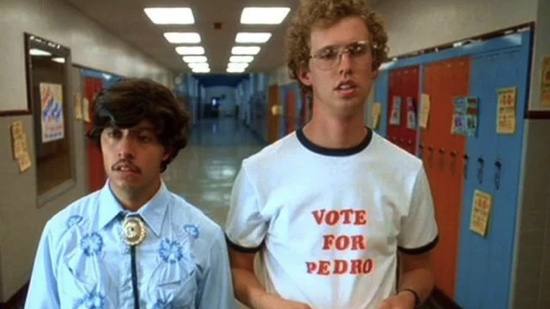 Napoleon Dynamite was never really intended to become a pop-cultural touchstone of the mid-2000s. Made for a shoestring budget of $400,000 (star Jon Heder was originally paid just $1,000 for his performance), this was just meant to be a quirky, indie awards show novelty, not a generator of countless memes and catchphrases that would persist in the high school lexicon for years to come. But as we all know, the film took on a life of its own and became a huge sleeper hit. This had the effect of making it far better known to general audiences, yes, but it simultaneously obscured a bit of the film's brilliance in terms of its critical appraisal. Because with success and overexposure, came some level of derision. Napoleon Dynamite, its title character and its quotes were thrown around as shorthand for "dumb comedy," but the truth of the film is a rather cutting satire of American unexceptionalism. Napoleon and the residents of his Idaho town are a uniquely pathetic lot, and Napoleon Dynamite is a comedy that dares to present an entire universe of ugly personalities, fragile egos and social ineptitude. The character of Uncle Rico alone, best captured in his endless, masturbatory, self-shot football videos, is someone who you might typically expect to appear in a tragedy rather than a comedy, so crushing is his characterization. Hell, the most popular kid in Napoleon's school looks like a young Jake Busey, for God's sake. The film's unusual sense of Midwestern ennui may have been lost on some audiences, but it's the element that makes Napoleon Dynamite more than just a Comedy Central weekend afternoon feature. —Jim Vorel
---
89. Kind Hearts and Coronets (1949)
Director: Robert Hamer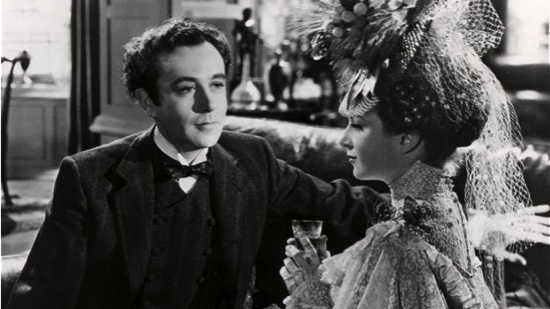 There's nothing kind about familicide, but Robert Hamer improbably takes the subject of offing one's family for revenge and personal gain and turns it into giddy black comedy bordering on the absurd. It helps that the victims of our spurned hero, Louis Mazzini (Dennis Price), are each played by Alec Guinness, wearing the guises of dukes, bishops, and suffragettes alike and posing in increasingly ridiculous scenarios, from boating mishaps to balloon accidents, as Louis exacts his vengeance on the family that ruined his life. His mother, you see, was the youngest daughter of the 7th Duke of Chalfont, until she married an opera singer and was promptly booted out of the clan for daring to find love from outside of her social strata; this single act of cruelty is the sole source of Louis' misery in life, and so he finds reparation in death. You may, at first, balk at the notion of murder as comedy, but Kind Hearts and Coronets carries out its grim duties with such cheer that you surrender morality to Hamer's comedy and guffaw at the film's dry British wit and gallows humor. —Andy Crump
---
88. Pee-Wee's Big Adventure (1985)
Director: Tim Burton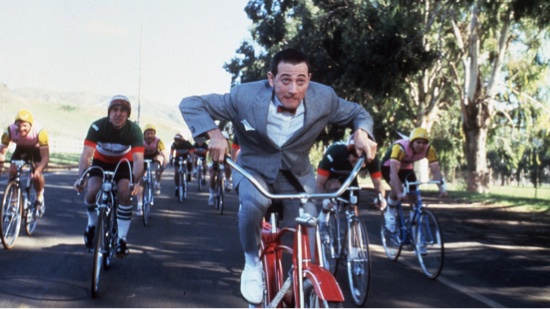 Tim Burton's full-length directorial debut is also one of his best. Pee-wee's Big Adventure brings us into the bizarro world of Pee-wee Herman, the excitable, ageless protagonist that's hopelessly attached to his bike. After it's stolen in broad daylight, we see Herman travel across the U.S. to reclaim his baby. And through the adventure and its ongoing discoveries (who knew the Alamo didn't have a basement?) we're introduced to unforgettable characters like Herman; his (sort-of) love interest, Dottie; the horrifying trucker ghost Large Marge; the snotty, rich Francis; and Herman's dog, Speck. Herman's wacky world is fully realized through the eye of Burton, and this one stands alone as a film that kids and adults can both get a kick out of. —Tyler Kane
---
87. Deadpool (2016)
Director: Tim Miller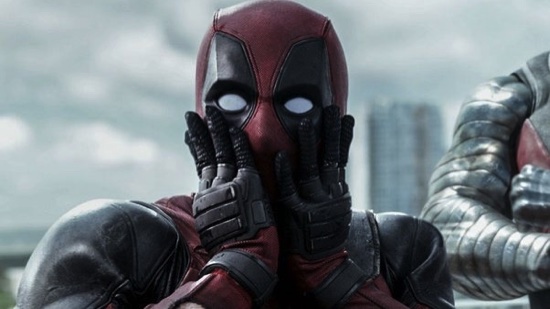 Amidst the deluge of Marvel-related movies that have flooded movie theaters in the last decade, it might be easy to overlook Deadpool's importance as a genre milestone. Amidst those early signs of viewer interest (Blade), franchise launches (X-Men), moments of director/source material synergy (Raimi's Spider-Man) and 18 or so MCU films, Deadpool is recognizable as a triumph of perseverance and (baby) hand-in-glove casting, as well as proof that R-rated superheroing is viable at the box office (which in turn smoothed the way for more serious takes like Logan). There's also the fact that, fueled by the character's signature irreverence and meta commentary, Tim Miller's take on the Merc with a Mouth is easily the funniest comic book movie out there. This itself can be seen as a sign of the genre's growth—just as Airplane produced a relentless stream of verbal and visual gags mined from the serious tropes of big event disaster movies, Deadpool shows how so-called "genre fatigue" can actually translate as "comedy goldmine." While humor has always been an ingredient in the MCU and elsewhere, Deadpool lifts a leg and lets loose its own deluge of wall-to-wall humor, proving itself the franchise with the most ammo (and biggest bladder?) when it comes to laughs in the Marvel Universe. —Michael Burgin
---
86. Being John Malkovich (1999)
Director: Spike Jonze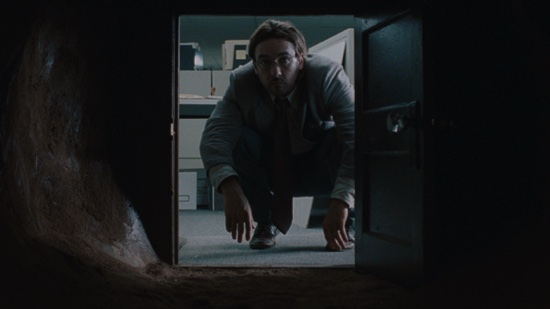 The feature film debut from director Spike Jonze and writer Charlie Kaufman is a long, absurd joke whose punchline is its final shot: the view of a man who whimpers as he's forced to watch his loved ones forget he's ever existed. Being John Malkovich admits, with sad clarity, that our lives are totally out of our control. In the film, we follow street puppeteer Craig (John Cusack, looking like a small, humming pile of hair) as he confronts the economic viability of his chosen occupation by getting an admin job on the 7½ floor of a building that also happens to hide a tiny door which leads, if one crawls through cobwebs and puddles, to the inside of John Malkovich's head, wherein for 15 minutes the brain tourist can vicariously live through famous actor John Malkovich's eyes before getting spit up into a ditch off the New Jersey Turnpike. Having had his way with marionettes for years, Craig slowly understands how to control Malkovich while inside his head, crouching in the man's sewer of an unconscious to hide away from the requisite 15-minute limit, but not before falling in love with a coworker (Catherine Keener) who seems to be falling in love with Craig's wife, Lotte (Cameron Diaz), but only via various liaisons through John Malkovich's manipulable corpus. Throughout, Jonze and Kaufman only afford as much logic as is needed to movie the story from one weird scenario to another, but never letting the bleak heart of the film's happenings overtake how goofily the plot unfolds. Visual detritus litters Jonze's shots: A chucked can from a speeding car bounces off Malkovich's head, the culprit recognizing Malkovich in time enough to call him out by name, though why John Malkovich poorly disguised in a ball cap and covered in ectoplasm would be on the side of the road in Jersey is anyone's guess; a documentary features Brad Pitt briefly only to ignore him; an alternate universe Charlie Sheen embraces his receding hairline. Ideas pile atop more ideas, until the whole thing collapses in on itself, the film's centerpiece basically John Malkovich singing his own name to another John Malkovich over and over, attempting to seduce the actor into liking himself. —Dom Sinacola
---
85. I Heart Huckabees (2004)
Director: David O. Russell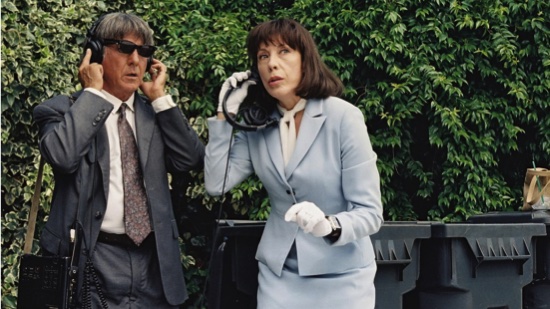 By the very nature of how we approached this list (mentioned in that intro you might not have read), the laugh riot ensues immediately, the humor being less "acquired taste" and more "in your face." Still, there are a few films whose second or third viewing is as likely to "set the hook" as the first, and David O. Russell's 2004 existential screwball comedy is one of them. I Heart Huckabees features an amazing cast either at the top of their respective games (Jude Law, Naomi Watts, Dustin Hoffman, Lily Tomlin), in a game they aren't typically thought of as playing (Isabelle Huppert) or, well, Mark Wahlberg in the best role he's ever had. On first viewing, the jargon can overwhelm viewers less philosophically inclined, but in his efforts to find meaning in a series of coincidences, Albert Markovski (Jason Schwartzman) is engaged in the same comedy as the film's viewers—desperately trying to find order and meaning in a chaotic world. Whether you deem that particular comedy of the human condition dark, breezy, inscrutable or just "what it is," will depend on your state of mind. I Heart Huckabees just knows it's pretty damn funny, regardless. —Michael Burgin
---
84. Superbad (2007)
Director: Greg Mottola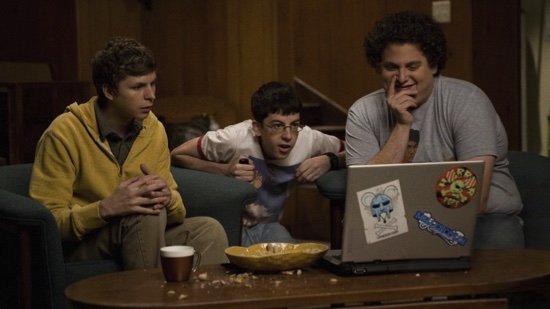 Every generation of teens has its generation of teen movies, and Greg Mottola's Superbad is the epitome of mine. In Seth (Jonah Hill) and Evan (Michael Cera), my friends and I had a mirror for our own insecurity and awkwardness—they were our modern-day Anthony Michael Halls. In Fogell/McLovin (Christopher Mintz-Plasse), we had an icon of weird who somehow ended up a winner, a sort of photonegative of Ferris Bueller (Matthew Broderick). And in Superbad's constant dick jokes (care of a script by namesakes Seth Rogen and Evan Goldberg), we had an accurate representation of the way we all talked, maturity be damned. The film helped create a white-adolescent-boy language made up entirely of lewd, absurd references. It's a rom-com in many respects, but unlike its predecessors, Superbad is a romance between two buddies, a story wherein the ostensible sex drive is secondary to Platonic need. In the film's denouement, with the two leads snuggled up close in sleeping bags, Seth literally says, "I just wanna go to the rooftops and scream, 'I love my best friend, Evan.'" For teenage boys struggling with anxiety over the seeming hopelessness of losing their virginity, Superbad provides a welcome respite, an acknowledgement that focusing your entire life upon your dick is pointless when there's fulfillment to be had by your side the entire time. —Zach Blumenfeld
---
83. National Lampoon's Animal House (1978)
Director: Jon Landis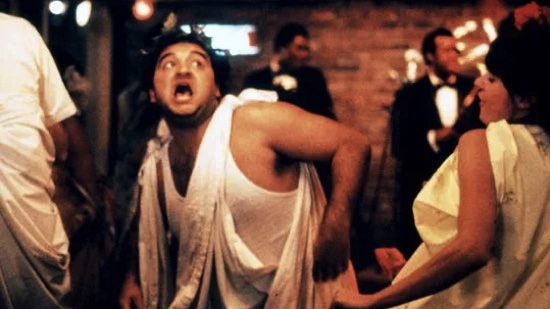 John Belushi created an entire character archetype in his too-short career, but it's best vehicle is quite possibly in John Landis' party romp as the intoxicated slob, Bluto. Written by the late Harold Raimis, Animal House captures all of the excessive, mindless fun of college in a memento that never becomes any less funny or nostalgic, no matter how many times you rewatch it. —Sean Edgar
---
82. Dazed and Confused (1993)
Director: Richard Linklater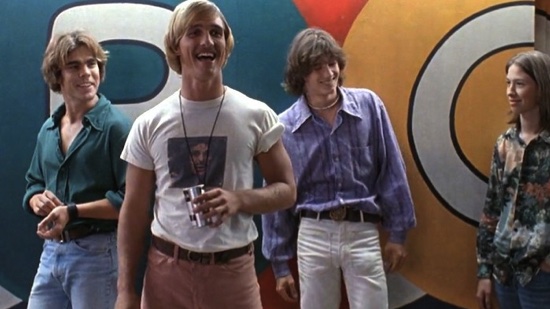 Set in 1976 Texas, Dazed and Confused flows from one group of high-school and middle-school students over the course of one night—the traditional cinematic one-night-that-changes-everything.— Richard Linklater's follow-up to Slacker shows a variety of vantage points on a number of issues, philosophical, political and otherwise. The camera lingers, offering multiple perspectives, and allowing you to take your time and consider all sides of these various excursions. Ultimately, these digressions circle back on one another, and Linklater forms them into a coherent narrative that resembles an updated American Graffiti for a new generation. As the day begins, there is a very rose-tinted-glasses style outlook on the whole scene, one that is, layer by layer, peeled away over the course of the ensuing evening. For all the seeming importance placed on things like playing football, chasing romantic partners and finding some good old-fashioned visceral experiences, there isn't much in the way of consequences. You may get your ass kicked a little bit, but there isn't a lot at stake. Whatever happens, you'll be fine. This is never more apparent than as Dazed and Confused draws to a close and the film takes a dark turn towards what can only be described as adulthood. —Brent McKnight
---
81. Fantastic Mr. Fox (2009)
Director: Wes Anderson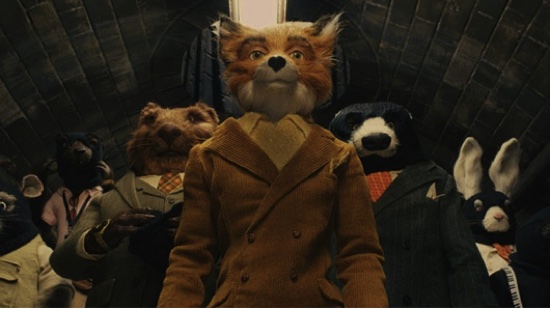 Wes Anderson's trademark ironic eccentricity and Roald Dahl's vaguely menacing but entirely lighthearted surrealism combine to form Fantastic Mr. Fox, Anderson's first animated effort, which uses the same maddeningly traditional stop-motion techniques as Isle of Dogs. It's ostensibly a children's film (Mr. Fox and his family and friends try to outrun the mean farmers), but rather transparently aimed at their parents, who likely read Dahl's books in grade school, remember stop-motion when it didn't feel vintage, and have followed Anderson's work for years. But Fantastic Mr. Fox is broader and more straightforward than any of Anderson's other films. The tale has been greatly expanded from the Dahl original to cover familiar Anderson themes of family, rivalry, and feeling different. And with its lush autumnal palette and hijinks worthy of Max Fischer or Dignan, the result is a film that only Wes Anderson could have made. —Alissa Wilkinson
---
80. A Shot in the Dark (1964)
Director: Blake Edwards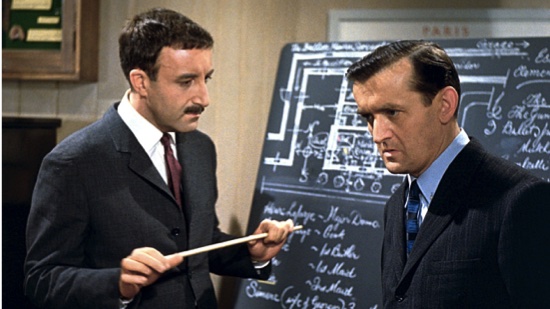 Amazing to think that when the first film in the Pink Panther series was made, it was intended as a vehicle for its top-billed star David Niven. Wisely, director Blake Edwards realized the true star of the show was the bumbling French policeman Inspector Clouseau, as embodied by the brilliant Peter Sellers. So, they rushed another film into production (it was released in the States a mere three months after The Pink Panther) and comedy greatness was born. Ever the sport, Sellers quite literally threw himself into the part, crashing and stumbling through his investigation of murder and mangling the English language each step of the way. Try as they might to recapture the fire of this first sequel, nothing quite matched the freewheeling spirit of A Shot in the Dark. —Robert Ham
---
79. Step Brothers (2008)
Director: Adam McKay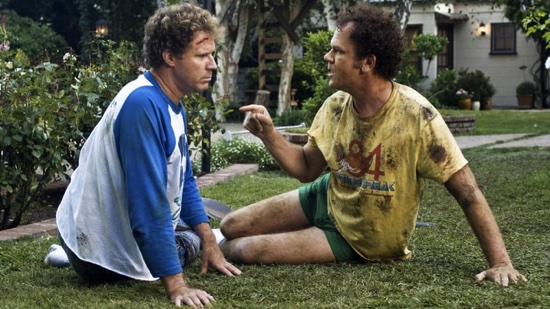 If we're judging in terms of pure quotability, the only comedy film of the last 20 years to even exist in the same solar system as Step Brothers is Anchorman. What does this say of us as viewers? Step Brothers is perhaps the finest distillation of the post-2000s man-child comedy subset, taken to the illogical extreme. Its two central characters are each in their 40s, and equally incapable of taking the barest shred of responsibility for their lives outside of the protective cocoon of home. Brennan (Will Ferrell) doesn't understand where a person might go in order to obtain toilet paper when they run out. Dale (John C. Reilly) erroneously believes he can inherit his father's "family business" of being a medical doctor. The characters are so exaggeratedly helpless that the film somehow manages to achieve transcendent punchlines toward the end simply by showing them forced to adapt to the mundanity of normal life. What other film could turn "taking baby Aspirin to reduce my risk for heart attack" into a genuinely laugh-out-loud moment? But more than anything, Step Brothers is what happens when you simply let two of the finest comic actors of a generation play off each other and improvise to their heart's content, with a rare form of chemistry that would be impossible to fake and flanked by brilliant supporting work from the likes of Richard Jenkins, Mary Steenburgen and Adam Scott. —Jim Vorel
---
78. Coming to America (1988)
Director: John Landis
If this movie consisted of the barbershop scenes inside of My-T-Sharp and nothing else, it would still be one of the greatest comedies of all time. Eddie Murphy and Arsenio Hall teamed up with director John Landis (Blues Brothers) and created a classic. As Prince Akeem from the fictional African country of Zamunda, Murphy travels to the great United States of America to evade his arranged marriage and find true love (in Queens, obviously). Akeem encounters all of the wonders of black America, but the satirical twist is genius—the black preacher (via Hall as the incomparable Reverend Brown), the club scene, the barbershop, hip-hop culture, and Soul Glo—it's all here. Cameos from actors like Cuba Gooding Jr., Samuel L. Jackson, Louie Anderson, and Murphy's Trading Places co-stars Don Ameche and Ralph Bellamy take the Coming to America experience to a whole new level. An excellent comedy and a great tribute to New York City, this story of a prince just looking to be loved is a must-see for everyone—including those of us who've already seen it. —Shannon Houston

---
77. Planes, Trains and Automobiles (1987)
Director: John Hughes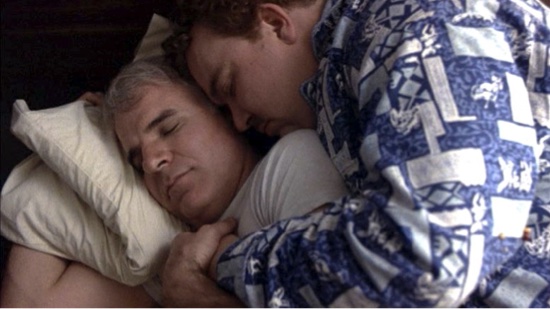 Anyone who's ever endured holiday traffic on their way home for Thanksgiving can relate to this John Hughes tale—although hopefully you've never had to endure the sheer number of transportation mishaps (not to mention some accidental spooning) Neal Page and Del Griffith go through. Planes, Trains and Automobiles pits a petulant Steve Martin (Neal) against the usually mirthful John Candy (Del) as they travel home for the holidays. Weather and time are stacked up against them, so they end up traveling together with some disastrous results. Of course, nothing goes according to plan as Thanksgiving gets closer and closer. —Bonnie Stiernberg and Pete Mercer
---
76. Walk Hard: The Dewey Cox Story (2007)
Director: Jake Kasdan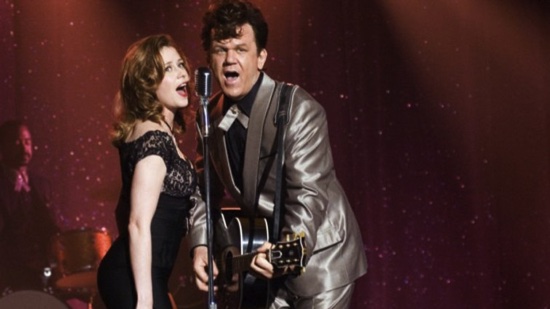 Although Walk Hard: The Dewey Cox Story claims to be a spoof of biopics and their extreme depictions of artists—especially musicians—biopics' exaggerations are a reflection of the frailties and eccentricities of the artists which they profile, so it's hard to distinguish a satire about biopics from a satire about musicians. Regardless of what category the film falls into, Walk Hard does not really tow the fine line of being clever so much as it provides a fun and absurd romp with heaps of laughs. John C. Reilly, who plays rising and troubled music star Dewey Cox, skillfully presents a dopey-yet-conniving and shallow-but-sincere character with a heart of fool's gold. Looking something like Johnny Cash crossed with Tom Waits, Cox has multiple addictions, wives and musical phases. Aspiring to a level beyond greatness after he accidentally kills his brother by splitting him in half with a machete when they are young boys growing up in Alabama, Cox is compelled to compensate for the loss of his brother, leading to a life of excess and indulgence. But Reilly isn't the only star of the film. Kristen Wiig shines as Cox's frustrated wife and the mother of their seemingly infinite amount of children; as Cox's other frustrated wife and duet partner, Jenna Fischer is superb. Tim Meadows is hysterical with a stand out performance as Cox's bandmate who can't seem to stop doing or introducing Cox to increasingly heavy drugs. Additionally, cameos from Jack White (Elvis Presley), Jack Black (Paul McCartney), Paul Rudd (John Lennon), Jason Schwartzman (Ringo Starr), Justin Long (George Harrison), Eddie Vedder, Jackson Browne and Lyle Lovett make the film even more ridiculous. Like most films of its ilk, Walk Hard may go too over-the-top to prove itself, but there is something charming about it, underscored by its genuine love of music and affinity for musicians. It is also obvious from one of the first lines in the film ("Guys, I need Cox!") that this project neither takes itself too seriously nor asks the same of its viewers. —Pamela Chelin
---
75. Bridesmaids (2011)
Director: Paul Feig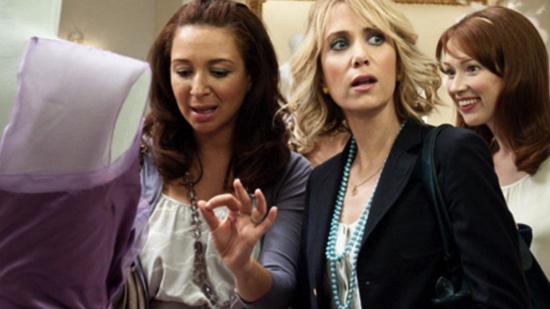 Unlike The Hangover, which was basically a long comedy sketch, Bridesmaids is actually a movie. This is always the big question when it comes to comedies. Should you aspire to make a full cinematic experience and risk coming up short (Wedding Crashers) or do you simply shoot for non-stop emotionless laughs and achieve wild success at a less transcendent achievement (Anchorman). Bridesmaids is thoroughly hilarious, complete-narrative cinema thanks to the brilliance of Kristen Wiig. And it has staying power in the typically bro-dominated pantheon of film comedy. —Ryan Carey
---
74. Four Weddings and a Funeral (1994)
Director: Mike Newell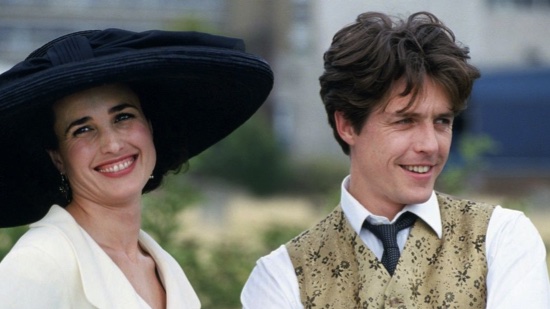 The first of several Richard Curtis-penned rom-coms starring Hugh Grant, Four Weddings and a Funeral follows our favorite bumbling Englishman as he repeatedly runs into the love of his life at—you guessed it—four weddings and a funeral. While much of the movie is lighthearted and some of it borders on cheesy (see Andie MacDowell's infamous "Is it still raining? I hadn't noticed" line in its finale), its graver moments, like Fiona (Kristen Scott Thomas) dealing with unrequited love or the titular funeral, remind us that love may be goofy and complicated and wonderful, but finding that one true love is serious business. The Academy agreed, nominating the film for Best Picture in a stacked year that included Forrest Gump, Pulp Fiction and The Shawshank Redemption. —Bonnie Stiernberg
---
73. Harvey (1950)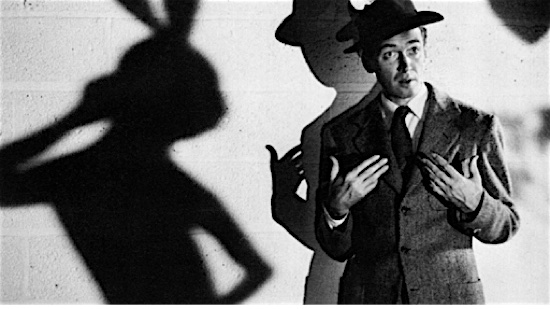 Wealthy, affable drunk plus imaginary 6'4" bunny equals Pulitzer Prize, Broadway smash, and film adaptation starring the inimitable Jimmy Stewart as Elwood P. Dowd, whose drunken antics are not a problem for the locals until he starts claiming to see a pooka (a trickster spirit from Irish folklore). Suddenly, Elwood's not so acceptable any more. Except Harvey, the imaginary rabbit, exerts an odd transformative effect on the other characters—with the exception of Elwood's snobby sister Veta (Josephine Hull), who by the way is the only other person who can see Harvey. Veta tries to have Elwood committed to a mental hospital (his rabbit-antics are interfering with her plans to marry her daughter Myrtle (Victoria Horne) to A Good Match). Veta ends up getting herself committed instead, but the hospital director, Dr. Chumley, begins seeing Harvey as well (awkward…). A whimsical little fantasy/farce with a warm heart, Harvey is also a bit of a meditation of tolerance and the merits of "reality"; the drunken and possibly addled Elwood is significantly happier than the "normals" who surround him. It's a lightweight film, but the sheer force of James Stewart's charisma could make just about anything riveting. Even an invisible bunny. —Amy Glynn
---
72. Clueless (1995)
Director: Amy Heckerling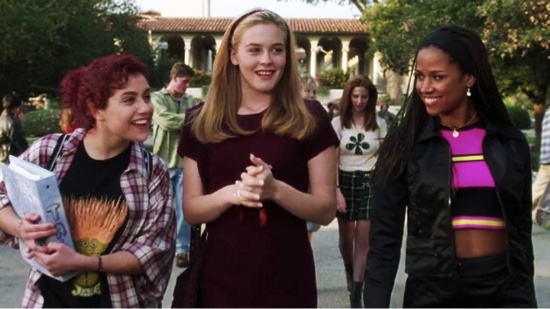 The Beverly Hills reboot of Jane Austen's classic Emma was a sleeper smash in 1995 and, much more importantly, gave the phrase "As if!" to pop culture. Alicia Silverstone is Cher, a pretty, vain, superficial LA teen who goes on a mission to turn ugly-duckling classmate Tai (Brittany Murphy) into a Superswan, only to find herself eclipsed and adrift. A soft-edged satire of nouveau-riche Angeleno culture and simultaneously of the teen rom-com genre, Clueless is neither the most subtle nor the most hard-hitting film of its era, but it's surprisingly seductive, in large part thanks to Amy Heckerling's scrupulously researched script, which captured a dialogue style that both represented and influenced teen-speak of the time. —Amy Glynn
---
71. Sherlock, Jr. (1924)
Director: Buster Keaton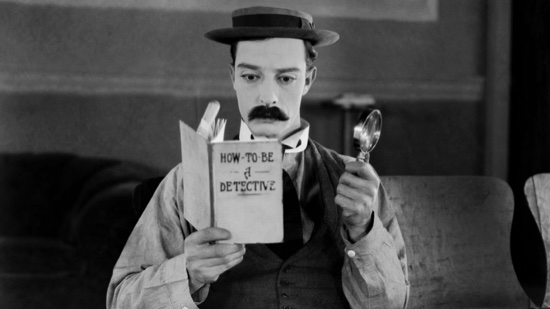 You could make a highlight reel of classic silent comedy moments using only Buster Keaton's Sherlock, Jr., and no one could justly complain. In the 91 years since Keaton made his love letter to cinema, no one has crafted a better examination of the relationship between the audience and the silver screen. Keaton plays a movie theater projectionist and wannabe detective who dreams he walks into a movie screen and becomes a suave hero—the perfect metaphor for the appeal of the movies. He plays with reality through virtuoso special effects, but also captures genuine stunts in single takes. (He broke his neck in one scene and still finished the take.) He daringly subverts structure—the conflict is resolved halfway through the movie with no help from the hero. He brings visual poetry to slapstick with rhyming gags. The laughs coming from failure in the real world and serendipity in the fantasy movie world, but the mechanics parallel each other. And he strings it all into a romp that never stops moving toward more hilarity. —Jeremy Mathews

---
70. Midnight Run (1988)
Director: Martin Brest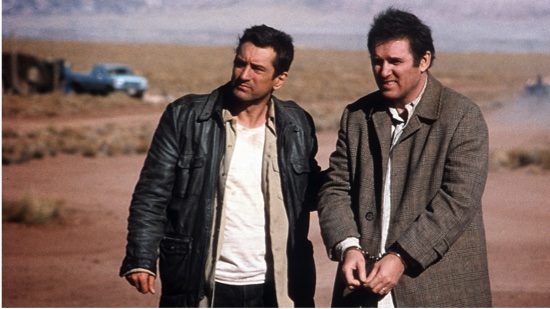 The '80s created the textbook action/comedy formula, and director Martin Brest was smack dab in the middle of it. His Beverly Hills Cop was originally written as a straight action movie, until Eddie Murphy was cast in the lead role. Instead of keeping the overall self-serious tone of the film and just inserting some out-of-place comedy set pieces into the narrative, Murphy and Brest infused a lighthearted tone across the entire project, while keeping the basic requirements of an action structure in place. Midnight Run, Brest's follow-up to Beverly Hills Cop, perfects this fusion. None of the action sequences take themselves too seriously, and none of comedy comes across as mugging, desperate to extract easy chuckles. The premise and structure are very simple and fairly predictable: It's a traditional road movie wherein a grizzled bounty hunter (Robert DeNiro) has to transport a mob accountant (Charles Grodin) across the country, with the mob and the police squarely on their tail. What makes Midnight Run still feel fresh after 30 years is Brest's aforementioned handle on tone, and the terrific chemistry between DeNiro and Grodin, so on point it's surprising they weren't reunited for other similar flicks after this. Usually the rough masculine bounty hunter would be the wild card against the accountant's stuffy straight man, yet DeNiro and Grodin find refreshing ways of tinkering with that formula, with DeNiro's character eventually coming across as a regular good guy who was dealt more than a few bad hands, and Grodin as a lovable but sometimes infuriating weirdo. —Oktay Ege Kozak
---
69. South Park: Bigger, Longer & Uncut (1999)
Director: Trey Parker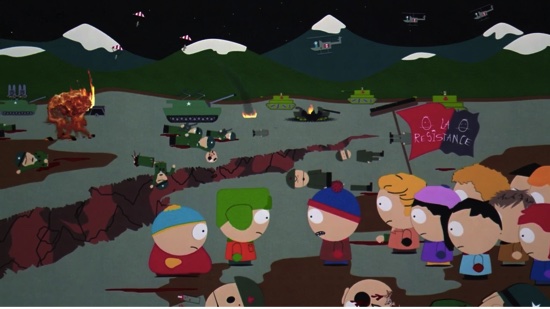 South Park creators Trey Parker and Matt Stone's philosophical reasoning behind the big screen adaptation of their massively popular TV show can be summed up in a quick exchange in the film: After the South Park kids suddenly "contract" potty mouth via Terence and Philip's R-rated movie, a delicious bit of meta commentary, Mr. Garrison is pissed when the kids can't seem to stop spewing the f-word. To which, Kyle replies, "What's the big deal. They're just words. Fuck, fuckity, fuck, fuck, fuck!" U.S. culture has always been up its own ass about crude language, yet is willing to not only turn a blind eye to horrific and senseless violence. Parker and Stone solidify this point when the country so easily plunges into fascism because of some trivial shit (sound familiar these days?), that they ignore the countless deaths around them as they literally do Satan's (and Saddam Hussein's) bidding. Yes, this coarse and crude cartoon about 4th grade kids making fart jokes created one of the most potent satires on American culture as we headed into the new millennium. Nowadays Parker and Stone are known for such subversion, but at the time when the show was only in th emidst of its third season, Bigger, Longer & Uncut was downright revolutionary. And it still holds up thanks to the seemingly unending barrage of American hypocrisy we experience daily. —Oktay Ege Kozak
---
68. The Birdcage (1996)
Director: Mike Nichols
You know what's awkward? When you're a middle-aged gay Jewish South Beach drag club owner (Armand, played by Robin Williams) and your straight son shows up and asks for your blessing to marry his girlfriend who is the daughter of a Neocon senator (Gene Hackman) who heads something called "The Coalition for Moral Order." You want to support your kid, but you don't love being closeted by him, and the dinner meet-up ends up meaning you and your partner, Albert (Nathan Lane), are forced into a whole new level of drag in which you are straight, a cultural attaché to Greece, and married to the one-night stand straight-sexperiment (Katherine, played by Christine Baranski) that led to the conception of your son. Your partner's offended, the Senator's being investigated by the tabloids, tensions are running high and your houseboy Agador (Hank Azaria) has agreed to transform into a Greek butler named "Spartacus," but let's face it, tensions are running high on all sides-and that's before your baby-mama gets caught in traffic and Albert sees the opportunity for the drag role of a lifetime. Fully Shakespearean hijinks ensue. The 1996 Mike Nichols remake of Edouard Molinaro's La Cage Aux Folles was not really blistering social commentary, but beneath its glib feel-good star-vehicle exterior there are some depths you could easily miss while you're distracted by the batshit-crazy and heavily sequined antics of Williams and Lane. It's actually not only rambunctious and witty but, as with many of Robin Williams' film roles, The Birdcage has a serious streak where a genuine investigation of personal identity is underway, and hypocrisy, acceptance, snobbery, and most of all, everyone's individual style of "drag" (and hey, we all have one, even if we don't always express it by putting on fake lashes and singing Sondheim) gets taken out for a much-needed exam. —Amy Glynn
---
67. Punch-Drunk Love (2002)
Director: Paul Thomas Anderson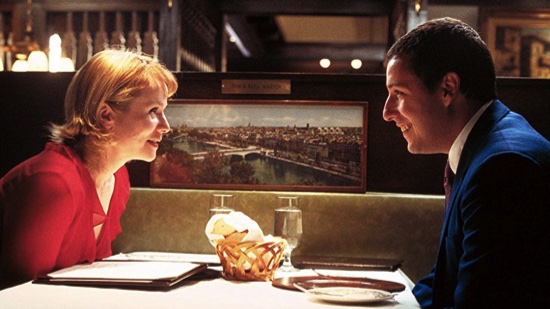 It may be hard to recall, but there was once a time when the world believed in Adam Sandler—and we have P.T. Anderson to thank for such a glimpse of hope. Compared to the scope of There Will Be Blood, or the melancholy of Boogie Nights, or the inexorable fascination at the heart of The Master, Punch-Drunk Love—a breath of fresh, Technicolor air after the weight of Magnolia—comes off like something of a lark for Anderson, setting the stage for the kind of incisive comic chops the director would later epitomize with Inherent Vice. But far from a bit of fluff or a reactionary stab at a larger audience, Punch-Drunk Love is what happens when a director with so much untapped potential just sort of throws shit at the wall to see what sticks. A simple love story between a squirmy milquetoast (Sandler) and the woman (Emily Watson) who yanks him from his stark blue shell, the film is part musical, part silent film and all surreal comedy. That this is Sandler's best role is hardly up for debate; that this may be Jon Brion's best soundtrack is something we can talk about later. That the rest of the film, which in any other director's hands would be a total mess, feels so exquisitely felt is almost … magical. And that? That's that, Mattress Man. —Dom Sinacola
---
66. The Apartment (1960)
Director: Billy Wilder
Filmmaker Billy Wilder had perhaps one of the greatest, most diverse track records in film history from 1944 to 1960. In this period, he tackled an Oscar-winning drama about alcoholism (The Lost Weekend), two well-regarded film noirs (Double Indemnity, Sunset Boulevard), a war drama (Stalag 17), two light-hearted rom-coms (Sabrina, Seven Year Itch) a gripping murder-mystery (Witness for the Prosecution) and perhaps the funniest American movie of all time (Some Like It Hot). Yet, of all these golden credits, one Wilder's most beloved and memorable achievements was 1960's The Apartment. Jack Lemmon plays C.C. Baxter, an ambitious office worker who, desperate to climb the corporate ladder, allows his bosses to use his apartment to carry on discreet affairs with their mistresses. Things get complicated, however, when he discovers that his office crush, quirky elevator operator Fran Kubelik (Shirley MacLaine), is one of his bosses' mistresses. While it actually gets quite dark at times, The Apartment strikes a perfect balance between laugh-out-loud comedy and emotionally honest drama. Following the career highlight that was his drag-heavy performance in Some Like It Hot, Lemmon here proves that he can play the low-key, straight man with equal dexterity. Likewise, MacLaine's charming portrayal as the damaged, yet lovable Kubelik would provide the model for manic pixie dream girls for years to come. —Mark Rozeman
---
65. Trading Places (1983)
Director: John Landis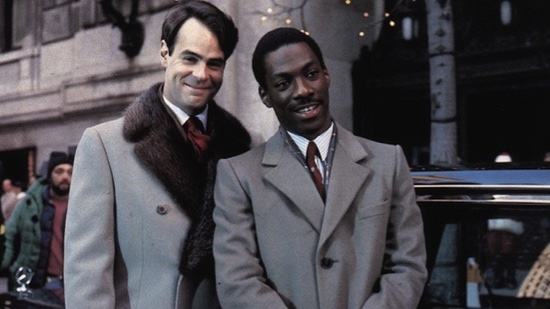 A biting take on the The Prince and the Pauper story as filtered through the prism of the Decade of Greed, Trading Places stars Dan Aykroyd and Eddie Murphy as, respectively, high class broker Louis Winthorpe III and homeless street vagrant Billy Ray Valentine. As part of a "nurture vs. nature" experiment by the Duke Brothers, two wealthy, yet unscrupulous business magnates, Louis and Billy end up abruptly, per the title, trading places on the social ladder. The Dukes frame Louis for drug dealing, resulting in him losing both his job and his girlfriend, and then bail Billy out of jail and provide him with Louis' old job and high-class apartment. Once Billy and Louis discover this deception, they launch a plan for vengeance. Featuring both Murphy and Aykroyd at the top of their game, Trading Places represents a prime example of the kind of smart, yet decidedly un-PC comedies that could only exist at a certain point in the '80s (Aykroyd's blackface-heavy disguise in one scene, for example, would never fly in today's market). A stone-cold '80s classic if there ever was one. —Mark Rozeman

---
64. Waiting for Guffman (1996)
Director: Christopher Guest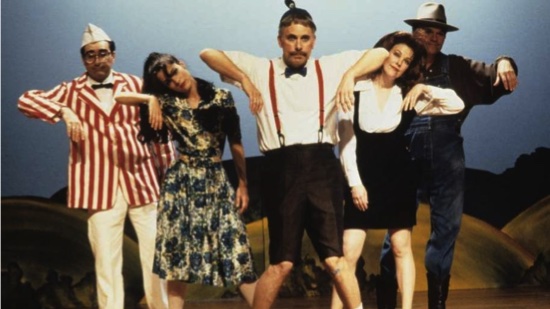 The first of Christopher Guest's three mockumentaries co-written with Eugene Levy, Waiting for Guffman introduced the world to a cast that would form the backbone of their other projects. The film picked up on This is Spinal Tap's tradition while bringing a decidedly sweeter tone to the table. Corky St. Clair leads the lovable bunch of misfits who comprise the small-town theater group. They are determined to catch the eye of Broadway producer Mort Guffman, as they put on a play about their town's history, Red, White and Blaine. Needless to say, things go wrong in all the right ways. —Amanda Wicks
---
63. Dumb and Dumber (1994)
Directors: Peter Farrelly, Bobby Farrelly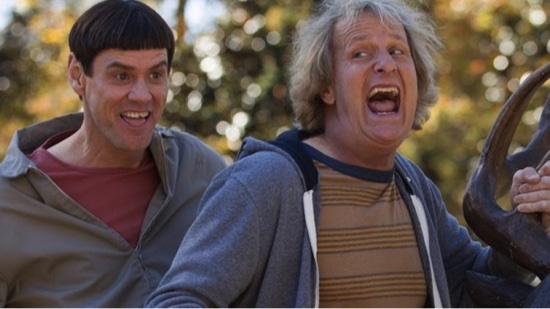 There is a special brand of nihilism at play in the Farrelly Brothers' debut, one which vaunts stupidity above all else, not because the Farrellys want to celebrate being dumb over being smart, but because they seem to find no real consequences in the kind of ignorance inhabited by Lloyd (Jim Carrey, beloved) and Harry (Jeff Daniels, best role of his career) to the extent that morality for these characters is moot. Devoid of the brain power required to fully comprehend the vast world around them, operating on little more than teenage horniness and threats of unemployment (plus the image of a decapitated parakeet), Harry and Lloyd blissfully become involved in a kidnapping caper concerning the husband of wealthy heiress Mary Swanson (Lauren Holly). It works out as one might expect—in that it doesn't work out, and that doesn't matter—but not without developing a lot to love in these two dipshits, making its sequel feel unrelentingly mean-spirited by comparison. It shouldn't be surprising then that pretty much every other Farrelly movie (sans There's Something About Mary) has aged poorly: America doesn't need any more movies that seem to actually honor our dumbest assholes. —Dom Sinacola
---
62. The 40-Year-Old Virgin (2005)
Director: Judd Apatow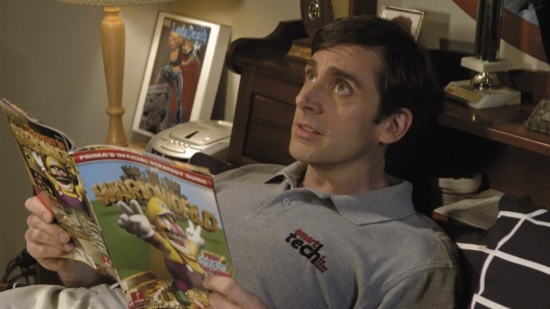 Judd Apatow has emerged as the major new voice in the world of romantic comedy. His first directorial effort, The 40-Year-Old Virgin is a big, goofy, hilarious mess of a movie that is anchored by the easy charm of its two principal leads, Steve Carell and Catherine Keener. Their no-nonsense romance is surprisingly understated and adult in a movie with an outrageous premise and lewd jokes. Leslie Mann also deserves credit for that hilarious French toast scene. —Jeremy Medina

---
61. City Lights (1931)
Director: Charles Chaplin
In his later years, Charlie Chaplin was known for bringing pathos into his comedy whenever he had the opportunity. City Lights is the movie where he earns every bit of it. While its structure resembles Chaplin's usual picaresque format, there's more of a deliberate purpose as the tramp tries to help a poor, blind flower girl, played adorably by Virginia Cherrill. Harry Myers also deserves a mention for his performance as the millionaire who's generous when he's drunk and can't remember his good deeds when he's sober. —Jeremy Mathews
---
60. Harold and Maude (1971)
Director: Hal Ashby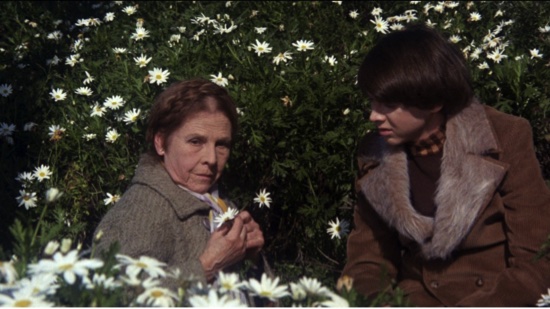 The original Daily Variety review begins "'Harold and Maude' has all the fun and gaiety of a burning orphanage." History has been kinder. Though it may be the darkest film on this list, Harold and Maude is certainly a romantic comedy. Young Harold (Bud Cort) and 79-year-old Maude (Ruth Gordon) do find love. And it is wickedly funny as Harold finds increasingly more gruesome ways to scare off the suitors sent by his mother. But Hal Ashby's masterpiece is unlike anything we've seen before or since its 1971 release, and Gordon is brilliant as the manic pixie dream septuagenarian. Just don't go in expecting a happily ever after. —Josh Jackson
---
59. Lost in America (1985)
Director: Albert Brooks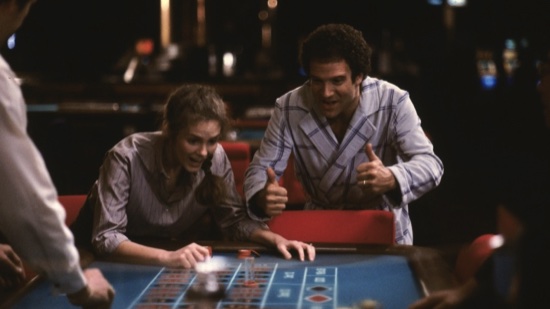 As America became more materialistic and self-centered during the late '70s and '80s, as yuppies replaced the hippies, material happiness became more attainable for average (mostly white) middle-class Americans, millions trying in vain to fill the spiritual hole inside them with cars, homes and any spiffy stuff that distracted from the boredom. David Howard (Albert Brooks), the financially secure but emotionally unfulfilled ad man at the center of Brooks's quintessential comedy of the time, finds himself in the middle of such inner conflict. He just got passed over for a well-deserved promotion at a job he hates anyway, so he decides to enact his favorite movie, Easy Rider, and goes on a trip to "find America" with his equally supportive and apprehensive wife Linda (Julie Hagerty in the best performance of her career). As soon as the couple's spiritual quest begins, their '60s idealism immediately clashes with their '80s materialism. Lost in America is the perfect counterpoint to the movie they're trying to emulate: Are they too domesticated by '80s culture to truly free their minds? —Oktay Ege Kozak
---
58. Dirty Rotten Scoundrels (1988)
Director: Frank Oz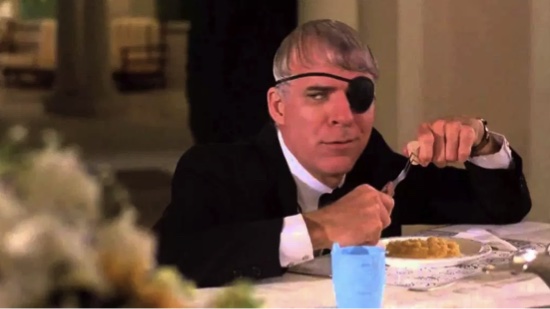 The story of two rival con men working a wealthy heiress is a comedy classic for two reasons: Steve Martin and Michael Caine. Watching Martin's American street hustler Freddy Benson try to learn from and outwit his reluctant mentor, Caine's refined British Lawrence Jameson, while they both desperately attempt to win a bet of swindling $50,000 from their agreed mark (Glenne Headly as Janet Colgate), offers plenty of laughs, even if the plot is fairly conventional. With Benson reduced to playing the dimwit Ruprecht, Steve Martin is in his physical comedy prime. —Josh Jackson
---
57. The Producers (1967)
Director: Mel Brooks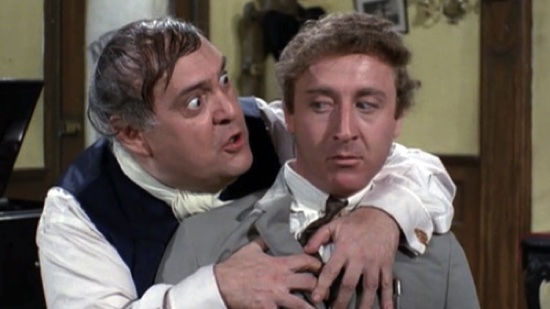 In the '50s and '60s Mel Brooks was just a comedian, albeit a particularly brilliant one. He wrote for TV shows like Your Show of Shows and Get Smart, and had a hit comedy duo with Carl Reiner that spawned three records in two years. But in writing and directing The Producers—the now-iconic story of a Broadway producer known for his flops (Zero Mostel) and a meek accountant (Gene Wilder) who team up to rob investors by deliberately sinking a musical about Adolph Hitler—Mel Brooks may have become the prototypical comedian-director as we currently understand the phrase (for talkies, at least.). The Producers is just as funny as ever, though amusingly tame in comparison to the uproar it caused and the producers who refused to touch it. It's also completely different from the meta-gag-fests of Young Frankenstein and Blazing Saddles. But it announced Brooks as the champion of weird comedy on film for the rest of the 20th century, and, due to its release as an art-house film, made him a new kind of auteur. —Graham Techler
---
56. Mean Girls (2014)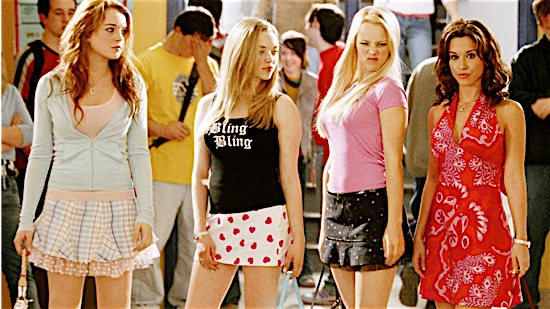 Aside from the greatness of its one-liners, Mean Girls has endured because it's a cinematically exaggerated version of the truth. Teen life really does feel like being on safari, with the same mad hormones, territorial urges and competitive edge. And girls really can have a hive mentality, clinging to whatever imperceptible alliances will allow them to curry favor with the most popular among them. In the shape of Regina George, Mean Girls shows how the prettiest girls are often raised to the position of Alpha—and boy, can it go to their heads. —Christina Newland
---
55. Broadcast News (1987)
Director: James L. Brooks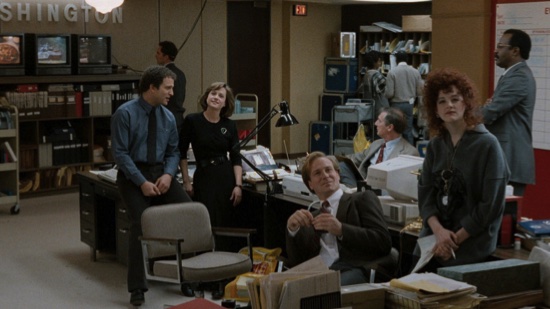 One of the sharpest written, best-acted romantic comedies of the '80s, Broadcast News soars on the performances of Holly Hunter, William Hurt and Albert Brooks. Sure, it says things about the state of media—some of which are pretty prescient—but watching the film's three leads inhabit their characters is a joy in and of itself. —Michael Burgin
---
54. The Gold Rush (1925)
Director: Charles Chaplin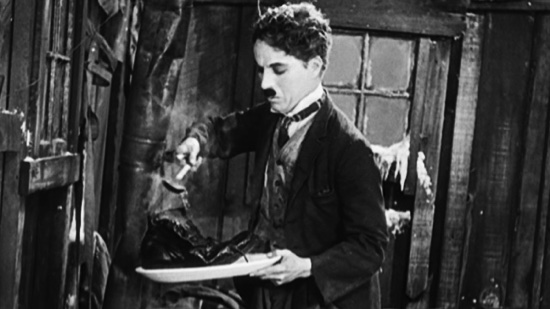 The Klondike gold rush made the perfect setting for Charles Chaplin's tramp to run wild. Chaplin took all the motifs he could find from adventure novels, melodramas and other stories of the northern frontier, tossed them in a blender and served up a collection of what would become his most famous scenes. He finds humor in peril—with a suspenseful teetering cabin scene, as well as starvation (when he famously makes a meal of his boot) and of course finds time to show off with his dancing roll scene. However, no one has succeeded in finding any humor in the atrocious voiceover Chaplin added to the 1942 rerelease. Be sure to watch the original version. For a more serious take on the Klondike hardships, see Clarence Brown's The Trail of '98 (1928).
---
53. The Royal Tenenbaums (2001)
Director: Wes Anderson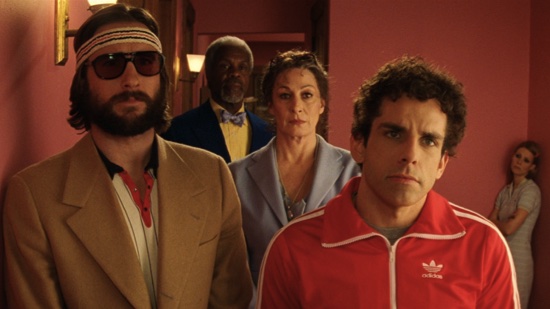 Wes Anderson's first two films took place in the Texas of his youth. The Royal Tenenbaums moves his storytelling to his adopted city of New York. And the story is one that bridges childhood and adulthood and the tremendous effects one has upon the other. The "Royal" in the title refers to Gene Hackman's character. Royal Tenenbaum is the patriarch of a family of childhood prodigies: Chas (Ben Stiller), a math genius with a head for business; Richie (Luke Wilson), a tennis star; and adoptive daughter Margot (Gwyneth Paltrow), a playwright. The movie begins with Royal announcing his separation from his wife, Etheline (Anjelica Huston) before picking up years later with the children having gone on to great success and failure. As Etheline prepares to re-marry to her longtime accountant (Danny Glover), Royal announces that he has stomach cancer and attempts to reconcile with the family he abandoned. The family disfunction and struggle for redemption would become hallmarks of Anderson's oeuvre, but here, with a talented cast that also included frequent collaborators Bill Murray, Owen Wilson and Kumar Pallana, the auteur's gift for wringing humor out of hopelessness is unmatched. As every piece of set dressing, every item of clothing seems and every symmetrical camera frame seems painstakingly managed, the characters are spiraling out of control; their despair is deeply felt, and their redemption serves as a euphoric release. It's a beautiful movie both visually and emotionally and remains Anderson's crowning achievement after all these years. —Josh Jackson
---
52. Tootsie (1982)
Director: Sydney Pollack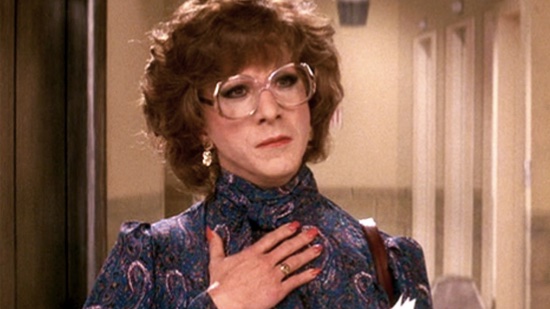 Can you imagine how audiences and critics might react to Tootsie if it came out in theaters today? Sydney Pollack's film plays with gender roles and layers its portrait of an actor going full-drag with gay panic for giggles. You can just picture this film getting lambasted in 2015 for making a joke out of homophobia and for having the gall to ask viewers to sympathize with the plight of an actor who has to dress as a woman to find work. But the reason Pollack's 1982 classic endures is because of its compassionate heart. This is a kind, empathetic movie that puts its hero, Dustin Hoffman's cranky perfectionist thespian Michael Dorsey, in the shoes of his female peers to teach him (and us) a lesson, not to make snide jokes at the expense of the opposite sex. The humor is never mean-spirited; the message is rarely pompous, though when it is, that's meant to be part of the point. Tootsie's sharp comedy makes it a great piece of entertainment, but it's the film's sincere sensitivity that makes it timeless. —Andy Crump
---
51. A Christmas Story (1983)
Director: Bob Clark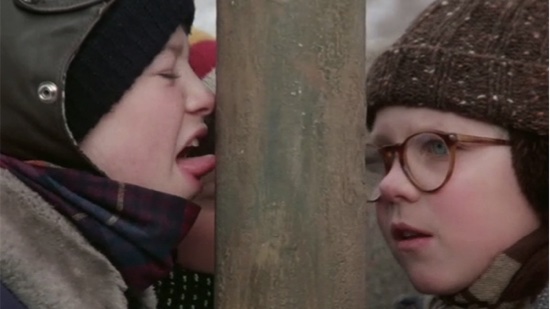 To wring something as genuinely warm and heartfelt as it is hilarious from a central theme of rampant consumerism is a rare thing. To supplant Christmas Day TV scheduling previously reserved only for classics like It's a Wonderful Life and Miracle on 34th Street is quite another. Director Bob Clark assembles a pool of onscreen talent who were clearly born to inhabit Jean Shepherd's treasured story of childhood amidst Major Awards, first swear words, cynical Mall Santas, and—of course—the ruminations on what it truly means to shoot your eye out. —Scott Wold
---
50. Borat: Cultural Learnings of America for Make Benefit Glorious Nation of Kazakhstan (2006)
Director: Larry Charles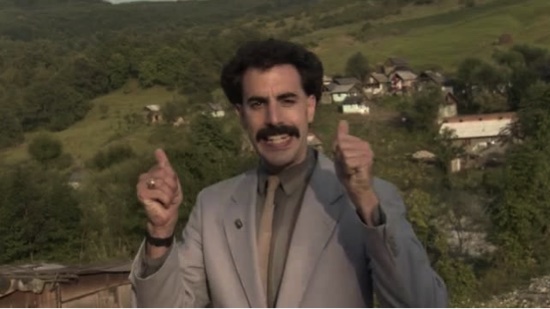 It's easy to overlook or underrate Borat in 2016, or Borat: Cultural Learnings of America for Make Benefit Glorious Nation of Kazakhstan, given the Sacha Baron Cohen movies that followed. The likes of Bruno and The Dictator managed to water down Cohen's original statement, but his faux-documentary about an awkward Eurasian traveler remains kind of brilliant. It was a wide-release comedy that plainly and critically looked at an average American attitude of dismissiveness and outright xenophobia toward people we don't understand, as well as a willingness to feign earnestness if they thought taking advantage of Borat might somehow benefit them. Borat might say things that are naive, but at least they're sincere products of the character's fictitious upbringing. Borat the character is no charlatan—the "real" people he meets in America, on the other hand, can't make the same claim. One final aside: This film, along with Anchorman, is the loudest I've ever heard an audience laugh in a multiplex theater. —Jim Vorel

---
49. Ghostbusters (1984)
Director: Ivan Reitman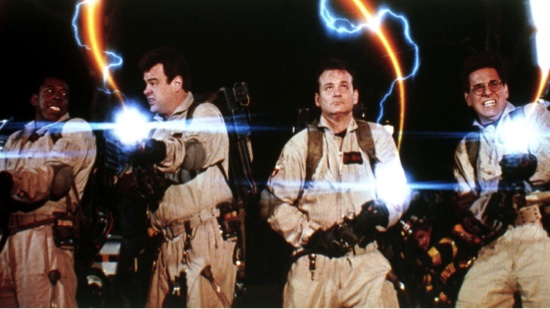 As the slew of '80s merchandise and a cartoon series would prove, Ghostbusters had mass-appeal with kids. The film followed a team of parapsychologists—played by Dan Aykroyd, the late Harold Ramis, Ernie Hudson and Bill Murray—who tackle big-ghost issues in New York City. Sure some of the effects are dated, but this one has staying power. And although the bad guys come from beyond the grave, they're also kid-friendly, with the begging-to-be-a-plush-toy Slimer and a giant Stay-Puft Marshmallow Man. Pass this classic comedy along to the next generation. —Tyler Kane

---
48. L.A. Story (1991)
Director: Mick Jackson
Few would argue that Steve Martin doesn't receive his due as a comedian. Nonetheless, among his filmography, L.A. Story does not always get the attention shown earlier efforts such as The Jerk or Planes, Trains and Automobiles or the somewhat blander fare that came in the 2000s. Depending on how one looks at it, that's shame or perhaps just an opportunity to discover a hidden gem among Martin's impressive oeuvre. In the hands of a lesser artist, L.A. Story could have easily just been another hit-or-miss collection of cultural clichés—sustained whimsy is not easy to pull off. Instead, Martin's writing, Mick Jackson's direction and a stellar cast present a beguiling love letter to the City of Angels and the people who live there. (If you've ever wondered how Sarah Jessica Parker became a star, consider this film Exhibit A.) Other Martin films on this list may well yield more laughter by volume, but L.A. Story will bring a smile on your face, and keep it there for the duration. —Michael Burgin
---
47. The Naked Gun (1988)
Director: David Zucker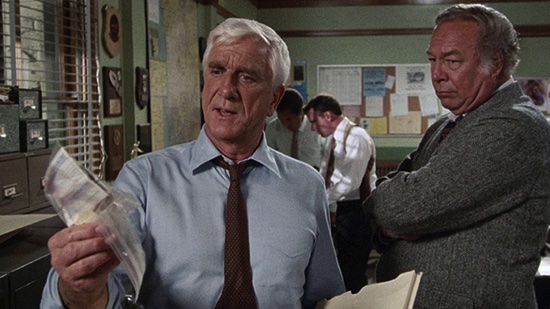 The final hoorah from the comedy trio David Zucker, Jim Abrahams and Jerry Zucker—ZAZ for short—The Naked Gun is so stupid it's hilarious. This, of course, was ZAZ's secret weapon in films like Airplane!, and in Leslie Nielsen's stone-faced imbecility they found their muse. A former dramatic actor, Nielsen rejuvenated his career by playing Frank Drebin, a hapless L.A. police detective trying to prevent the assassination of Queen Elizabeth. (And in his courting of possible femme fatale Priscilla Presley, he taught us the importance of wearing full-body condoms.) A wonder of slapstick and deadpan silliness, The Naked Gun makes jokes about terrorists, gay panic, boobs, even "The Star-Spangled Banner." There's a character named Pahpshmir. Good lord, it's all so gloriously idiotic. —Tim Grierson
---
46. Arsenic and Old Lace (1944)
Director: Frank Capra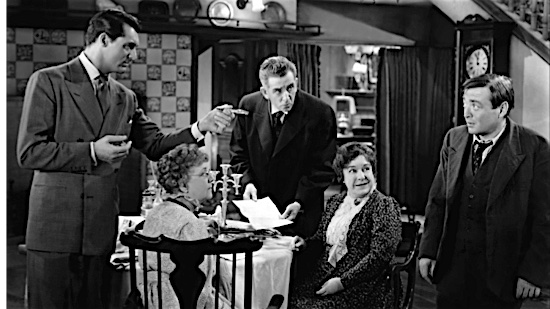 Some films are artistically groundbreaking and writ-large Important. Some are just such a good time that they last decade after decade. Frank Capra's adaptation of this darkly comedic Broadway play (some of the Broadway cast reprised their roles in the film) stars Cary Grant as Mortimer Brewster, one of a family of Mayflower bluestocking WASP types who have, over the generations, become—I think the phrase is criminally insane? Brewster, an author of many tomes on the stupidity of marriage, gets married. On the eve of the honeymoon he drops by his family home to meet check in with his loony and sweetly homicidal aunties, a charmingly delusional uncle who believes he is Theodore Roosevelt, and his brother, Jonathan, who has bodies to bury and a flat-out crazy alcoholic plastic surgeon in tow. Peter Lorre plays the surgeon, who has altered Jonathan's face to make him look like Boris Karloff (naturally). And that's just the setup. More than seven decades after its release, this film is still snort-soda-out-your-nose funny. Even though it's tame, and a bit hammy by contemporary standards, the endurance of this film is a testament to both the wonderful script and the magic of Frank Capra with a stable of really talented comedic actors at his disposal (and not in the "bodies in the basement" sense). —Amy Glynn
---
45. Being There (1979)
Director: Hal Ashby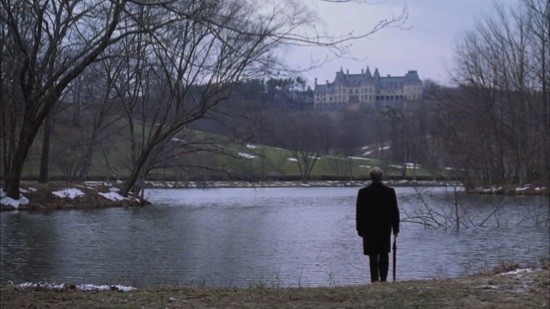 In terms of directorial output in a decade, Hal Ashby's run in the 1970s is impressive. Starting with 1970's The Landlord and ending with Being There, Ashby's films racked up 24 Oscar nominations and seven wins. But while Harold and Maude, Shampoo and Coming Home compete for the hearts and minds of Ashby fans, it's Being There that stands out both for its timelessness and timeliness. In the story of the childlike Chance (Peter Sellers, in a role that redeemed a sagging reputation), a gardener whose innocence and simplicity confuses and gets misread by the "savvy" players of Washington, D.C., Ashby shows how gentle humor can express sharp truths about all-too-human foibles. —Michael Burgin
---
44. There's Something About Mary (1998)
Directors: Bobby Farrelly, Peter Farrelly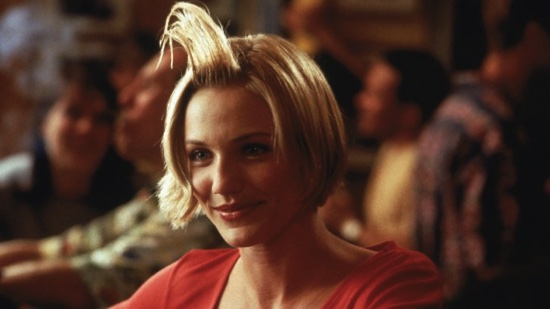 This was the moment Ben Stiller became Ben Stiller and Cameron Diaz became everyone's crush. There's Something About Mary was a movie that loved its protagonist but let us all laugh with him as every wrong decision (and unfortunate zip) compounded with serious interest. We love this movie the way Ted (plus characters played by Matt Dillon, Chris Elliott and Brett Fav-er-uh) love Mary—a little obsessively.—Josh Jackson
---
43. Office Space (1999)
Director: Mike Judge
Great comedy almost always has a dark heart. (The flipside is also true of great horror: It almost always teeters on the edge of farce). But this makes sense: Laughter is our response to absurd and unexpected contradictions; comedy needs its darkness to fully flourish. Mike Judge, the writer/director of Office Space, knows this well. His humor concerns the lowest, saddest schmucks on the corporate ladder (thus 99% of us can relate) who mostly feel dead inside, turning to Kung Fu films and cheap beer to escape. It's a subject as old as capitalism itself: Most of us are unhappy, not doing what we want, feeling our dreams escaping us more and more with each passing day. For protagonist Peter Gibbons (Ron Livingston), his goal is a subversive joy: Independently, from no wellspring of societal angst (unlike, say, The Graduate's Benjamin Braddock), he wants to do nothing. And besides being a hilarious antidote to scores of predictable, cookie-cutter hyperactive hero-protagonists, his needs feel absolutely real, and is what the corporate rat race deserves in an anti-hero. The do-gooder replaced by the do-nothing. It also helps that Judge has a cast perfectly on board with his tone. Together, they turn caricature into depth, a cartoon into vivid life. —Harold Brodie
---
42. Four Lions (2010)
Director: Chris Morris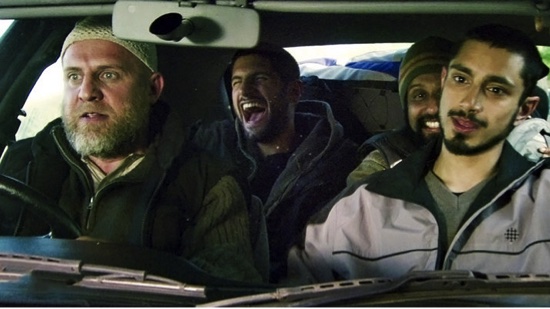 Four Lions proves once again that great comedy can be extracted from the dodgiest and most painful subjects, mixing slapstick with dry British humor to tell the story of four would-be radical Islamic terrorists hell-bent on bringing down the evil capitalist heathen of the West. Only one problem (well, a couple of them): They have no real connections, skills, or ability to plan anything, suffering from varying degrees of resolve when it comes to blowing themselves up for their cause. In other words, they are terrible at their dream jobs. As unrelenting as Four Lions can be in the way that it pokes fun of its central four characters, they film never adopts a farcical tone, instead never shying from the dangerous ramifications of their actions, no matter how incompetently they go about them. Deftly executed by co-writer/director Christopher Morris, who should be known States-side as the neurotic boss during the first season of The IT Crowd, and a pre-mopey, pre-The Night Of Riz Ahmed in a hilarious leading turn, Four Lions demonstrates a careful, masterful directorial hand. Plus it contains the best line about suicide bombing in any movie: "His soul will reach heaven before his head hits the ceiling." —Oktay Ege Kozak
---
41. Ferris Bueller's Day Off (1986)
Director: John Hughes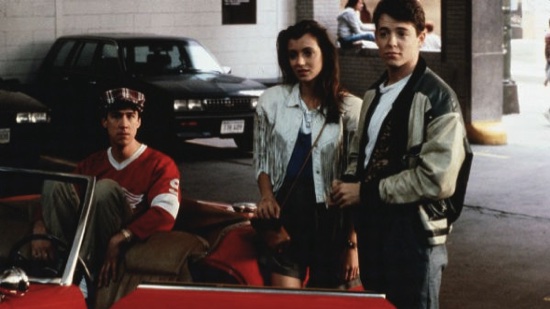 John Hughes' zeitgeist-y, fourth wall-busting ode to rich, entitled suburban youth vs. killjoy authority announced Matthew Broderick as a bona fide star, and gave us a chillingly prescient glimpse at Charlie Sheen's future in an admittedly funny bit role. Breakfast Club aside, out of all Hughes' decade of teen-centric movies set in the Chicago area, Bueller has almost certainly endured the best, and without all that tortured pretentiousness. —Scott Wold
---
40. Safety Last! (1923)
Directors: Fred C. Newmeyer, Sam Taylor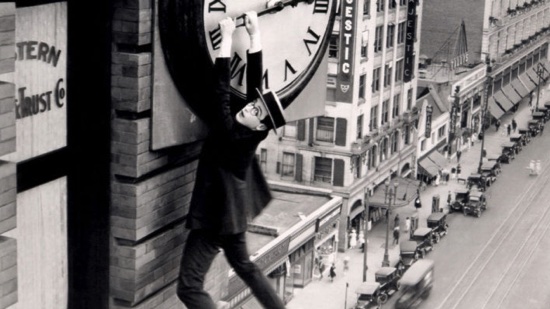 "I shouldn't have bothered scoring the last 15 minutes," Rodney Sauer of the Mont Alto Motion Picture Orchestra told me after accompanying Safety Last! at the San Francisco Silent Film Festival. He said he and his ensemble couldn't even hear themselves over the uproarious laughter in the Castro Theatre during Harold Lloyd's famous building-scaling sequence. The scene, with its famous clock-hanging finale—is such a perfect mix of suspense and comedy that it doesn't much matter that the rest of the film seems to exist merely as a lead-up to it. —Jeremy Mathews
---
39. Friday (1995)
Director: F. Gary Gray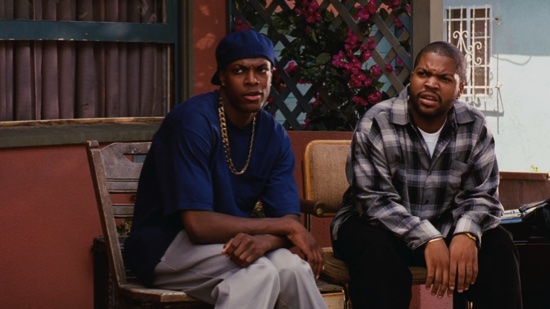 In Straight Outta Compton we witness Ice Cube finish writing Friday with finality, as if he'd begun a week prior by declaring, "I will now write a screenplay," and then a week later at his kitchen table putting down a pen and saying, "There. I'm finished writing a screenplay." We're willing to accept that Ice Cube once did little more than decide to write a screenplay, and then did, and then made the movie, and then people loved it, because in that movie Ice Cube is our hero, a person who found no real difference, no barrier of entry, between wanting to do and then doing, despite much of his world forcefully telling him otherwise. In Friday, Ice Cube plays Craig, a young guy from south central L.A. whose best friend Smokey (Chris Tucker) implicates him in a $200 debt to Big Worm (Faizon Love), among the many problems Craig encounters throughout the course of the day. Chief among them: Deebo (Tony Lister Jr.), the neighborhood bully so without human empathy he'll steal a man's bike and then wait for the man to return just to uppercut him so hard the man's lifted a few feet in the air. At least that's how Smokey tells it. Craig even responds, laughing, "You're lying," but later Smokey's story is proven true, at least in spirit, when Craig brains Deebo with a brick instead of shooting Deebo with a gun, which up until that point seemed to be the only viable option. The gun never fires, though it was introduced in the first act. Even if something like that matters to you, chances are that in Friday you never noticed. —Dom Sinacola
---
38. Rushmore (1998)
Director: Wes Anderson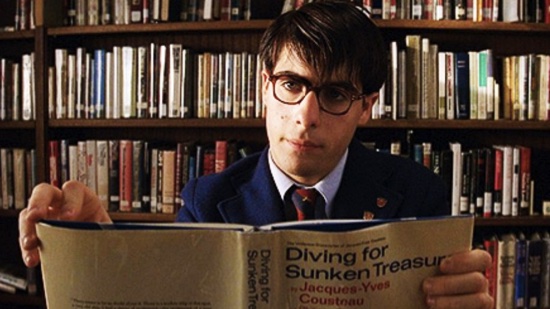 Rushmore introduced the world to Jason Schwartzman and helped pivot Bill Murray's career from broad comic to art-house juggernaut. An unlikely inter-generational love triangle leads to one of the most entertaining feuds in filmdom. Schwartzman's Max Fischer is an ambitious yet academically underachieving student at the prestigious Rushmore Academy in Houston, and Bill Murray plays wealthy industrialist Herman Blume. The two strike up an unexpected and unconventional friendship, but both end up falling for Rosemary Cross (Olivia Williams), a teacher at Rushmore. When Max goes too far in trying to prove himself to Ms. Cross by breaking ground on a new building without the school's permission, he's finally expelled and ends up in a soul-crushing public school. To make matters worse, he finds out that Herman has begun dating the object of his desire. As with Bottle Rocket, Rushmore was co-written by Owen Wilson who, like Max, was expelled from a prep school. He and Anderson began work on the script long before Bottle Rocket was filmed, and Rushmore contains even more of the DNA found in the rest of Anderson's catalog. Few films remain re-watchable into the double digits, but this one just keeps getting funnier. —Josh Jackson
---
37. Singin' in the Rain (1952)
Directors: Gene Kelly, Stanley Donen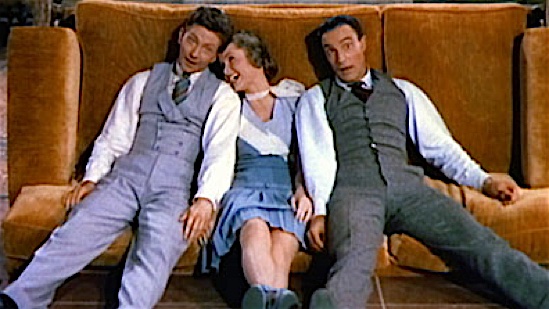 Though only modestly successful upon release, Singin' in the Rain rose in critical esteem to become widely considered the best movie musical of all time. A comedic take on the difficult 1920s transition from silent film to "talkies," the film stars Gene Kelly as a popular silent film star (and dancer, of course), and Jean Hagen as the vain and irritating costar his studio keeps pairing him with romantically. Perhaps the definitive MGM Technicolor musical, the story is adorable and the singing is terrific, but I'm not sure any of its many, many virtues can top the pure explosive vitality and joy that is Gene Kelly in motion. I defy you to watch this and not feel ridiculously happy. —Amy Glynn
---
36. Wet Hot American Summer (2001)
Director: David Wain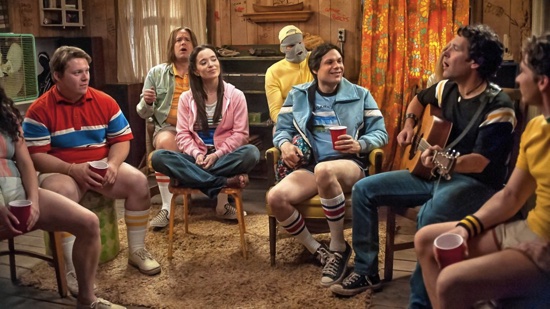 A cult film that's long since surpassed that status, Wet Hot American Summer is a lot of things: It's hilarious; it's perfectly cast; and it's a clear demonstration that Christopher Meloni has more range than simply playing a dour sex crime detective. But what makes it so brilliant, 15 years later and with a Netflix series on lock, is that it's so painfully, relentlessly nihilistic. We could trade quotable lines for days (my personal favorites being what Jon Benjamin's can of vegetables admits he's acrobatically capable of, and then Paul Rudd bluntly refusing to make out with Elizabeth Banks's character due to her burger flavor), but the key to the movie's endurance—past its timelessness grounded in a specific brand of '80s sex romp flick—is the way in which it treats nostalgia. Like Wain, Michael Showalter and Michael Ian Black's Stella series, Wet Hot American Summer, which takes place over the course of Camp Firewood's last day, exists in a bleakly amoral world. Here, bad things happen to good people—and really only to good people. Wain takes innocence and obliterates it, punishes it, gleefully destroying all nice memories anyone would ever hold dear about long lost summers, first loves and youth. Without a shred of wistfulness, Wet Hot American Summer surpasses its origins in parody and becomes something more: It earns its comedy. Taunting our very explicitly American tendency to let everything we touch devolve into sentimentality, the film proves that when we obsess over remembering ourselves at our best, we might as well be celebrating us at our worst. —Dom Sinacola
---
35. Horse Feathers (1932)
Director: Norman Z. McLeod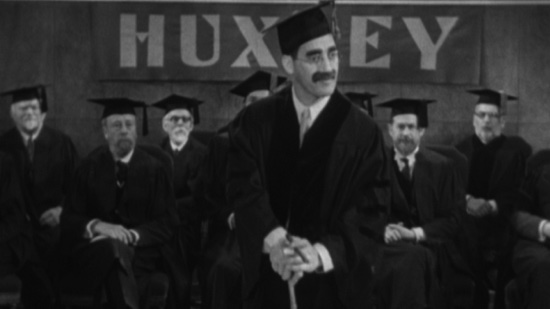 Before Animal House and Old School even thought of poking fun at American college life, there was the hysterical Horse Feathers, the 1932 film that shows Groucho as newly appointed Professor Quincy Adams Wagstaff. We see Wagstaff attempt to recruit true pros for the university football team, which results in newly enrolled Harpo and Chico wreaking havoc across the university. —Tyler Kane
---
34. Caddyshack (1980)
Director: Harold Ramis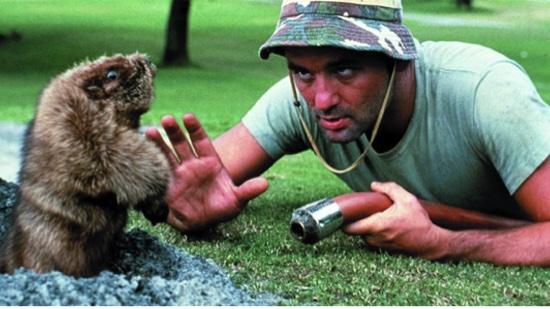 There are four faces on the Caddyshack poster, and all of them are equally crucial to the film's enduring popularity. From Ted Knight's aristocratic bluster, to Rodney Dangerfield's irreverent populism, to the glib playboy Chevy Chase, to Bill Murray's iconic idiot, Caddyshack has one of the greatest casts of any comedy in memory. Add in a sharp script from National Lampoon co-founder Doug Kenney and amiably shaggy direction from Harold Ramis, and you have an all-time classic. —Garrett Martin
---
33. The Kid (1921)
Director: Charlie Chaplin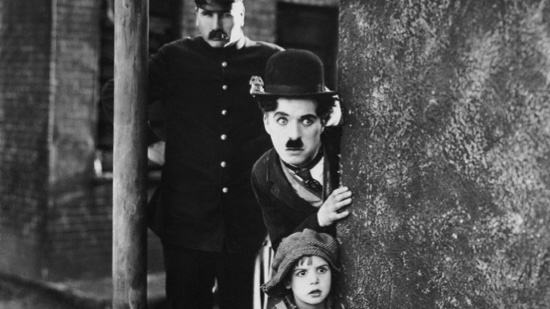 Leave cynicism at the door: The Kid is for the wide-eyed optimists of the world. This loving movie is often hilarious and at times truly heart wrenching in its portrayal of a father and his adopted son. With the restored 4K version of Chaplin's 1972 rerelease, he has never looked better on Blu-ray. Jackie Coogan also shines, running the gamut from giggles to tears in the role of John, and Chaplin's Tramp character may not have been portrayed more sweetly than here. His full-length feature debut, The Kid is the work of a true auteur, and a serious master. In the realm of comedy Chaplin manages a wealth of emotions, something that would follow with his later, more politically charged films. The power and depth of 1952's Limelight can still be traced back to The Kid. Chaplin knew what he was doing, and there's nothing juvenile about this early work. Special features include audio commentary by Chaplin historian Charles Maland, as well as deleted scenes and titles from the original 1921 version. Do not ignore this one, cinephiles. —Nelson Maddaloni
---
32. Sullivan's Travels (1941)
Director: Preston Sturges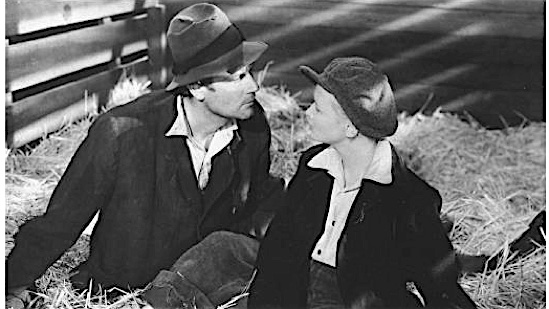 How much does an artist need to suffer for their art? Can a storyteller tell a story that isn't their own? When are you making an honest-to-goodness piece of art, and when are you just playing a sick game of nostalgie de la boue? Sullivan's Travels doesn't exactly answer these questions as much as it wields them like blunt instruments for punishing its protagonist, John L. Sullivan (Joel McCrea), a hot ticket in Hollywood known for churning out money-making flicks with no substantive value. He's a fraud, his work is empty, and he knows it, so like any hack who desperately needs artistic validation to assuage his feelings of creative guilt, he hefts a hobo stick over his shoulder and hits road in the guise of a down-on-his-luck tramp, followed all the while by a lavish double-decker bus as well as the inescapable grip of his own prestige. If you're a fan of the screwball niche of comedy filmmaking, you have to know Sullivan's Travels, one of the best examples of its category; screwball movies aren't simply about zaniness but energy, inertia, momentum, the snowballing power of a silly premise when backed by an intelligently designed madness. —Andy Crump
---
31. Bull Durham (1988)
Director: Ron Shelton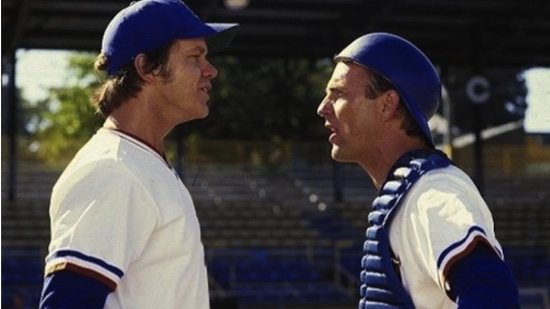 I believe in ridiculous names like Crash Davis and Nuke LaLoosh. I believe in romantic comedies about giving up on a certain phase of your life where characters stand up and deliver cliched "I believe" speeches that, despite being borderline cheesy, somehow ring completely true. And yes, I too believe there should be a Constitutional Amendment banning Astroturf and the designated hitter. I believe in Bull Durham. The most engaging presentation of the minor-league life on film—and a pretty salute to baseball, in general—this first installment in the unofficial Kevin Costner Baseball Trilogy proved that baseball could equal big box office. Costner and Susan Sarandon anchor this film that does its part to engender a love for the game and the people who court it. —Bonnie Stiernberg & Michael Burgin
---
30. The Odd Couple (1968)
Director: Gene Saks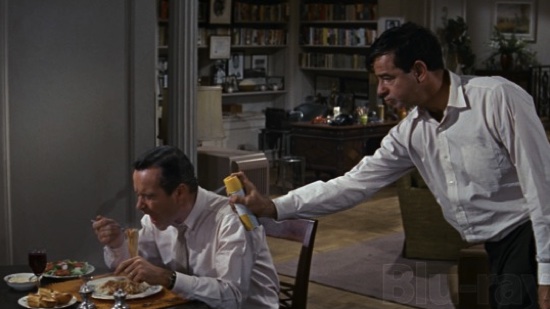 Few onscreen pairings in the history of cinema have boasted quite the same spark as Walter Matthau and Jack Lemmon, with the former's bone-dry demeanor perfectly augmenting the latter's flighty, neurotic energy. Out of the 11 (yes, 11) films the two did together, perhaps the quintessential entry for many is this 1968 adaptation of Neil Simon's hit Broadway play, The Odd Couple. Here, Matthau plays slovenly sports writer Oscar, whose life is turned topsy-turvy when his cleanly, high-maintenance friend Felix moves in with him. In the decades since the film's release, its high-concept premise has spawned so many imitations in both film and TV that the "odd couple" concept has become a sub-category of its own. However, despite all the numerous iterations of the story over the years, including a 1970s ABC comedy series, a well-received Broadway revival with Nathan Lane and Matthew Broderick and a forthcoming CBS series starring Matthew Perry and Thomas Lennon, few can hold a candle to what Matthau and Lemmon achieved with this first go-round. —Mark Rozeman
---
29. Anchorman: The Legend of Ron Burgundy (2004)
Director: Adam McKay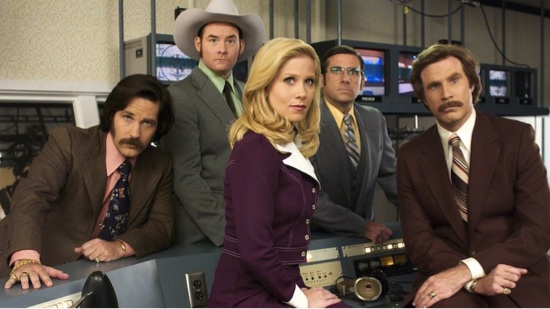 Will Ferrell was a movie star before 2004, carrying both Old School and Elf, but he is still inseparable from his role as San Diego newscaster Ron Burgundy, a character so closely tied to our perception of Ferrell as an actor that every subsequent role seems to contain shades of him. Now that McKay has an Oscar under his belt, he's getting more recognition than he did when he was simply the man behind the camera on Ferrell's best movies. Anchorman upped the ante on Zoolander's sheer lunacy, and ended up being a better movie for it, but true to McKay's Chicago improv routes, it is a plane forming itself mid-flight, and Anchorman would be two seconds from falling apart without McKay's steady hand. Ferrell is a certifiable genius in his own right, and is undoubtedly the center of the universe in each of these films, but the world around Ferrell belongs to McKay, and Anchorman announced his arrival as an uncompromising comedy world-builder. —Graham Techler
---
28. The Big Lebowski (1998)
Director: Joel Coen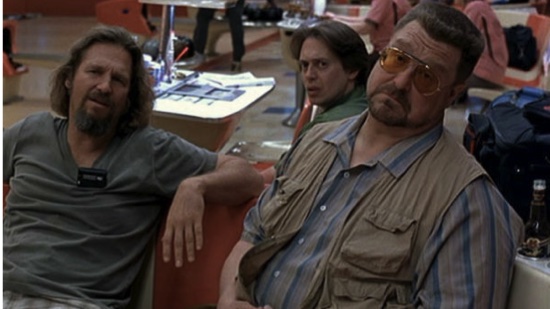 Jeff "The Dude" Lebowski has plenty of time on his hands—enough to while away the days chasing down a stolen rug, at least—but he can hardly get himself dressed in the morning, chugs White Russians like it's his job (incidentally, he doesn't have a real one) and hangs around with a bunch of emotionally unstable bowling enthusiasts. Any mission you set him off on seems bound to fail. And yet that's the great joy, and the great triumph, of the Coen Brothers' The Big Lebowski and its consummate slacker-hero. The Dude is a knight in rumpled PJ pants, a bathrobe his chainmail, a Ford Torino his white horse. Strikes and gutters, ups and downs, he takes life in ambling, unshaven stride—and more than dashing good looks and unparalleled strengths, isn't that something we should all aspire to?
---
27. National Lampoon's Vacation (1983)
Director: Harold Ramis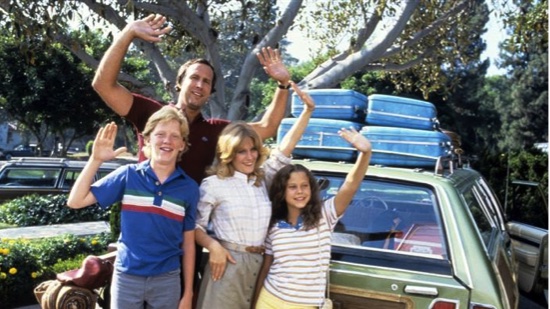 After three sequels and a crappy—at times literally—"legacyquel," the original Vacation is still the king of no-Fs-given raunchy family comedies. The main reason why the first film stands head and shoulders above the others (including Christmas Vacation) is very simple: It doesn't treat the Griswolds as a bunch of innocent, puppy-dog-eyed stand-ins for some pure ideal of a white, American, middle-class nuclear family, one where a series of misfortunes happen through no fault of their own. In Vacation, the Griswolds are stunningly out-of-touch with their rapidly changing country: They're vain, entitled and far too narcissistic to operate as a healthy family unit, to the point where we understand that even without the many unlucky situations they come across, their trip to Wallyworld would have still been a disaster. Through patriarch Clark Griswold, writer John Hughes, actor Chevy Chase and director Harold Ramis create the absolute icon of white baby boomer entitlement. Like many of his kind, Clark thinks he's owed the world, everything he says or does is right and he has complete dominion over his family. When he doesn't get the respect and adulation he knows he deserves, he doubles down on his stupidity and makes everything worse. That's why the humor in Vacation is so much more palpable than the sequels; the comedy comes from the characters and deep-seated satire, not just outside circumstance and sitcom gags. Otherwise, Clark's inevitable nervous breakdown scene would have come across as forced, instead one of the film's funniest sequences. —Oktay Ege Kozak
---
26. Love and Death (1975)
Director: Woody Allen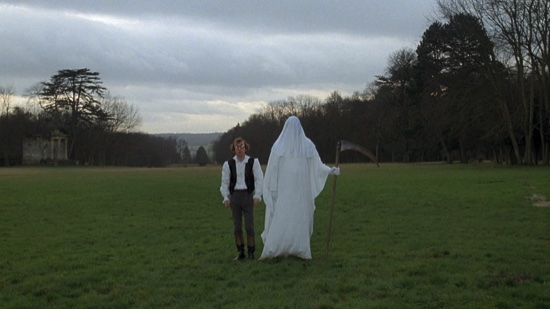 The very best of Woody Allen's funnier, earlier films, Love and Death showcases Allen's two favorite themes (see title). The absurdist plot centers on a young couple (Allen and Diane Keaton) who plot to assassinate Napoleon in czarist Russia. Garbed in one ridiculous costume after another, Allen's character philosophizes on God, love, death and the meaning of life, in between zany antics and hilarious physical comedy. The balance between big ideas and featherweight comedy is seamless, making Love and Death the perfect segue into the more ambitious and complex films that followed. —Jeremy Medina
---
25. The Lady Eve (1941)
Director: Preston Sturges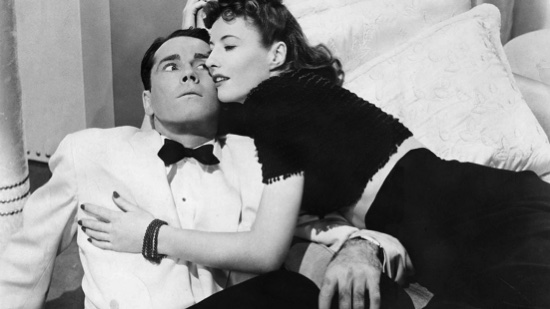 One of director Preston Sturges' defining films The Lady Eve centers on a beautiful con woman (Barbara Stanwyck) determined to catch the affections (read: the inheritance) of a naive rich boy (Henry Fonda) just recently arrived from a year-long excursion to the Amazon. In a nice twist from the battle-of-the-sexes formula that characterizes countless entries on this list, The Lady Eve finds the traditional gender roles reversed, with Stanwyck's Jean Harrington acting as the dominant, sexual aggressor with Henry Fonda's sweet but clueless Charles Pike serving as the passive object of desire. With enough secret identities and broad farce to rival a William Shakespeare play, The Lady Eve stands as a stone-cold American classic. —Mark Rozeman
---
24. M*A*S*H (1970)
Director: Robert Altman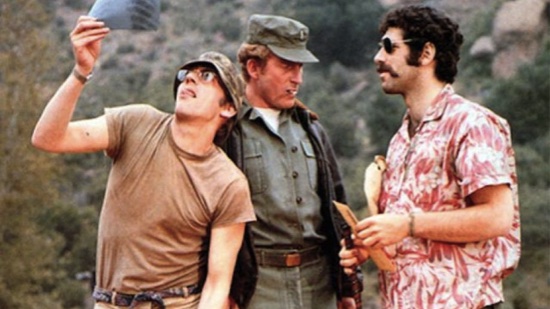 Considering that it became the basis of a beloved (and long-running) CBS sitcom, it's easy to forget how revolutionary the original M*A*S*H film was at the time of its release. Certainly, more than 40 years after it first scandalized moviegoers, this 1970 black comedy about the exploits of a Korean War-era surgical hospital not only stands as one of the most subversive portraits of war ever put to film but also as one of the flat-out, most hilarious movies ever made. Boasting a script consisting almost entirely of improv, a major comedic set piece centered on a suicide attempt and the first utterance of the word "fuck" in a mainstream film, M*A*S*H redefined the American comedy and promptly secured director Robert Altman's status as the ultimate actor's director. —Mark Rozeman

---
23. Best in Show (2000)
Director: Christopher Guest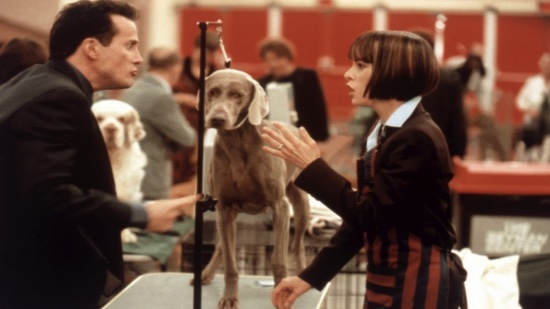 The genius of Christopher Guest's particular style of mockumentary is in his cast's complete commitment to character, and none of his films are inhabited by a more hilarious ensemble than Best in Show. Parker Posey and Michael Hitchcock as Meg and Hamilton Swan project their own neuroses on their poor Weimaraner. Eugene Levy's Gerry Fleck is outrageously outmatched by his wife Cookie, played by Catherine O'Hara—the secret weapon of most Guest films. The director himself plays Harlan Pepper, a Southern gentleman with no self-awareness and an ability to name all kinds of nuts. The more inane his rambling gets, the harder it is to keep from laughing. Finding the ridiculousness in something like the world of dog shows might not be difficult, but there's no mocking tone to the subject, just to the quirks of human nature. The improvisation and dead-pan delivery from Jane Lynch, Bob Balaban, Jennifer Coolidge, Michael McKean and especially Fred Willard as the sports announcer who knows nothing about the subject he's paid to talk about, elevate the medium by giving surprising dimension to their characters. It's a symphony of creation from a troupe of performers at their peak. —Josh Jackson
---
22. The Great Dictator (1940)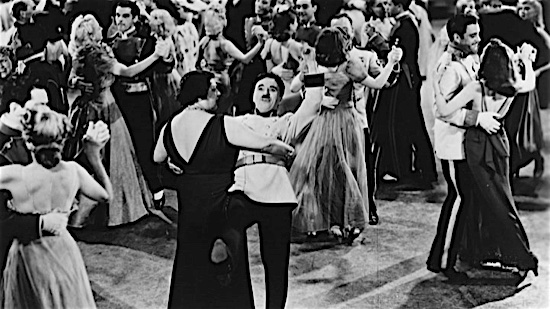 Charlie Chaplin's first "talkie" was a biting satire that he wrote, directed, produced, scored, and starred in-as both of the lead roles, a fascist despot who bears a rather marked resemblance to Adolf Hitler and a persecuted Jewish barber. Good satire can be powerful, and this film was: Released while the United States was still formally at peace with Germany, it stirred greater public attention and condemnation of the Nazis and Mussolini, anti-Semitism and fascism. (That said, Chaplin later recounted that he could never have made the satirical film even a year or two later, as the extent of the horrors in German concentration camps became clearer.) The choice to play both the tyrant and the oppressed man was an inspired one, underscoring the frightening but inescapable truth that we all contain a little bit of both characters. This is a strikingly pertinent film for our particular moment in history, and well worth dusting off and queueing up not only for its incredible craft but for its resonance as a study in projection. —Amy Glynn
---
21. When Harry Met Sally (1989)
Director: Rob Reiner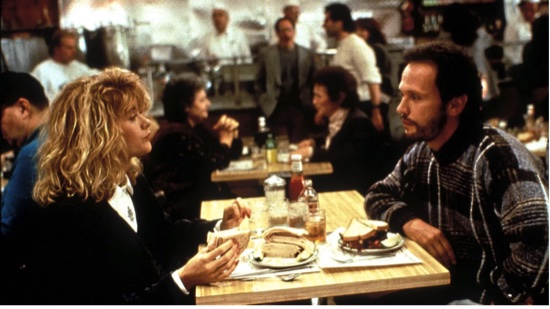 Easily the most beloved romantic comedy of its decade, the story of Harry (Billy Crystal), Sally (Meg Ryan) and their 12-year journey to couple-hood boasts a solid script by Nora Ephron that feeds and feeds off of the unexpected chemistry between its leads. (And with each new generation of lovers watching the diner scene for the first time, another woman laughs and another man sits silently, wondering what's so funny.) —Michael Burgin
---
20. Shaun of the Dead (2004)
Director: Edgar Wright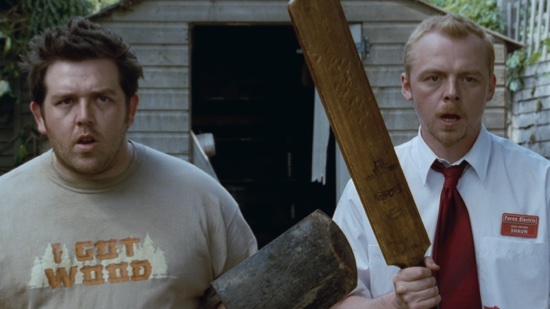 Together, 28 Days Later and Shaun of the Dead established precedents for the "modern" zombie film that have more or less continued to this day. The former made "zombies" scary again, and the latter showed that the cultural zeitgeist of zombiedom (which was picking up around this point) could be mined for huge laughs as well. Most importantly, the two types of films could exist side by side. Shaun of the Dead makes a wry, totally valid criticism of modern, digital, white-collar life through its wonderful build-up and tracking shots, which show slacker Shaun (Edgar Wright) wandering his neighborhood failing to even realize that a zombie apocalypse has happened. Once he and his oaf of a friend finally realize what's happening and take up arms to protect their friends and loved ones, the film becomes a fast-paced, funny and surprisingly emotional action-comedy. Few horror comedies have actually combined the elements of humor and serious horror the way this one does in certain scenes—just go back and watch the part where David (Dylan Moran) is dragged through the window of the Winchester by zombies and literally torn to pieces. It's a film that works on so many levels, and manages to be uproariously funny while still being quite faithful to the fidelity of Romero-style zombie flicks. Much in the same way as Zombieland (a definite spiritual successor), it shows that whether the zombies are "scary" is ultimately a matter of how everyone reacts to them. —Jim Vorel

---
19. Bringing Up Baby (1938)
Director: Howard Hawks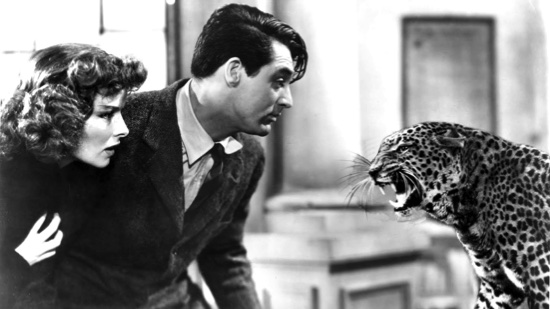 The textbook example of a screwball comedy, Bringing Up Baby finds Cary Grant's hilariously uptight paleontologist Dr. David Huxley struggling to keep his life together when the flirtatious agent of chaos that is Katherine Hepburn's Susan Vance comes crashing into his life. Add in shenanigans involving a baby leopard, a collapsing brontosaurus skeleton and some deftly executed pre-MPAA sexual innuendos and you have not only one of the best romantic comedies of all time but one of the funniest American movies ever made. —Mark Rozeman

---
18. Groundhog Day (1995)
Director: Harold Ramis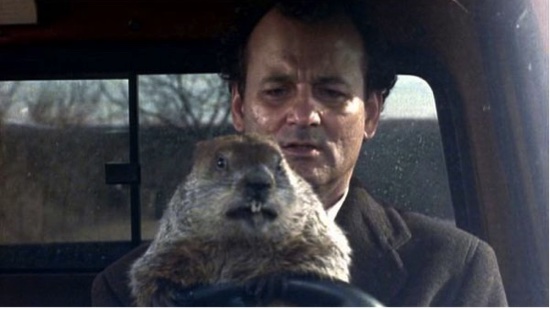 Bill Murray, director/co-writer Harold Ramis and screenwriter Danny Rubin take a "Twilight Zone"-esque comedic premis—a self-centered weatherman gets stuck experiencing February 2 again and again—and find unexpected profundity. A more conventional film would have love resolve the chronological predicament, but instead, it falls to Murray to become the best man he can possibly be. A Hollywood comedy that challenges middle-class Americans to better themselves, Groundhog Day doesn't just elicit laughs, but leaves audiences more deeply moved than they ever expected. It's also inspired some obsessive fans, including one fellow who calculated, down to the day, the number of decades Murray spent in February 2. —Curt Holman
---
17. Monty Python and the Holy Grail (1975)
Directors: Terry Gilliam, Terry Jones
It sucks that some of the shine has been taken off Holy Grail by its own overwhelming ubiquity. Nowadays, when we hear a "flesh wound," a "ni!" or a "huge tracts of land," our first thoughts are often of having full scenes repeated to us by clueless, obsessive nerds. Or, in my case, of repeating full scenes to people as a clueless, obsessive nerd. But, if you try and distance yourself from the over-saturation factor, and revisit the film after a few years, you'll find new jokes that feel as fresh and hysterical as the ones we all know. Holy Grail is, indeed, the most densely packed comedy in the Python canon. There are so many jokes in this movie, and it's surprising how easily we forget that, considering its reputation. If you're truly and irreversibly burnt out from this movie, watch it again with commentary, and discover the second level of appreciation that comes from the inventiveness with which it was made. It certainly doesn't look like a $400,000 movie, and it's delightful to discover which of the gags (like the coconut halves) were born from a need for low-budget workarounds. The first-time co-direction from onscreen performer Terry Jones (who only sporadically directed after Python broke up) and lone American Terry Gilliam (who prolifically bent Python's cinematic style into his own unique brand of nightmarish fantasy) moves with a surreal efficiency. —Graham Techler
---
16. Some Like It Hot (1959)
Director: Billy Wilder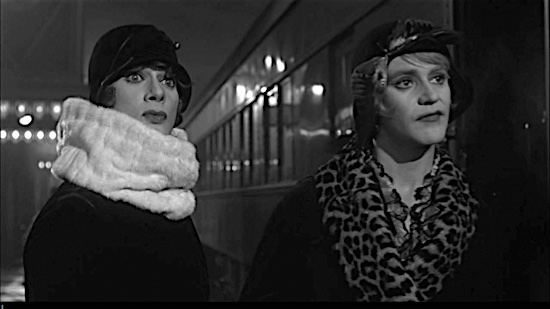 Is Some Like It Hot one of Marilyn Monroe's best films, or one of her most antithetical? Sugar Kane is, in a nutshell, the kind of character Marilyn struggled so hard to avoid playing for the bulk of her career: a ditzy blonde, a pure sex symbol, someone who exists in the context of the movie just to tickle the male gaze, whether within the story or without. She's given nothing to work with, as the bulk of the film's heavy lifting is accorded to Tony Curtis and Jack Lemmon instead. Watching the film in 2017, you may wonder why Billy Wilder slacked on investing Sugar with any level of empathy, why he wrote the character as a one-dimensional object, a trophy for Lemmon and Curtis to compete over. You may also not wonder at all. Some Like It Hot works, even if Marilyn has little to work with other than her persona and her co-star; it's funny, it's quick on its feet, and it sells its central joke—that nobody, save for the audience, can see that Curtis and Lemmon are obviously dudes in drag—perfectly, layering just enough self-awareness of its own ridiculousness to keep the gag from going sour. —Andy Crump
---
15. This Is Spinal Tap (1984)
Director: Rob Reiner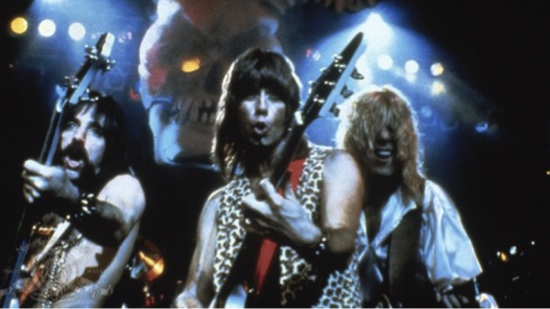 The only rock documentary worth watching, according to Kurt Cobain and Dave Grohl—next to Pennebaker's Dont Look Back—This Is Spinal Tap isn't really a documentary at all, though it aspires to so much more truth than any countless, beatific biopic that's come out in the past couple decades or so. The story of a fictional metal/cock rock band told through talking head interviews that chronicle their iconic ups and downs, Spinal Tap is our best, early glimpse at the team who'd go on to make Waiting for Guffman, A Mighty Wind and Best in Show. While it isn't the first of its kind, it feels like it could be: So deeply does it understand the world it parodies, Spinal Tap knows that a mockumentary is best a biopic of people who never existed, taking the personalities that define this starfucking realm and then, ever so slightly, ever so lovingly, cranking them to 11. —Dom Sinacola

---
14. The General (1927)
Directors: Buster Keaton, Clyde Bruckman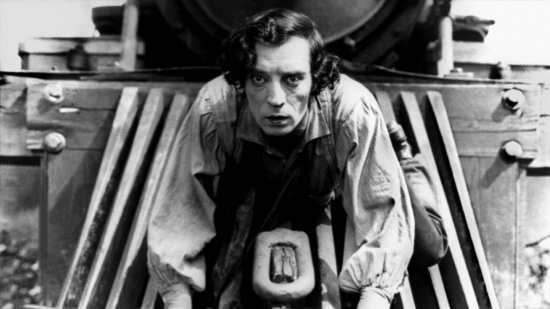 A Buster Keaton chase sequence is like a great piece of music, gliding effortlessly from one variation on a theme to another, building gag upon gag until the explosive climax. Plenty of other filmmakers made chases with the same sets of notes, but none played them so fluidly. The General, then, is like a grand symphony—one long, sustained chase back and forth across the landscape of the Civil War. After a brief prologue to establish the characters, our hero is either chasing or being chased as the camera tracks across the authentic Civil War landscapes. The tightness of the narrative, combined with the large-scale gags, makes this many people's favorite Keaton film—if not simply their favorite silent. —Jeremy Mathews
---
13. His Girl Friday (1940)
Director: Howard Hawks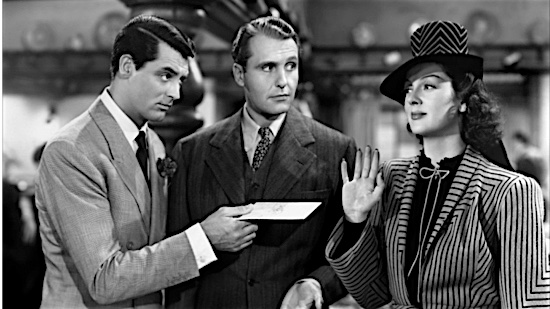 Special effects have become so sophisticated that many of us have probably forgotten how much pure amazement you can wreak with a great story and a script that doesn't let up for one second. This amazing, dizzyingly paced screwball comedy by Howard Hawks stars Cary Grant and Rosalind Russell, and takes us back into two of the decade's hallmark preoccupations: The "remarriage comedy" and the intrigue and obsessiveness of the newspaper world. The minute Russell's Lindy Johnson stalks into the newspaper office run by her ex-husband Walter Burns (Grant), you know it's to tell him she's getting remarried and leaving journalism to raise a family, and you know that's not how it's going to end. No high-suspense mystery here. What puts you on the edge of your seat in this film is how you get there. Hilariously acted and expertly filmed, His Girl Friday derives much of its comedic impact from the incredibly clever and lightning-fast banter of the characters. Don't even think about checking your phone while you're watching this. In fact, try to blink as little as possible. —Amy Glynn
---
12. Modern Times (1936)
Director: Charles Chaplin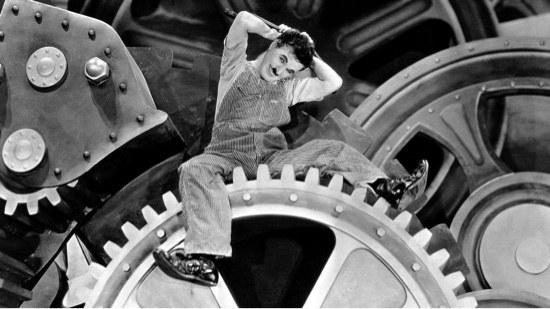 If time is a flat circle, then Modern Times is like a flat sprocket—the travails of the Little Tramp navigating a mechanical world being so incessant and repetitive that elements like luck and hope only serve to spur along Chaplin's farce even though they hold little grip on his characters' futures. Not much changes for the Little Tramp throughout: He tries to survive, and yet the institutional system craps him back out to where he started, desperately hungry and penniless, left with nothing to do but try again. This was also Chaplin's last go as the Tramp, and it's easy to imagine that, throughout the film's many misadventures—joined by equally good-natured partner in crime, the gamin (Paulette Goddard)—as he gets sucked up and sublimated into the modern industrial machine, this "disappearance" was kind of by design. It's a weird way for Chaplin's beloved character to go out, but so is the many ways in which Chaplin shows how the modern industrial machine becomes part of the Tramp, too. He may get squeezed through a giant, sprocket-speckled apparatus, becoming one with its schematics, but so too does the assembly line—with all that twisting, wrenching, and spinning—impress itself onto the Tramp, leaving him unable after a long shift to do anything but waggle his arms about as if he's still on the assembly line. It's no wonder, then, that the President of Modern Times' factory setting bears a striking resemblance to Henry Ford: Chaplin, who toured the world following the success of City Lights, witnessed the conditions of automobile lines in Detroit, how the drudgery of our modern times weighed on young workers. The Great Depression, Chaplin seems to be saying, was the first sign of just how thoroughly technology can kill our spirits, not so much discarding us as absorbing our individuality. Modern Times, then, is a film with a conscious far beyond its time, a kind of seamless blending of special effects, sanguine silent film methods, and radical fury. —Dom Sinacola

---
11. Blazing Saddles (1974)
Director: Mel Brooks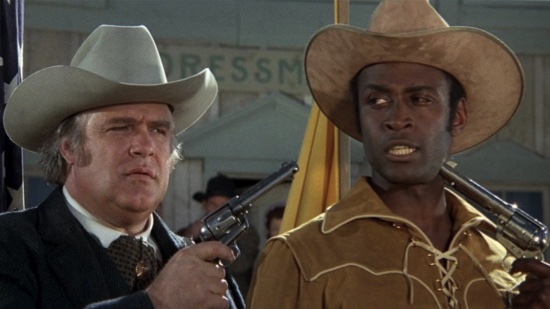 Mel Brooks' greatest and most racially charged comedy has recently been mentioned in debates of political correctness, in the tone of "Nobody would be able to make Blazing Saddles today," and for better or worse, it's hard to refute. The film is a product of its time, a decency-stretching Wild West farce about a black sheriff trying to win over the white settlers of his frontier town and foil the plot of comically nebbish villain Harvey Korman in an all-time great comedy performance. Brooks regulars such as Madeline Kahn contribute great bits, and there's the wonderfully understated Gene Wilder, but the reason the film remains such a classic today is that the surface-level gags are largely harmless and timeless. From its little diversions in Loony Tunes parodies, to the genre satire of every person in town seemingly being named "Johnson," it's a surprisingly sweet film for one that's also throwing around heavy themes of racism and discrimination. One thing that genuinely wouldn't be done in a film today is its madcap, zany ending, as the cowboys spill out of their own movie and into the other Warner Bros. soundstages. Outside of Anchorman 2, nothing else in recent years has tapped into that level of reality-bending, plot-snapping absurdism. —Jim Vorel
---
10. A Fish Called Wanda (1988)
Director: Charles Crichton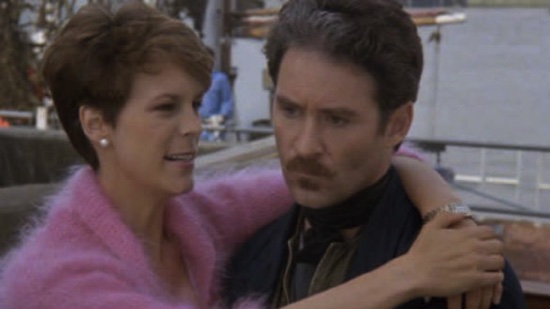 This ensemble piece shows what can happen when four skilled comic actors (John Cleese, fellow Monty Python alum Michael Palin, Kevin Kline and Jamie Lee Curtis) are given a script (written by Cleese) that puts them all on equal footing. The result is a tour-de-force of crisply delivered, character-driven comedy that, while tough on old ladies, fish and terriers, continues to reward new and returning viewers. (The film also broke through the Academy's normal bias against comedies, winning Kevin Kline a richly deserved Best Supporting Actor for his role as Otto.) —Michael Burgin
---
9. It Happened One Night (1934)
Director: Frank Capra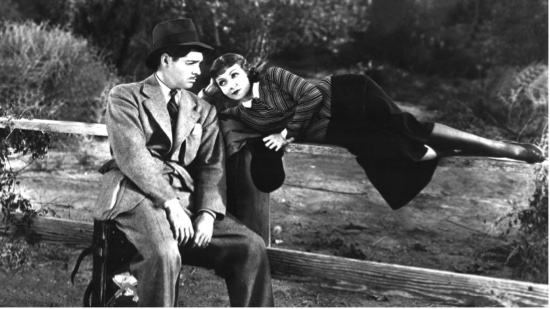 To heck with Gone with the Wind, Clark Gable's portrayal of hard-drinking cynical newsman Peter Warne, a man who finds himself on a road trip with runaway rich girl Ellie Andrew (Claudette Colbert), remains the best role of his career. Likewise, Colbert is an endearing hoot as the impulsive runaway. This being one of the pioneering rom-coms, these two highly opinionated characters who can't stand one another at the beginning inevitably find their feelings softening as they reach the final stretch of their journey. At the time of its release in 1934, It Happened One Night was considered so funny that it won the five major Academy Awards (Best Picture, Director, Actor, Actress and Screenplay) precisely for being so funny. Obviously, nearly 80 years and countless copycats have somewhat diluted the film's originality and humor over time. Nevertheless, it still stands as a towering example of American comedy and a model for all successful rom-coms to this day. Also, let's face it, how many subsequent romantic comedies have had their basis in simple dialogue exchanges like this (between Warne and Ellie's father):
Mr. Andrews: Do you love [my daughter]?
Warne: A normal human being couldn't live under the same roof with her without going nutty. She's my idea of nutty.
Mr. Andrews: I asked you a simple question, do you love her?
Warne: Yes! But don't hold that against me, I'm a little screwy myself! —Mark Rozeman

---
8. Airplane! (1980)
Director: Jim Abrahams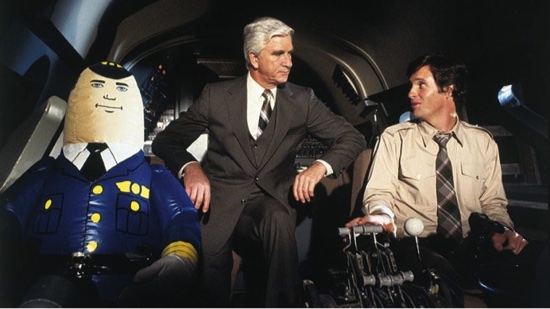 The writing trio of Jerry Zucker, Jim Abrahams and David Zucker (ZAZ) defined a genre with their disaster-movie spoof in 1980. The jokes fly fast and furious, from the "Who's on First" confusion of a crew that includes Roger and Captain Oveur ("Roger, Roger. What's our vector, Victor?") to Oveur (Peter Graves) asking a kid in the cockpit, "Joey, do you like movies about gladiators?" to an old lady translating jive ("Jive-ass dude don't got no brains anyhow! Shiiiiit!") to "stop calling me Shirley!" Ridiculous and ridiculously quotable, it's the funniest spoof film of all time. —Josh Jackson

---
7. Monty Python's Life of Brian (1979)
Director: Terry Jones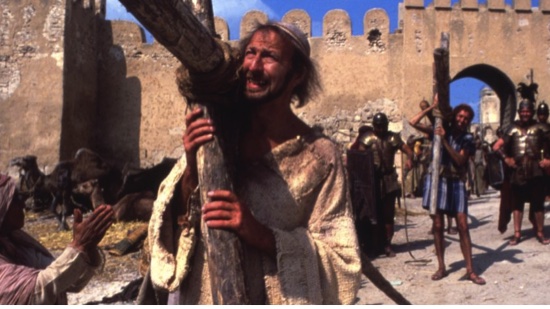 Pretty much made on George Harrison's dime and considered, even if apocryphally, by the legendary comedy troupe to be their best film (probably because it's the closest they've come to a three-act narrative with obvious "thematic concerns"), Life of Brian got banned by a lot of countries at the butt-end of the '70s. As a Christ story, the telling of how squealy mama's boy, Brian (Graham Chapman) mistakenly finds himself as one of many messiah figures rising in Judea under the shadow of Roman occupation (around 33 AD, on a Saturday afternoon-ish), Monty Python's follow-up to Holy Grail may be the most political film of its ilk. As such, the British comedy group stripped all romanticism and nobility from the story's bones, lampooning everything from radical revolutionaries to religious institutions to government bureaucracy while never stooping to pick on the figure of Jesus or his empathetic teachings. Of course, Life of Brian isn't the first film about Jesus (or: Jesus adjacent) to focus on the human side of the so-called savior—Martin Scorsese's take popularly did so less than a decade later—but it feels like the first to leverage human weakness against the absurdity of the Divine's expectations. Steeped in satire fixing on everything from Spartacus to Franco Zeffirelli's Jesus of Nazareth, and buttressed by as many iconic lines as there are crucifixes holding up the film's frames (as Brian's equally squealy mother hollers to the swarming masses, "He's not the messiah. He's a very naughty boy!"), the film explores Jesus's life by obsessing over the context around it. Maybe a "virgin birth" was really just called that to cover up a Roman centurion's sexual crimes. Maybe coincidence (and also class struggle) is reality's only guiding force. Maybe the standard of what makes a miracle should be a little higher. And maybe the one true through line of history is that stupid people will always follow stupid people, whistling on the way to our meaningless, futile deaths. —Dom Sinacola
---
6. The Princess Bride (1987)
Director: Rob Reiner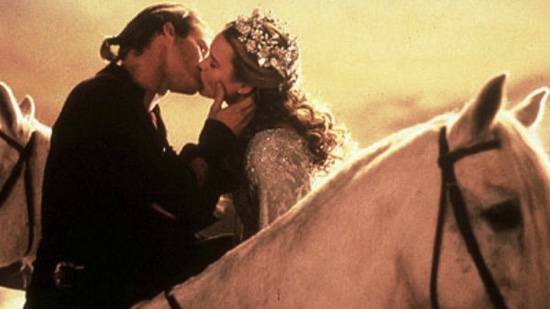 Quite possibly the most perfectly executed transformation of a beloved book to a beloved film in the history of the sport. A family-friendly fable with pitch-perfect performances by the entire cast—from main character to bit player—The Princess Bride is easily the most relentlessly quotable film anywhere this side of Monty Python and their Holy Grail. Though regarded warmly enough by critics, its status as comedic fable ensures it is criminally underrated on most lists. Inconceivable? Alas, no. But unfair, nonetheless. —Michael Burgin
---
5. Young Frankenstein (1974)
Director: Mel Brooks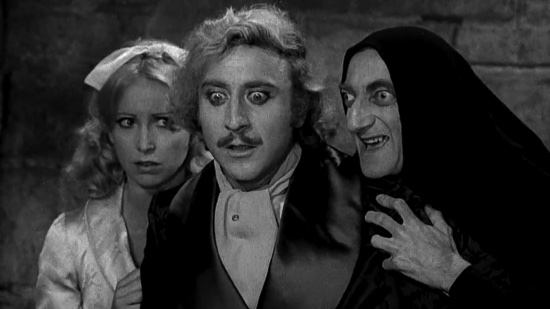 One of the best comedies of all time and one of the 10 or so films I can quote almost entirely from memory, Young Frankenstein is a classic of the genre. At once a spoof of traditional Universal horror films and a loving tribute, Mel Brooks and his immensely talented cast have created a timeless film. It follows Dr. Frederick Frankenstein (played by Gene Wilder) as he finally gives into continuing his grandfather's (the Frankenstein) experiments. A classic for all ages, Peter Boyle's take on Frankenstein's monster is more playful than scary—after all, it's hard to see a kid being terrified by a tap-dancing monster, even if he is "puttin' on the ritz." —Mark Rabinowitz
---
4. The Philadelphia Story (1940)
Director: George Cukor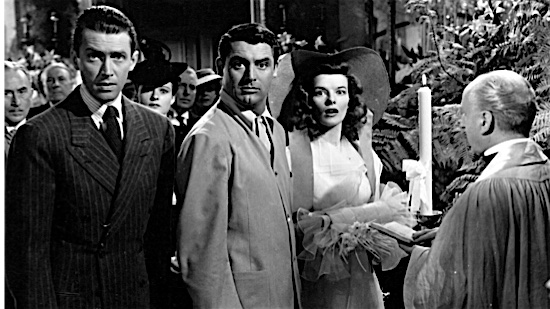 Can you believe there was a time when Katharine Hepburn was known in Hollywood as "box office poison"? This adaptation of a Broadway hit was a vehicle to get her career back on track after a series of flops. Her performance as icy heiress Tracy Lord in this "remarriage" comedy is a force of nature. Happily, her no-longer-drunken ex is played by Cary Grant, who is a fabulous foil. Jimmy Stewart and Ruth Hussey round out the cast as reporters in not-so-clever disguise. Pretty much everything about this movie is a pure delight, and the script is a masterpiece. —Amy Glynn
---
3. Duck Soup (1933)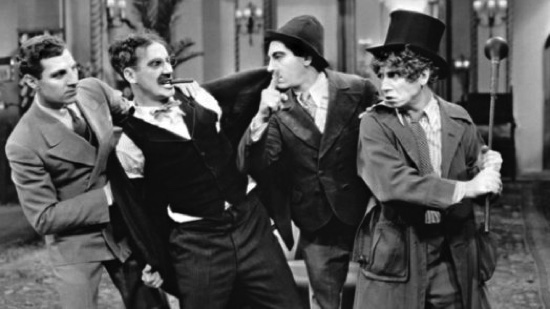 Although some critics would argue that Duck Soup's pacing make it inferior to other films in the Marx catalog, the film's incredible one-liners and the brothers' great on-screen chemistry make it one of their most clearly beloved films. The audience sees Groucho's spitfire mouth in its prime as Rufus T. Firefly, a newly appointed leader of the struggling country Freedonia, and it's as much a solid chunk of hilarity as it is a satire of government and politics of the time. Harpo and Chico are incredible in their secondary parts as spies, showcasing their hold on slapstick and physical comedy that's most pronounced in Harpo's hilarious, near-blank facial expressions throughout. —Tyler Kane
---
2. Annie Hall (1977)
Director: Woody Allen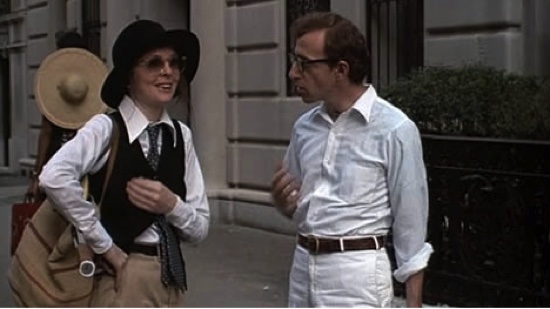 Annie Hall is the sole best picture winner in Woody Allen's canon. The film is also one of the best romantic comedies ever, simply because it takes the time to show all of the moments that happen in a relationship—the wide spectrum of happy and sad, of bittersweet and just plain bitter. From fighting over which movie to see, to laughing while chasing down lobsters in the kitchen, Allen perfectly encapsulates the delicate beauty found in the highs and lows of a relationship. It doesn't hurt that his wit and humor is perfectly matched by Diane Keaton, in her iconic, Oscar-winning performance. Funny with a perceptively intellectual undercurrent, Annie Hall is an enduring classic. —Jeremy Medina

---
1. Raising Arizona (1987)
Director: Joel Coen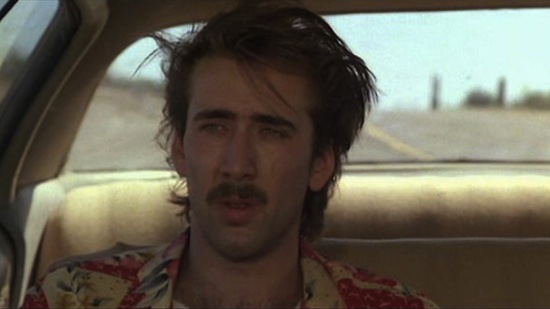 Understated dramatic performances are all well and good, but it takes pinpoint control on behalf of both directors and cast to deliver the sustained overstated performances found throughout Raising Arizona. From its opening courtship sequence to the struggles of H.I. (Nicholas Cage) and Ed (Holly Hunter) to form a family by borrowing an "extra" from a family with a surplus to the final battle with the Lone Biker of the Apocalypse, the Coen brothers' film remains an immensely beguiling and quotable farcical fable. —Michael Burgin