Steve Carell and Timothée Chalamet Build More Awards Hype with Second Beautiful Boy Trailer
Image via Amazon Studios
Movies
News
Beautiful Boy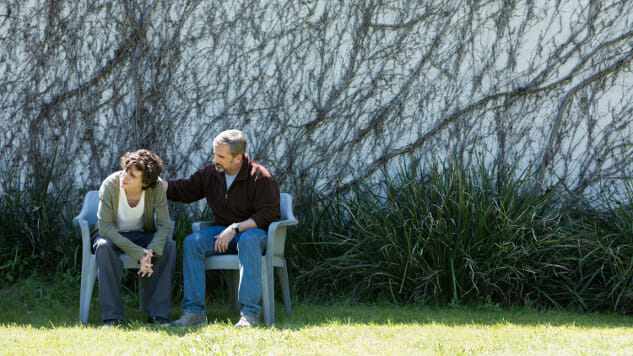 Previous Oscar nominees Steve Carell and Timothée Chalamet are stepping up their awards campaigns with the new trailer for Beautiful Boy, a biographical drug addiction drama based on the lives of father-son duo David and Nic Sheff.
Beautiful Boy follows Nic Sheff (Chalamet) as he goes through a grueling, years-long cycle of addiction, relapse and recovery, which puts a strain on his relationship with his father David (Carell). The film reunites Carell with his The Office wife Amy Ryan, who plays David's wife Vicki, and Maura Tierney also stars. The film is directed by Felix van Groeningen, who cowrote its script alongside Luke Davies, based on Beautiful Boy: A Father's Journey Through His Son's Addiction and Tweak: Growing Up on Methamphetamines, twin memoirs by the real-life David and Nic Sheff.
Beautiful Boy deals primarily with son Nic's struggles with addiction, but it seems that distributor Amazon Studios is making a push for Carell as the film's lead male performance, with Chalamet as more a supporting player. Like the first trailer, the new trailer foregrounds Carell and Chalamet's performances as the film's main selling point, now backed by warm critical blurbs since Beautiful Boy has premiered at the Toronto International Film Festival, though Carell is top-billed and his character is more of a driving force in today's trailer.
Carell received a Best Actor nomination at the Oscars for playing real-life millionaire eccentric John du Pont in the 2014 biographical wrestling drama Foxcatcher, and Chalamet became one of the few young male actors to get recognized in the leading category with his nomination for Call Me By Your Name last year.
Amazon Studios will release Beautiful Boy in theaters Oct. 12, well-timed for an awards push, and we should expect to see more of those as the season gets rolling.
Watch the new trailer below.