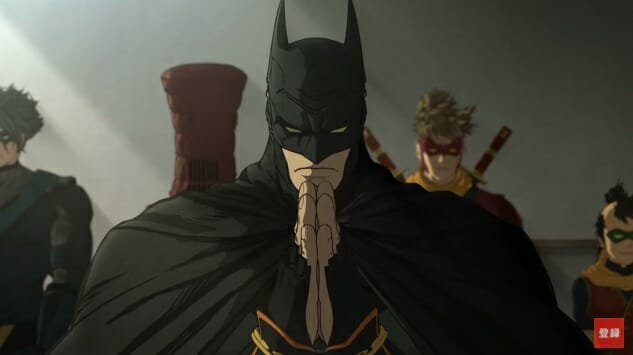 Here's the greatest film of 2018 that you didn't even know you wanted—a Japanese anime adaptation of Batman, entitled Batman Ninja. The film was actually announced by Warner Bros. Japan back in October before the New York Comic Con, but didn't receive a ton of attention. After the arrival of the scintillating trailer above, however, that has immediately changed.
To say it in a single word, the trailer for Batman Ninja is breathtaking in both its animation and revisionist creativity. Seemingly every aspect of the Batman universe and Bat Family has gotten a fresh reimagining in this movie, courtesy of anime legend and Afro Samurai creator Takashi Okazaki, who handled character design on everyone from Batman and Joker to Harley Quinn, Catwoman, Robin and more. The only character to emerge looking exactly as we remember is Alfred, because, well … dude is still an English butler.
As for the trailer's content … where does one even begin? This thing is jam-packed with all kinds of sweet Batman tidbits. You get to see Batman samurai gear (why is this called Batman Ninja if he's a samurai, anyway?), undead Joker revenants, a giant ape, bizarre Robin haircuts and a few seconds of what APPEARS to be a giant mechanical Joker hand. And that's not even mentioning the sequence of Batman and The Joker dueling with katanas on the terracotta-shingled rooftop of some burning palace. This is some serious wish-fulfillment for comic geeks, right here.
The film is directed by Jumpei Mizusaki, known for producing JoJo's Bizarre Adventure, along with animation contributions to a variety of games in the Mega Man franchise. There's no release date set just yet, but Batman Ninja reportedly will be out in 2018 in Japan. We can only imagine that there will be a dubbed release as well, judging from all the attention this trailer is already getting in the English-speaking world this morning. Perk up your morning by taking a gander at it above.