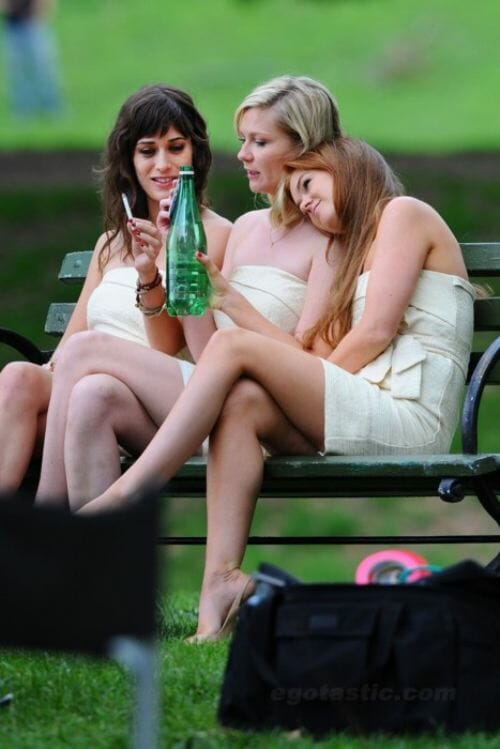 Bachelorette may not be a sequel to Bridesmaids, but the comparison is inevitable and deserved: Both center around jealous maids of honor whose friendships with the bride are tested in the run-up to the big day. Both feature raunchy humor directed at female audiences. Both start with the letter "B." But whereas the pedigree of last year's double-Oscar nominee lies in television sketch comedy and sitcoms, Bachelorette originated on the stage, and writer-director Leslye Headland mines material as portentous as the Seven Deadly Sins. The result is a sister film that's less fun but more poignant in its examination of the modern-woman condition.
Rebel Wilson, who also appeared in Bridesmaids as Kristen Wiig's obnoxious roommate, stars as the bride, Becky, whose announcement of her impending nuptials sends frenemy Regan (Kirsten Dunst, looking scarily skinny and pale) into a tizzy. Regan "did everything right"—went to college, exercised, ate right, works with cancer kids, dates a med student—so she expected to be the first of her high-school "B-faces" to get married. Still, she puts her personal disappointment aside and turns her Type A attention to her maid-of-honor duties, striking fear into the hearts of wedding planners and lesser bridesmaids alike.
Among the other bridesmaids are Gena (Lizzy Caplan), a promiscuous Los Angeles hipster still smarting from her high-school boyfriend's betrayal, and Katie (Isla Fisher), a retail salesgirl wearing a party-girl mask to hide a deep well of pain. While Becky's idea of a bachelorette party involves champagne and ice cream, Gena and Katie get the party started at the rehearsal dinner with bumps of coke.
Later that evening, drunk and high, this trio of worst best friends tears Becky's wedding dress. (Of course they do.) And like the rest of the night's shenanigans that take them from a dress boutique to a strip club to an ex's childhood home as they try to fix what they've done but only make it worse, it's a crisis of their own making—which makes them unsympathetic and annoying.
That's where the Seven Deadly Sins come in, for Bachelorette the play is one in a series of seven, focused in this case on gluttony. The obvious embodiment of this particular vice is Becky, a heavy girl who orders a burger and fries with the bacon and cheese Regan asks to have removed from her salad. But her friends are the real sinners, gluttonous consumers of materials goods, sex and drugs. And they're punished for it—consumed by self-loathing and destructive behavior.
These ladies' misadventures, as irritating as they are along the way, culminate with real poignancy that almost makes up for the frustrating fact that it all could have been avoided in the first place.
Director: Leslye Headland
Writer: Leslye Headland
Starring: Kirsten Dunst, Isla Fisher, Lizzy Caplan, James Marsden, Adam Scott, Rebel Wilson
Release Date: Sept. 7, 2012