Ansel Elgort Offers Baby Driver 2 Update: "I Think It's Going to Happen"
Photos by Wilson Webb/TriStar Pictures
Movies
News
Baby Driver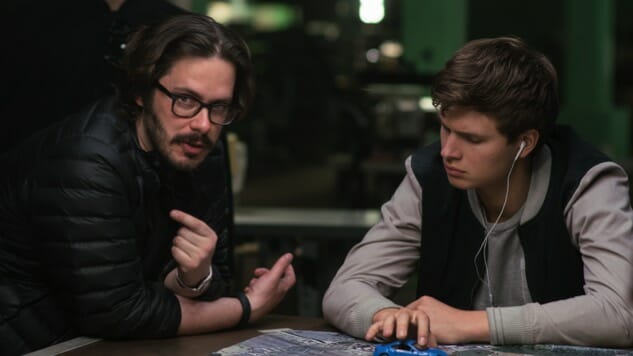 Ansel Elgort is clearly taking some hints from notorious franchise spoilers Tom Holland and David Harbour in revealing that the rumored sequel to Baby Driver might be on the way.
In an interview with MTV News's Josh Horowitz, Elgort confirmed that director Edgar Wright has shown the actor a draft of the script and revealed the working title of the project.
When Horowitz presses for further details and a tentative timetable, Elgort is tight-lipped, but hopeful: "I think it's going to happen. I think there will be [a] Baby Driver 2."
Will the #BabyDriver sequel ever see the light of day? @AnselElgort confirmed that director @edgarwright has told him the title, and he's seen a script: "I think it's gonna happen" pic.twitter.com/FRxIom0LCg

— MTV NEWS (@MTVNEWS) July 25, 2019
This isn't the first news of a potential Baby Driver sequel that we've received, however: On the one-year anniversary of the film, Wright took to Twitter to hint that Baby "could get back on the road soon," and last month, the director once again reaffirmed his hope to "make it real soon if all the planets align."
'Baby Driver' was released one year ago today. Had a wild ride with it in the last 365 days. so I thank you for all your beautiful responses, it means everything. And who knows, maybe he could get back on the road soon… pic.twitter.com/MgtRlPACau

— edgarwright (@edgarwright) June 28, 2018
We hope to make it real soon if all the planets align…

— edgarwright (@edgarwright) July 28, 2019
Though Wright has noted his disinterest in making sequels to his films in the past, the acclaimed Hot Fuzz director told CinemaBlend in 2017 that—if he were to produce a sequel—Baby Driver would be the film to do it:
I've definitely had some ideas and me and Simon [Pegg] have even talked about it at points, but it's that thing of, do I want to spend three years of my life doing that? Or do I wanna, if I have the opportunity to tell a new story, would I do that? If somebody said to me, if Baby Driver 2, if that kind of came up, it would be like, 'I have ideas.' I would never say never, and you're not wrong to say that that's the one that you could do further installments.
The filmmaker also expanded on his interest in returning to Baby Driver in a different interview, explaining:
The studio have asked me to think about writing a sequel and it is one of the ones that I might do a sequel to because I think there's somewhere more to go with it in terms of the characters. Most sequels you have to contrive something so they go back to square one, unless there's somewhere deeper for them to go. I think with Baby Driver there's more that you can do in that realm, and I sort of have an idea that if you did another [film] you would subvert his involvement in the crime in a different way so he's not the apprentice anymore.
Not long after that, in December 2017, Wright confirmed he was in talks to "at least write a second one." Elgort's comments confirm he's done just that.
Though the sequel may very well be in the cards, it doesn't look like it's going to happen anytime soon: Wright is in the production stages of his latest feature Last Night in Soho and Elgort is in the middle of filming the lead performance in Steven Spielberg's West Side Story (and lest we forget Elgort recently signed on to shoot ten episodes of HBO Max's forthcoming Tokyo Vice miniseries).
But despite the issues with scheduling, it looks like both Elgort and Wright are still hellbent on bringing the Spacey-less sequel to life, and it's already backed by a league of fervent super-fans, anyway:
baby driver 2 pic.twitter.com/j1D95I3Xb2

— ?bby (@stevharrington) July 29, 2019
Check out our 2017 chat with Wright here and revisit our review of the film here.