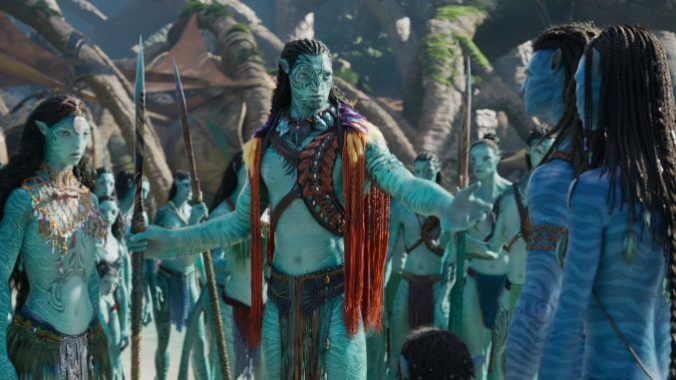 Avatar: The Way of Water continues to cruise up the all-time theatrical leader board, with a $2.13 billion current gross that puts it as the #4 highest-grossing film of all time. Meanwhile, the rest of director James Cameron's epic sci-fi series has all been carefully mapped out—he's already shot the entirety of Avatar 3 and most of Avatar 4, leaving only Avatar 5, intended to close the series. As of now, the films are scheduled for a two-year cycle, with Avatar 3 hitting theaters on Dec. 20, 2024, and subsequent sequels on Dec. 18, 2026 and Dec. 22, 2028.
Details have been fairly mum on those sequels, but in an interview with Empire, series producer Jon Landau lets some pretty significant stuff slip. For one, he solidified that Avatar 3 will indeed introduce a group of "Fire Na'vi" officially known as the Ash People, described as "an aggressive, volcanic race" of the more familiar blue-skinned aliens. Their leader is Varang, played by actress Oona Chaplin, best known as Robb Stark's ill-fated wife Talisa on Game of Thrones. Fun fact: Chaplin is the granddaughter of silent film icon Charlie Chaplin. Other newcomers to the series in Avatar 3 will reportedly include David Thewlis and Michelle Yeoh.
"There are good humans and there are bad humans," said Landau to Empire. "It's the same thing on the Na'vi side. Oftentimes, people don't see themselves as bad. What is the root cause of how they evolve into what we perceive as bad? Maybe there are other factors there that we aren't aware of."
Landau went on to say that there will apparently be a "big time jump" before Avatar 4, which could be similar to the 16 year gap that passed between the original and The Way of Water, to allow Sully and Neytiri's children to grown into teenagers. Even bigger news, though, is the fact that Avatar 5 will apparently visit Earth for at least part of its runtime, with Landau saying that "We go to it to open people's eyes, open Neytiri's eyes, to what exists on Earth."
That's a big sentence, in terms of what it implies about the series—not only that Neytiri survives Avatar 3 and Avatar 4, but that she'll somehow be going to the cradle of human civilization in Avatar 5, to see what a dump we've made of it. The Way of Water briefly establishes that Earth has become mostly unlivable, and reveals that the humans of the Resources Development Administration (RDA) are committing to full-on terraforming of Pandora to serve as a new home. No doubt any of the Na'vi visiting Earth will be quite shocked by how we destroyed our own homeworld.
We'll bring you more information on the developing Avatar sequels as it breaks.