Watch Charlize Theron Kick Major Ass in Red-Band Atomic Blonde Trailer
Image via Focus Features/YouTube
Movies
Video
Atomic Blonde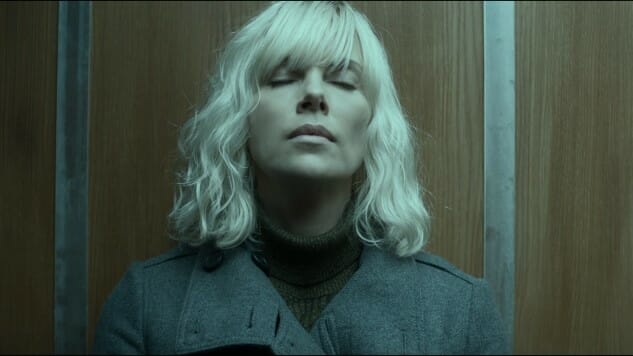 John Wick director David Leitch has graduated from Keanu Reeves kicking ass and moved onto Charlize Theron kicking ass in the new trailer for Atomic Blonde. It's a slick, stylish and sexy trailer, showcasing Theron trouncing a pair of Euro baddies in a pretty sweet tracking shot on a stairwell. Soundtracking it with "Killer Queen" is a little on the nose, but still … This is majorly exciting.
Based on the graphic novel The Coldest City by Antony Johnson, the film follows Agent Lorraine Broughton on the eve of the collapse of the Berlin Wall. Featuring an star-studded cast, the film finds Charlize Theron joined by John Goodman, Toby Jones, James McAvoy, Eddie Marsan and Sofia Boutella, as Broughton is trying to take down an espionage agency while stuck in a city with shifting alliances.
Atomic Blonde comes to theaters on July 28. It also hits SXSW next week, where some lucky festival-goers get to see it early. Check out the trailer above.