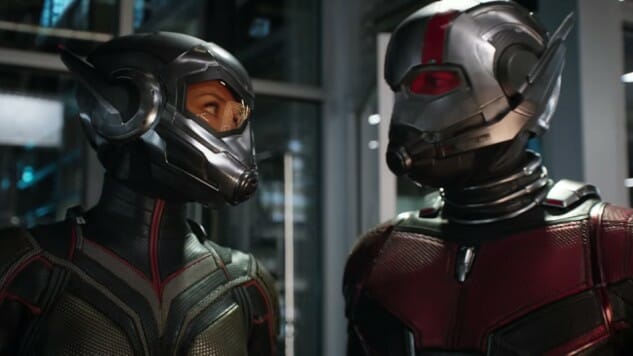 Perhaps one of the biggest questions raised during Avengers: Infinity War was, where is Ant-Man? The tiny superhero, written out of the Russo brothers' historically huge blockbuster, missed out on the biggest war in superhero history. In the new Ant-Man and The Wasp trailer below, we get an answer.
It appears Ant-Man and his new partner, The Wasp, were fighting their own little war, thus leaving them out of the big one. Infinity War screenwriters Christopher Markus and Stephen McFeely reveal that everything will make sense next year, according to THR, when the fourth Avengers film will debut. In the meantime, the screenwriters offered a reason to why Ant-Man was not in Infinity War, given his previous appearance in Captain America: Civil War.
"Ant-Man, the franchise, is very light-hearted. It's fun. It maybe even skews younger," said Markus. "If we were to put Ant-Man in this extremely heavy movie, and then have to say to the guys who are making the Ant-Man movie, 'Yeah, he went through hell, but now go ahead and have your little romp and we'll pick it up afterwards," that's why we have to really sort of manage your interconnections and go, 'Let's go and hold off so you can enjoy that without feeling a bad taste in your mouth.'"
We suppose that is a reasonable enough answer. Perhaps that means we'll get to see both him and The Wasp in the Infinity War finale next year? The duo look like they kick some serious butt in the new trailer. Of course, this is no surprise, given Evangeline Lilly is sort of known for playing badass characters.
Enjoy the new trailer, which hopefully will provide a small yet decent distraction from the end of Infinity War, below. You can also revisit the first teaser here and see the film's new poster, released on Monday, right here. Ant-Man and The Wasp flies into cinemas on July 6.