New on Amazon Prime Video: All the Movies and TV Coming in May
Photos courtesy of Alessio Bolzoni, Amazon Studios
Movies
Features
Amazon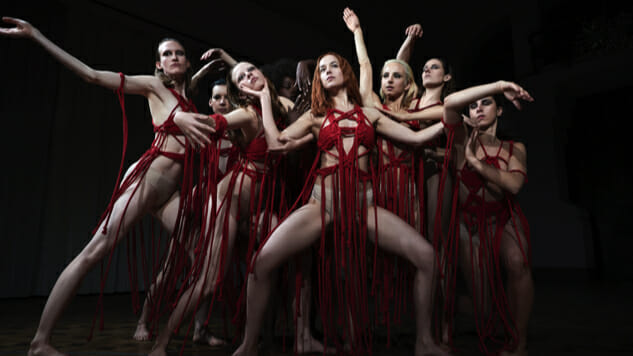 We're already a week into May, but being behind the curve won't keep us from doing our duty—that is, detailing Amazon Prime Video's incoming slate of film and television titles for the month. There are some good additions already available and others still to come, so come along with us on a tour of the whole kit and caboodle.
Foremost among Amazon's incoming film additions is Luca Guadagnino's mind-bending 2018 take on Suspiria (already streaming as of May 3), an iconic horror story first told by Dario Argento in 1977. Guadagnino's polarizing update, which we numbered among 2018's best horror films, is set in late-'70s Berlin, where a darkness swirls at the center of a world-renowned dance company—one that will engulf the troupe's artistic director (Tilda Swinton), an ambitious young dancer (Dakota Johnson) and a grieving psychotherapist (Lutz Ebersdorf). Fans of Argento's original film would do well to manage their expectations going into this one, as Guadagnino has created something that, though operating within the source material's basic framework, is entirely its own. Arriving alongside Suspiria this month are acclaimed Marie Colvin biopic A Private War (already streaming as of May 1), Paul Haggis' ham-fisted 2004 Best Picture winner Crash (already streaming as of May 5), critically reviled, Johnny Knoxville-starring amusement park comedy Action Point (May 8), star-studded 2018 heist drama King of Thieves (May 14) and 2004's Thomas Jane-led attempt at The Punisher (May 16). But Amazon is saving the best for last in May, with a slew of standouts landing on May 31, including 1996's original Mission: Impossible, classic Steve Martin/John Candy odd-couple comedy Planes, Trains & Automobiles, iconic Quentin Tarantino heist film Reservoir Dogs, Joe Dante's cul-de-sac-set dark comedy The 'Burbs, Fernando Meirelles' Oscar-winning 2005 drama The Constant Gardener, beloved high school football drama Friday Night Lights and seven Friday the 13th films for you horror franchise completionists.
On the small screen side of the equation, Amazon is adding new installments of four original series, with one much-anticipated new adaptation making its debut, and two other acclaimed shows continuing on. The former is season one of Good Omens (May 31), adapted from Neil Gaiman and Terry Pratchett's apocalyptic 1990 novel of the same name, in which a fussy Angel and a fast-living Demon (Michael Sheen and David Tennant, respectively) who've become quite fond of life on Earth are forced to form an unlikely alliance to find the Antichrist and prevent Armageddon. The latter returning shows, meanwhile, are Phoebe Waller-Bridge's Fleabag (May 17), the acclaimed comedy whose Emmy-nominated creator and writer also stars as its troubled 20-something title character, and Bryan Cranston and David Shore's Sneaky Pete (May 10), starring Giovanni Ribisi as con man Marius Josipovic, who assumes the identity of his ex-cellmate, Pete, and uses Pete's estranged family to try and escape from his past. Fleabag's second season will find Fleabag, nursing wounds new and old, going toe to toe with the man upstairs, while Sneaky Pete's third sees the Sneaky Pete family braving danger to reckon with their identities, their purpose, where they belong and where they're going. (Amazon's fourth and final original addition in TV is children's series Wishenpoof, returning for season 2C on May 10, if family fare is more your speed.) The streamer is adding a pair of licensed shows, as well, in season three of British comedy The Durrells and season four of BBC drama Poldark, both debuting May 17. And Prime Video Channels users can catch new episodes of two Starz shows this month, The Spanish Princess and Vida.
Find Prime Video's complete May slate below.
New in May – Available for Streaming on Prime Video
Movies
May 1
Shanghai (2010)
A Private War (2018)
May 2
The Yellow Handkerchief (2008)
May 3
Suspiria – Amazon Original movie (2018)
May 5
Crash (2004)
May 8
Action Point (2018)
May 9
Dinosaur 13 (2014)
May 13
The Romantics (2010)
May 14
King of Thieves (2018)
May 16
Punisher: War Zone (2008)
The Punisher (2004)
May 19
Federal Hill (1994)
May 20
Jesus' Son (1999)
May 22
Lulu on the Bridge (1998)
May 25
Morning Glory (2010)
May 26
The Frozen Ground (2013)
May 31
Antitrust (2001)
Awaiting (2015)
Blaze You Out (2013)
Body of Evidence (1993)
Cougars Inc. (2011)
Deadtime Stories (1986)
Emperor (2012)
Eulogy (2004)
F/X (1986)
F/X2 (1991)
Super Dragon – Feng qi yun yong dou kuang lung (1976)
Flawless (2007)
Fluke (1995)
Forbidden Ground (1969)
Free Money (1998)
Friday Night Lights (2004)
Friday the 13th (1980)
Friday the 13th Part 2 (1981)
Friday the 13th Part III (1982)
Friday the 13th Part VI: Jason Lives (1986)
Friday the 13th Part VII: The New Blood (1988)
Friday the 13th Part VIII: Jason Takes Manhattan (1989)
Friday the 13th: A New Beginning (1985)
Fun Size (2012)
Shaolin Drunk Fighter – Gimunsayukbang (1983)
Hart's War (2002)
I'm Gonna Git You Sucka (1988)
Jennifer Eight (1992)
Lost and Delirious (2001)
Chinese Hercules – Ma tou da jue dou (1973)
Mission: Impossible (1996)
Murimgori (1982)
N.Y.C. Underground (2013)
Night of the Living Dead 3D (2006)
Night of the Living Dead: Resurrection (2012)
Patriot Games (1992)
Planes, Trains & Automobiles (1987)
Private Parts (1997)
Reservoir Dogs (1992)
Shaolin vs. Lama – Shao Lin dou La Ma (1983)
Woman Avenger – Shi mei chu ma (1980)
Tao tie gong (1979)
The 'Burbs (1989)
The Big Wedding (2013)
The Constant Gardener (2005)
The Doors (1991)
The Ghostwriter (1997)
The Gift (2000)
The Letter (1940)
The Lonely Man (1957)
The People vs. George Lucas (2010)
The Puffy Chair (2005)
The Secret of NIMH (1982)
Trainwreck: My Life as an Idiot (2007)
X+Y (2014)
TV
May 10
Sneaky Pete S3 – Amazon Original series
Wishenpoof S2c – Amazon Original series
May 17
Fleabag S2 – Amazon Original series
The Durrells S3
Poldark S4
May 31
Good Omens S1 – Amazon Original series
New in May – Available for Rent or Purchase on Prime Video
Movies
May 14
Greta (2019)
The Upside (2019)
New in May – Available for Streaming on Prime Video Channels
TV
May 5
The Spanish Princess (Starz)
May 23
Vida S2 (Starz)