New on Amazon Prime Video: All the Movies and TV Coming in December
Image via A24
Movies
Features
Amazon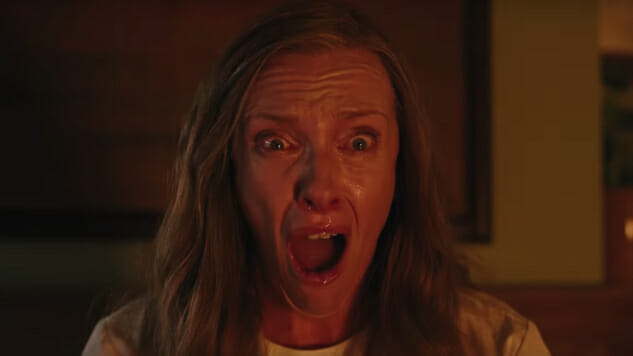 It's a preposterous notion until you see it written out in black-and-white: 2018 is almost over. The year has flown by, though not necessarily because we've been having fun. Helping to distract from that fact is a new batch of feature films and television episodes headed to Amazon in the coming month—let's dig into it before we blink and it's 2036.
Amazon Prime Video's December film slate saves the best for last, but we'll do no such thing: A24 horror smash-hit Hereditary arrives on Dec. 27, and you'll need every day between now and then to steel yourself for this absolute nightmare of a movie. Ari Aster's feature directorial debut was hyped to the skies in the interminable interval between its January Sundance premiere and its theatrical release in June, earning a near-mythic status as a new generation's The Exorcist, not to mention the scariest movie of 2018—all that buzz translated big-time at the box office, making Hereditary A24's highest-grossing film. Make no mistake: There are images in this movie you'll never be able to unsee, but there's much more than that to Hereditary, also a tragic human drama that "derives its power from testing the binds that force families together," as Paste's Dom Sinacola wrote in his review. Preceding that title on Amazon's incoming film list are a number of Dec. 1 arrivals, including Stanley Kubrick's iconic A Clockwork Orange adaptation, Oscar-winning late-'80s ensemble comedy A Fish Called Wanda, Sergio Leone's seminal spaghetti Western A Fistful of Dollars, still-timely journalism classic All the President's Men, Paul Thomas Anderson's Oscar-nominated porn drama Boogie Nights, Jim Henson fantasy The Dark Crystal, essential Bill Murray comedy Groundhog Day, Tim Burton sci-fi spoof Mars Attacks!, Robert Redford-directed drama Ordinary People, 1990's live-action Teenage Mutant Ninja Turtles movie, Tom Cruise-starring World War II thriller Valkyrie and John Woo war epic Windtalkers, among others. Later in the month, Prime Video subscribers can catch disastrous big-budget comedy sequel Evan Almighty on Dec. 16, schmaltzy Amazon original drama Life Itself on Dec. 21 and MCU lowlight (which is to say a still-fine film) Iron Man 2 on Christmas Day, Dec. 25.
As for Amazon's small-screen offerings, the frontrunner is plain as day: season two of the streamer's award-winning original comedy series, Amy Sherman-Palladino's The Marvelous Mrs. Maisel, starring Rachel Brosnahan as the titular stand-up comedian, Miriam "Midge" Maisel. The series' rookie season made a huge impression at the Emmys, winning eight awards (out of 14 nominations) in 2018, including a win for Outstanding Comedy Series, breaking the stranglehold four-time winner Veep previously had on the category. Season two of the acclaimed comedy debuts on Dec. 5, leaving you plenty of time to catch up on the first leg of Midge Maisel's journey, which we learned in the spring will continue on into a third installment, as well. Beyond that, the December TV pickings are relatively slim: two new Amazon original series, LOL: Last One Laughing and Vanity Fair, debut on Dec. 14 and 21, respectively, while another, Niko and the Sword of Light, returns for a second season on Dec. 28, but that's about it.
Find Amazon's complete December slate below.
New in December – Available for Streaming on Prime Video
Movies
December 1
A Clockwork Orange (1971)
A Fish Called Wanda (1988)
A Fistful of Dollars (Per un pugno di dollari) (1964)
All the President's Men (1976)
Bad Girls from Mars (1990)
Because I Said So (2007)
Bestseller (2015)
Beverly Hills Vamp (1989)
Blue Hill Avenue (2001)
Boogie Nights (1997)
Bright Lights, Big City (1988)
Event Horizon (1997)
Gargoyle (2004)
Groundhog Day (1993)
Happily N'Ever After (2006)
Happily N'Ever After 2 (2009)
Hitman's Run (1999)
King of the Mountain (1981)
Line of Duty (2013)
Livin' by the Gun (2011)
Margin Call (2011)
Mars Attacks! (1996)
Naked Gun 33 1/3: The Final Insult (1994)
Ordinary People (1980)
Promised Land (2012)
Silent Tongue (1993)
Sleepover (2004)
Teenage Mutant Ninja Turtles (1990)
The Black Stallion (1979)
The Dark Crystal (1982)
The Firm (1993)
The Game (1997)
The Godson (1998)
The Naked Gun 2½: The Smell of Fear (1991)
The Naked Gun: From the Files of Police Squad! (1988)
Trucks (1997)
Ulee's Gold (1997)
Valkyrie (2008)
War (2007)
Welcome Home, Roscoe Jenkins (2008)
Wild Wild West (1999)
Windtalkers (2002)
December 7
Killers (2010)
Why Did I Get Married Too? (2010)
December 8
Before I Fall (2017)
Collide (2016)
December 16
Evan Almighty (2007)
December 19
A Most Wanted Man (2014)
December 21
Life Itself (Prime Original movie)
December 25
Iron Man 2 (2010)
December 27
Hereditary (2018)
TV
December 5
The Marvelous Mrs. Maisel (Prime Original series), Season 2
December 14
LOL: Last One Laughing (Prime Original series), Season 1
December 15
4 Blocks, Season 2
Life of Crime, Mini-series
December 21
Vanity Fair (Prime Original series), Season 1
December 28
Niko and the Sword of Light (Prime Original series), Season 2
New in December – Available to Purchase on Prime Video
Movies
December 11
A Simple Favor (2018)
New in December – Available for Streaming on Prime Video Channels
Movies
December 1
A Bad Mom's Christmas, Showtime
TV
December 9
Counterpart, Season 2, STARZ
Live Sports
December 1
SEC Championship Game, CBSAA
December 8
*UFC 231: Holloway vs. Ortega, PPV
December 29
*UFC 232: Jones vs. Gustafson, PPV
*UFC 231 and 232 are available under the Prime Video | Pay-Per-View