New on Amazon Prime Video: All the Movies and TV Coming in October
Image via Amazon Studios
Movies
Features
Amazon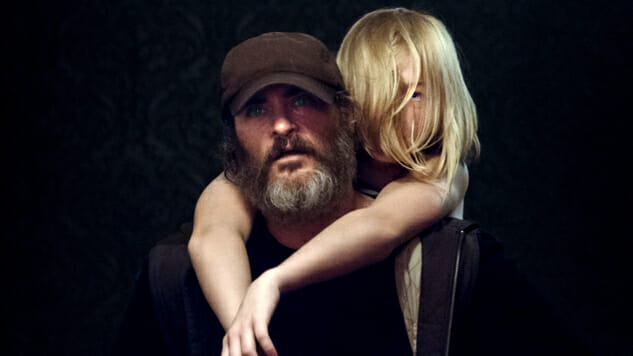 October is the spookiest, most horror movie-heavy month of the year, but that doesn't mean your streaming entertainment intake ought to become as one-dimensional this upcoming month. Sometimes, you're better off zigging when others zag, delving into less frightening feature films and television series while everyone else is busy being horror-fied. That being said, Amazon Prime Video's incoming programming slate has what both ziggers and zaggers need, with worthwhile titles on screens big and small, some scary and others just scary good.
Prime Video's most enticing film title falls into the latter category: Lynne Ramsay's masterful You Were Never Really Here (streaming date TBD), adapted from the Jonathan Ames novella of the same name. The Amazon original film, one of 2018's best (so far), is a harrowing thriller starring Joaquin Phoenix as Joe, a traumatized veteran who rescues kidnapped girls for a living, and whose life is changed forever when one fateful job—finding Nina (a haunting Ekaterina Samsonov), a senator's daughter—goes horribly wrong. Ramsay's film is a transcendent 90 minutes of cinema, a white-knuckle ride utterly devoid of fluff—as Andy Crump wrote in his review of the film, it's "a sustained scream." It's also the foremost must-see title on Amazon's October slate. And that's high praise—there are plenty of attractive film additions on the way, many of which arrive on Oct. 1: Stanley Kubrick's disturbing (if uneven) Vietnam War drama Full Metal Jacket, overlooked Let the Right One In remake Let Me In, David Lynch masterwork Mulholland Drive, Martin Scorsese's all-timer of a boxing biopic Raging Bull, Paul Verhoeven's dystopian crime thriller Robocop (plus its '90 and '92 sequels), another Verhoeven-helmed gem in sci-fi satire Starship Troopers and Neil Burger's Oscar-nominated magician drama The Illusionist. Following those films later in the month are A24's A Prayer Before Dawn on Oct. 6, cult-classic drama Donnie Darko on Oct. 17, splashy surprise-released horror-comedy Slice (featuring the film debut of one Chance the Rapper) on Oct. 18 and acclaimed Vivienne Westwood documentary Westwood: Punk, Icon, Activist on Oct. 31. And for Amazon subscribers willing to pony up a little extra for high-profile fare, Dwayne Johnson-starring action blockbuster Skyscraper is available for rent starting Oct. 9, while Spike Lee's powerful crime dramedy BlacKkKlansman is available to buy beginning on Oct. 23.
Meanwhile, Amazon's TV slate has some exciting standouts of its own, none more intently anticipated than the debut of The Romanoffs, the new series from Mad Men creator Matthew Weiner. The eight-part anthology's cast is obscenely stacked, including assorted Oscar and Emmy nominees (Isabelle Huppert, Diane Lane, Paul Reiser), Mad Men alums (John Slattery, Christina Hendricks, Jay R. Ferguson, Cara Buono), and stars of film and TV alike (Aaron Eckhart, Amanda Peet, Corey Stoll, Kathryn Hahn). All that talent will be used to tell eight separate stories about people who believe themselves to be Romanoffs—that is, descendants of the eponymous Russian royal family. The Romanoffs, which is directed and executive produced by Weiner, debuts its first two episodes, "The Violet Hour" and "The Royal We," on Friday, Oct. 12, with new episodes following weekly thereafter. Not to be overshadowed, though, are the Amazon additions of all seven seasons of '80s family sitcom Growing Pains on Oct. 1, both seasons of Bryan Fuller's cult-classic drama Pushing Daisies on Oct. 1, the third season of Amazon original alternate-history drama The Man in the High Castle on Oct. 5, season three of USA's acclaimed hacker psycho-drama Mr. Robot on Oct. 11 and the second season of Amazon's freaky podcast adaptation Lore on Oct. 19. And if you need something to keep the kids occupied on Halloween, Amazon's animated Tumble Leaf Halloween Special—an adorable-sounding Tumble Leaf special in which blue fox Fig and his animal pals dress up to go "trick or treeing"—debuts on Oct. 19.
Find Amazon's full October slate below.
New in October – Available for Streaming on Prime Video
Movies
October TBD
You Were Never Really Here (Prime Original movie) (2017)
October 1
88 (2015)
[REC] 4: Apocalypse (2014)
Adventure Scouts (2008)
America: Imagine the World Without Her (2014)
An Affirmative Act (2010)
An American Werewolf in Paris (1997)
An Eye for an Eye (1966)
Appetite (1998)
Assassins' Code (2011)
Bitter Moon (1992)
Blue Steel (1989)
Boricua (2004)
Bulletproof Monk (2003)
Call Me (1988)
Candyman: Farewell to the Flesh (1995)
Carrie (1976)
Child's Play (1988)
Cold Deck (2015)
Comic Book Villains (2002)
Curse of Chucky (2013)
Dark Blue (2003)
Deadly Blessing (1981)
Death Wish 2 (1982)
Deceptions (1985)
Dirty Work (Bad City) (2005)
Duress (2009)
Election (1999)
Extreme Justice (1993)
Flatliners (1990)
Flyboys (2006)
Foreign Fields (2000)
Frank and Jesse (1994)
Frankie & Johnny (1991)
Frauds (1993)
Full Metal Jacket (1987)
Funny Money (2006)
Game Changers (2017)
Get Smart (2008)
Gods and Monsters (1998)
Good Enough (2017)
Hot Tub Time Machine (2010)
In Her Defense (1998)
Intimate Affairs (2001)
Jeepers Creepers 2 (2003)
Jigsaw Man (1983)
Jim Norton: Please Be Offended (2012)
Joe the King (1999)
Kettle of Fish (2006)
Kicking and Screaming (1995)
La Mission (2009)
Legend (1985)
Let Me In (2010)
Meeting Spencer (2010)
Men Without Jobs (Planet Brooklyn) (2004)
More Than a Game (2008)
Mulholland Drive (2001)
No Vacancy (2004)
Nora (2000)
Once Bitten (1985)
Orange County (2002)
Pieces of April (2003)
Poltergeist lll (1988)
Prancer (1989)
Raging Bull (1980)
Rap Sheet: Hip Hop and the Cops (2006)
Reasonable Doubt (2014)
Resurrecting the Champ (2007)
Return of the Living Dead (1985)
Robocop (1987)
Robocop 2 (1990)
Robocop 3 (1992)
Sample People (2000)
Satan's Little Helper (2004)
September Morning (2017)
Silver Hawk (2004)
Six Weeks (1982)
Something to Cheer About (2002)
Spin (2003)
Split Image (1982)
Stage Beauty (2004)
Stand Up Guys (2012)
Starship Troopers (1997)
Strange Bedfellows (2004)
Sugar Mountain (2016)
Texas Chainsaw Massacre II (1986)
The Amityville Horror (2005)
The Arrival (1996)
The Breakup Artist (2003)
The Cell (2000)
The Eyes of Laura Mars (1978)
The Fog (2005)
The General (1998)
The Guilty (1999)
The Illusionist (2006)
The Long Riders (1980)
The Number 23 (2007)
The Peacemaker (1997)
The Perfect You (Crazy Little Thing) (2002)
The President's Mistress (1978)
The Presidio (1988)
The Rage: Carrie 2 (1999)
The Raven (1963)
The Second Arrival (1998)
The Serpent's Kiss (1997)
The Skeleton Key (2005)
The Strangers (2008)
The Uninvited (2009)
The Way of the Gun (2000)
Threshold (1981)
Throttle (2005)
Tim Tebow: On a Mission (2012)
Trees Lounge (1996)
Wild Bill (1995)
Winter Break (2002)
Winter Passing (2005)
Zombies of Mass Destruction (2010)
October 2
Mighty Good: The Beatles (1977)
Never Goin' Back (2018)
October 6
A Prayer Before Dawn (2017)
Night of the Living Deb (2016)
October 11
Monster's Ball (2001)
Strangers: Prey at Night (2018)
October 13
The Yellow Birds (2017)
October 14
Bleeding Steel (2017)
October 16
Devil (2010)
Manieggs: Revenge of the Hard Egg (2014)
October 17
Donnie Darko (2001)
The Daniel Tiger Movie: Won't You Be Our Neighbor? (2012)
October 18
Slice (2018)
October 20
Black Water (2018)
October 25
Daddy's Home 2 (2017)
October 26
Bad Samaritan (2018)
October 31
Westwood (2018)
TV
October 1
Growing Pains, Seasons 1-7
Happily Never After, Season 1
Pushing Daisies, Seasons 1-2
Ravenswood, Season 1
Scorned: Love Kills, Season 1
Trust, Season 1
V., Seasons 1-2
October 2
Extrano Enemigo (Prime Original series), Season 1
Barbelle, Season 1
October 5
The Man in the High Castle (Prime Original series), Season 3
October 11
Mr. Robot, Season 3
October 12
The Romanoffs (Prime Original series), Season 1
October 19
Lore (Prime Original series), Season 2
Tumble Leaf Halloween Special (Prime Original series), Special
New in October – Available to Rent/Purchase on Prime Video
Movies – Rent
October 9
Skyscraper (2018)
Movies – Purchase
October 23
BlacKkKlansman (2018)
New in October – Available for Streaming on Prime Video Channels
TV
October 1
Poldark, Season 4, PBS Masterpiece
The Durrells in Corfu, Season 3, PBS Masterpiece
The Neighborhood, Season 1, CBS All Access
Happy Together, Season 1, CBS All Access
October 3
SEAL Team, Season 2, CBS All Access
October 9
Teletubbies, Season 1, Noggin
October 28
Ray Donovan, Season 6, Showtime
October 31
Tell Me a Story, Season 1, CBS All Access
Live Sports
October 6
*UFC 229: Khabib vs. McGregor
*UFC 229 Under the Prime Video | Pay-Per-View