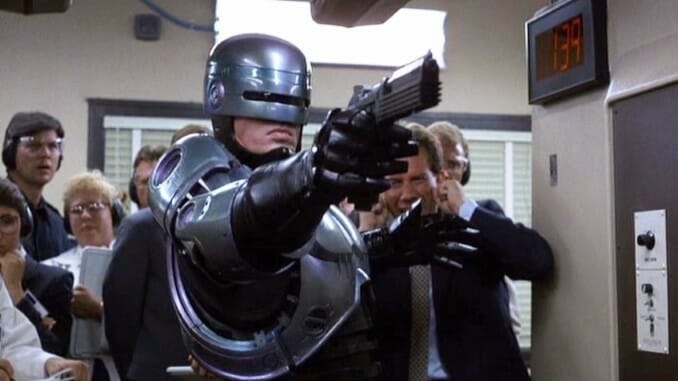 The sci-fi movie selection on Amazon Prime isn't what it used to be, but the selections it does have are all over the map—classic sci-fi from the 1970s and '80s, recent blockbusters, indie gems—and representative of such a dearth of quality, buttressed by butt-loads of low-budget B-movies, that browsing for the good stuff is more than difficult. We've dug through pages and pages of free sci-fi offerings for Amazon Prime members and found a handful worth your time, from hilarious satires to graphically violent satires, from iconic, controversial picks to a few from as recently as last year. And also, you can watch The Tomorrow War if you feel really inclined.
You may also want to consult the following, sci-fi centric lists:
The 100 best sci-fi movies of all time
The 100 best sci-fi TV shows of all time
The best sci-fi movies on Netflix
The best sci-fi movies on HBO Max
The best sci-fi movies on Hulu
---
Here are the 20 best sci-fi movies streaming on Amazon Prime:
1. Robocop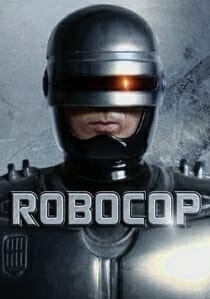 Year: 1987
Director: Paul Verhoeven
Stars: Peter Weller, Nancy Allen, Miguel Ferrer, Ronny Cox, Kurtwood Smith
Rating: R
Runtime: 103 minutes


Throughout the late-'70s and indulgent 1980s, "industry" went pejorative and Corporate America bleached white all but the most functional of blue collars. Broadly speaking, of course: Manufacturing was booming, but the homegrown "Big Three" automobile companies in Detroit—facing astronomical gas prices via the growth of OPEC, as well as increasing foreign competition and the decentralization of their labor force—resorted to drastic cost-cutting measures, investing in automation (which of course put thousands of people out of work, closing a number of plants) and moving facilities to "low-wage" countries (further decimating all hope for a secure assembly line job in the area). The impact of such a massive tectonic shift in the very foundation of the auto industry pushed aftershocks felt, of course, throughout the Rust Belt and the Midwest—but for Detroit, whose essence seemed composed almost wholly of exhaust fumes, the change left the city in an ever-present state of decay. And so, though it was filmed in Pittsburgh and around Texas, Detroit is the only logical city for a Robocop to inhabit. A practically peerless, putrid, brash concoction of social consciousness, ultra-violence and existential curiosity, Paul Verhoeven's first Hollywood feature made its tenor clear: A new industrial revolution must take place not within the ranks of the unions or inside board rooms, but within the self. By 1987, much of the city was already in complete disarray, the closing of Michigan Central Station—and the admission that Detroit was no longer a vital hub of commerce—barely a year away, but its role as poster child for the Downfall of Western Civilization had yet to gain any real traction. Verhoeven screamed this notion alive. He made Detroit's decay tactile, visceral and immeasurably loud, limning it in ideas about the limits of human identity and the hilarity of consumer culture. As Verhoeven passed a Christ-like cyborg—a true melding of man and savior—through the crumbling post-apocalyptic fringes of a part of the world that once held so much prosperity and hope, he wasn't pointing to the hellscape of future Detroit as the battlefield over which the working class will fight against the greedy 1%, but instead to the robot cop, to Murphy (Peter Weller), as the battlefield unto himself. How can any of us save a place like Detroit? In Robocop, it's a deeply personal matter. —Dom Sinacola

---
2. Eternal Sunshine of the Spotless Mind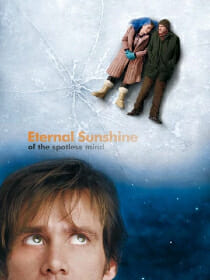 Year: 2004
Director: Michel Gondry
Stars: Jim Carrey, Kate Winslet, Kirsten Dunst, Mark Ruffalo, Elijah Wood, Tom Wilkinson
Rating: R
Runtime: 108 minutes
In what might be Charlie Kaufman's finest script, boy meets girl, unaware that they might be living out a doomed eternal recurrence. A brain-wipe firm allows its clients to erase choice people or events from their memory. Turns out, Joel (a repressed Jim Carrey) and Clementine (a vibrant Kate Winslet) have done this before. Technology is the Great Enabler and, perhaps, a secret destroyer—except that the science fiction aspect of Eternal Sunshine of the Spotless Mind is just an auxiliary to the core relational dynami. Stripped of fantasy, the film's theme is no Luddite cautionary tale but rather just a melancholy observation of human relationships. This is how it's always been. We're quite accomplished at failing each other…and ourselves.
There's nothing so condemnatory as that statement in Eternal Sunshine, a film that watches and weeps at a whimsical circus breaking down. It immerses us in Joel's mind, Gondry's in-camera effects and nearly experimental editing taking us tumbling through the increasingly tragic process of removing Clementine. When I first saw this film in the theater in 2004, I swore I would never do the thing that Joel does to try to heal himself, but I've lived some life since then and now I'm not sure I can say the same. I've deleted phone numbers and pictures on Facebook, had about a month where I was vigilantly untagging myself; I'm sometimes scared to even look at my feed. It doesn't matter what the social environment is, humans will use whatever's available to mitigate pain, especially emotional pain. But sometimes we need the thing we want to be rid of; there's no actualization without vulnerability, risk, and, inevitably, hurt. The final shot of Eternal Sunshine lingers in my memory, always on loop: Joel and Clementine, stumbling in play away from the camera, on a snowy beach in Montauk. It seems like an extrapolation of the final shot of The 400 Blows: "Stuck in stasis" has become "stuck in repeat." And, yet, in that shot is acceptance, possibly even hope. There are no spotless minds, but perhaps some still can shine. —Chad Betz

---
3. Sorry to Bother You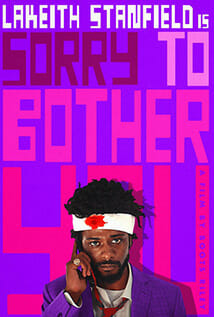 Year: 2018
Director: Boots Riley
Stars: Lakeith Stanfield, Tessa Thompson, Armie Hammer, Stephen Yeun, Patton Oswalt, David Cross, Terry Crews, Danny Glover
Rating: R
Runtime: 105 minutes
Sorry to Bother You has so many ideas busting out of every seam, so much ambition, so much it so urgently wants to say, that it feels almost churlish to point out that the movie ends up careening gloriously out of control. This is rapper and producer Boots Riley's first movie, and it shows, in every possible way—good, bad, incredible, ridiculous—as if he didn't know if he'd ever be able to make another one, so he threw every idea he ever had into this. There are moments in Sorry To Bother You that will make you want to jump giddily around the theater. There are also moments that will make you wonder who in the world gave this lunatic a camera. (Some of those moments are pretty giddy too.) The former far outnumbers the latter. Lakeith Stanfield plays Cassius, a good-hearted guy who feels like his life is getting away from him and thus tries his hand at telemarketing, failing at it (in a series of fantastic scenes in which his desk literally drops into the homes of whomever he is dialing) until a colleague (Danny Glover, interesting until the movie drops him entirely) recommends he use his "white voice" on calls. Suddenly, Stanfield sounds exactly like David Cross at his most nasally and has become a superstar at the company, which leads him "upstairs," where "supercallers" like him go after the Glengarry leads. That is just the launching off point: Throughout, we meet a Tony Robbins-type entrepreneur (Armie Hammer) who might also be a slave trader, Cassius's radical artist girlfriend (Tessa Thompson), who wears earrings with so many mottos it's a wonder she can hold up her head, and a revolutionary co-worker (Stephen Yeun) trying to rile the workers into rebelling against their masters. There are lots of other people too, and only some of them are fully human. It's quite a movie. —Will Leitch
---
4. The Vast of Night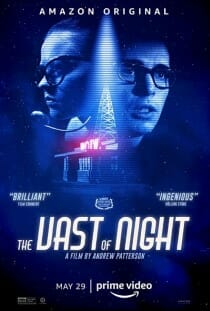 Year: 2019
Director: Andrew Patterson
Starring: Sierra McCormick, Jake Horowitz
Rating: PG-13
Runtime: 89 minutes
The Vast of Night is the kind of sci-fi film that seeps into your deep memory and feels like something you heard on the news, observed in a dream, or were told in a bar. Director Andrew Patterson's small-town hymn to analog and aliens is built from long, talky takes and quick-cut sequences of manipulating technology. Effectively a '50s two-hander between audio enthusiasts (Sierra McCormick and Jake Horowitz playing a switchboard operator and disc jockey, respectively) the film is a quilted fable of story layers, anecdotes and conversations stacking and interweaving warmth before yanking off the covers. The effectiveness of the dusty locale and its inhabitants, forged from a high school basketball game and one-sided phone conversations (the latter of which are perfect examples of McCormick's confident performance and writers James Montague and Craig W. Sanger's sharp script), only makes its inevitable UFO-in-the-desert destination even better. Comfort and friendship drop in with an easy swagger and a torrent of words, which makes the sensory silence (quieting down to focus on a frequency or dropping out the visuals to focus on a single, mysterious radio caller) almost holy. It's mythology at its finest, an origin story that makes extraterrestrial obsession seem as natural and as part of our curious lives as its many social snapshots. The beautiful ode to all things that go [UNINTELLIGIBLE BUZZING] in the night is an indie inspiration to future Fox Mulders everywhere. —Jacob Oller
---
5. Escape From New York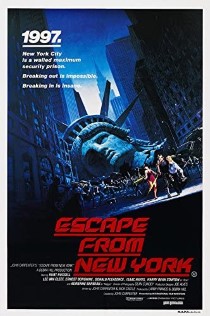 Year: 1981
Director: John Carpenter
Stars: Kurt Russell, Isaac Hayes, Donald Pleasence, Ernest Borgnine, Harry Dean Stanton, Lee Van Cleef, Adrienne Barbeau
Rating: R
Runtime: 99 minutes
In the far future of 1997, when the president's Air Force One flight is hijacked and crash-lands in the now-maximum security prison of Manhattan, there's only one man who can save him, a one-eyed Kurt Russell who goes by the name of Snake. He struggles to thwart The Duke's plans to use the President as a human shield in his march to freedom, all while maintaining his badass disdain for the US government. Written in the wake of the Watergate scandal, John Carpenter's view of the future is a decidedly cynical one: Snake may be trying to save the president, but not without his classic sneer. —Sean Doyle

---
6. Vivarium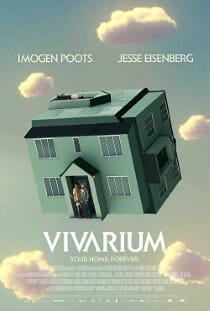 Year: 2020
Director: Lorcan Finnegan
Stars: Jesse Eisenberg, Imogen Poots
Rating: R
Runtime: 97 minutes
A quirky real estate story, where first-time homeowners Tom (Jesse Eisenberg) and Gemma (Imogen Poots) get a lot more than they bargained for, Vivarium is a low-key sci-fi nightmare of the mundane in the vein of early David Cronenberg. Director Lorcan Finnegan's film also functions as a relationship allegory, where Tom and Gemma find themselves stuck in a trendy neighborhood of cookie-cutter homes where starting a family isn't just an expectation but something foisted upon them. It isn't as grisly as something like Shivers, but more affecting in its surreal design and hopelessness. Eisenberg and Poots own the screen as a disintegrating couple coping in distinct ways to their newfound terrarium where they are observed, manipulated, and—perhaps most disturbingly of all—objectively provided for by unseen and undefinable forces. Its 2020 release feels especially fitting as repetition and hopelessness become permanent residents of the couple's home. Genre elements seep into the film, accelerating in hiccups and starts that are as arresting as the film's intentionally artificial design. Startling sound dubbing, odd colorizing, and a few genuine "Oh shit" moments make Vivarium a tight, nasty fable that would fit in with the best Twilight Zone episodes. —Jacob Oller
---
7. The War of the Worlds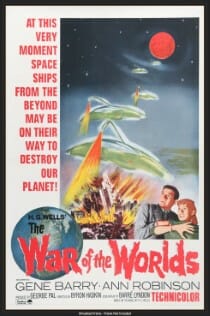 Year: 1953
Director: Byron Haskin
Stars: Gene Barry, Ann Robinson
Rating: G
Runtime: 85 minutes
The 1953 adaptation of H.G. Wells' classic The War of the Worlds was a monumental undertaking for the still-young sci-fi genre in Hollywood, notable for both its expansive budget and groundbreaking FX work, although the quality of its miniatures suffered in subsequent digital transfers, which made sights such as the strings holding up Martian war machines more visible. Regardless, this was an alien invasion story presented in a way that one hadn't been before: With an "A" budget, recognizable actors and a palpable sense of gravitas, playing more like a war drama than a true horror film. It became the gold standard against which lower-budget entries such as Invaders From Mars would be judged, even though Invaders was rushed into theaters before War of the Worlds to claim the title of the first colorized "flying saucer" film. This is the one, though, that went on to live in the memories of a generation. —Jim Vorel
---
8. The Hunger Games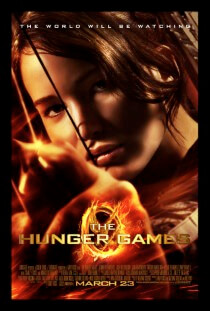 Year: 2012
Director: Gary Ross
Stars: Jennifer Lawrence, Donald Sutherland, Josh Hutcherson, Liam Hemsworth, Woody Harrelson, Elizabeth Banks, Stanley Tucci
Rating: PG-13
Runtime: 142 minutes
Fans of the books won't be disappointed. With few exceptions, director Gary Ross doesn't veer too far from Collins' novel. It's rare that a film based on a Young Adult novel is able to juggle so many powerful issues so profoundly, but Ross finds a way to translate Collins' imaginative plots into a visually triumphant, emotional roller coaster of economic struggle, class warfare, politics, sacrifice, independent thinking and rebellion without compromising too much of the original manuscript. A cruel punishment for a past uprising, the Hunger Games are a nationally televised fight to the death where two teenagers from each district are forced to battle for their lives. Katniss Everdeen, a citizen of District 12, volunteers as tribute to replace her young sister (who had been initially selected). In the Arena, where the event takes place, Katniss soon learns her emotions are as turbulent as the Games themselves and that she'll have to choose between survival and love if she wants to make it home. —Maggie Coughlan
---
9. The Running Man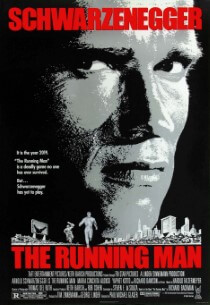 Year: 1987
Director: Paul Michael Glaser
Stars: Arnold Schwarzenegger, Maria Conchita Alonso, Yaphet Kotto, Richard Dawson
Rating: R
Runtime: 101 minutes
While The Running Man lacks the sophistication and dynamic pacing of a certain other Schwarzenegger-starring/dystopian sci-fi/satire film, its entertainment value is nothing to sneer at. Adapted loosely from a Stephen King novel of the same name, The Running Man depicts a future where everyone dresses like they're at an '80s-themed Halloween party and citizens regularly tune into a show where convicted criminals must fight to survive against both their fellow contestants and professional killers. Insert Hunger Games reference here. Between the absurd production design and Paula Abdul-choreographed dance sequences, any attempted satire is all but buried in a thick layer of silly. Still, in terms of sheer fun value, this film is quite the gem. —Mark Rozeman

---
10. Monsters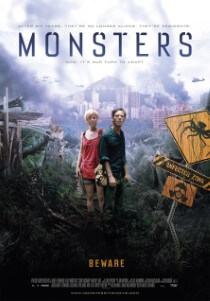 Year: 2010
Director: Gareth Edwards
Stars: Scott McNairy, Whitney Able
Rating: R
Runtime: 94 minutes
Monsters is the film that gave the world its first look at director Gareth Edwards, who parlayed its micro-budget success (this movie was less than $500,000) into a chance to direct blockbusters Godzilla and then Rogue One: A Star Wars Story—an incredible leap forward in prominence in the film community. Monsters, on the other hand, is almost like a sci-fi relationship drama, a film about a journalist tasked with escorting a tourist across a dangerous, quarantined zone of Central America that has become home to alien lifeforms. Edwards skillfully makes the most of on-location shooting and very limited FX to evoke a sense of how the aliens are effectively transforming the planet, and of how their arrival changed everything for mankind. Ultimately, though, you're watching this film for the performances and subtle interplay between its characters rather than any kind of spectacle. Go in looking for a scary movie or action romp, and you'll be disappointed. You need to take it for what it is: A realistic story about what it might be like for two average people with complicated emotional baggage being thrust into a challenging scenario. Whatever you do, just don't see the 2014 sequel in name only, Monsters: Dark Continent. —Jim Vorel

---
11. Super 8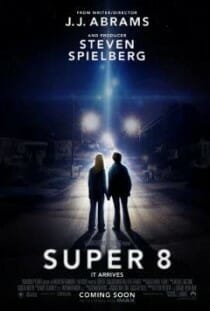 Year: 2011
Director: J. J. Abrams
Stars: Joel Courtney, Elle Fanning, Kyle Chandler, Gabriel Basso, Noah Emmerich, Ron Eldard
Rating: PG-13
Runtime: 112 minutes
Super 8 is a film that ultimately feels more deeply tied to its subtext and inspirations than anything within its own plot—ostensibly a story about a rogue alien on the loose in a small Midwestern city in the 1970s, 'ala E.T., it often seems curiously disinterested in the literal extraterrestrial. Instead, this is a story about a young group of friends coming together to achieve their goals, sprinkled with social awkwardness and the grieving process for young protagonist Joe (Joel Courtney), even as his sexuality is awakening in the presence of peer Alice (Elle Fanning, in her debut). These exchanges between young teenage characters are the true heart of the film, evoking the emotional vulnerability of the characters in something like Stand By Me, and ultimately proving more interesting than the alien hijinks propelling the plot forward. Every time Super 8 is simply about a group of 14-year-olds trying to make the best damn zombie movie they can, it becomes oddly endearing. —Jim Vorel
---
12. World War Z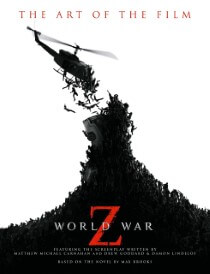 Year: 2013
Director: Marc Foster
Stars: Brad Pitt, Ruth Negga, Mireille Enos, James Badge Dale, Matthew Fox
Rating: PG-13
Runtime: 116 minutes
World War Z is one of the worst adaptations of great source material that the horror genre has ever seen. Max Brooks' 2006 book is a landmark piece of zombie fiction, notable for considering aspects of the zombie apocalypse that most authors would never even start to fathom, from "What happens to astronauts in the international space station?" to "Will it ever be possible to make root beer again, after the apocalypse?" The film, an in-name-only adaptation, chose to ignore that wealth of rich source material as too difficult to film, and instead tells a story about a UN investigator, played by Brad Pitt, jet-setting around the world in search of a cure or biological agent to fight the zombies. In telling its own story, it's a somewhat interesting action-horror film, with a novel twist on the movement of its zombies, which pile up on each other and flow as a hive-like swarm of army ants. Still, it's so hard to overlook all of the amazing individual stories from the World War Z source material and see them condensed down into a more by-the-numbers Hollywood blockbuster. The film's main point of interest is its sheer budget and scale, which one rarely sees in modern zombie films, and that does provide a certain amount of novelty and value. If you were able to simply change the title to something other than World War Z, half of the grievances immediately drop away, and you're left with a pretty serviceable, uniquely big-budget zombie epic. —Jim Vorel
---
13. Gamera, the Giant Monster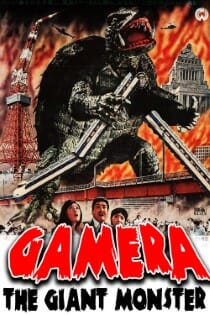 Year: 1965
Director: Noriaki Yuasa
Stars: Eiji Funakoshi, Michiko Sugata, Harumi Kiritachi, Junichiro Yamashita
Rating: NR
Runtime: 78 minutes
The initial introduction of the giant, mutated, fire-breathing turtle known and loved by folks everywhere, Gamera, the Giant Monster was movie studio Daiei Film's obvious answer to the success of Godzilla, but it's also the genesis point for a character that would go on to become almost equally famous, at least in Japan. Gamera may forever dwell in Godzilla's shadow globally, but where Big G is treated with a certain level of pomp, circumstances and even dramatic gravity—particular the original Gojira and modern entries like Shin Godzilla—the Gamera series has always had a much more lighthearted tone, starting with the monster himself. Unlike the often rampaging Godzilla, Gamera has always been a more tender breed of kaiju, a valorous defender of Earth in almost all installments who is amusingly referred to as a "friend to all children." Here, in his very first installment, Gamera is still something of a threat that needs to be contained, but he's already found himself a little boy as a friend—the first of many to come. —Jim Vorel
---
14. John Dies at the End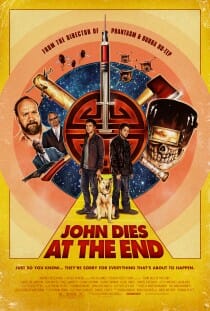 Year: 2012
Director: Don Coscarelli
Stars: Chase Williamson, Rob Mayes, Paul Giamatti, Clancy Brown, Glynn Turman, Doug Jones, Daniel Roebuck
Rating: R
Runtime: 100 minutes
Your ability to withstand the absurdity of John Dies at the End will depend almost entirely on if you're able to tolerate nonlinear storylines and characters who, woven together, tax the lengths of the imagination. An oftimes crude and farcical combination of horror, drug culture, and philosophical sci-fi, it's a film you won't entirely grasp until you've seen it for yourself. Central is a drug known as "soy sauce," which causes the user to see outside the concept of linear time, existing at all times at once, similar to the alien beings from Vonnegut's Slaughterhouse-Five. Also appearing: phantom limbs, an alien consciousness known as "Shitload," a heroic dog, Paul Giamatti and an evil, interdimensional supercomputer. No drugs necessary—John Dies at the End will make you feel like you've already ransacked your medicine cabinet. —Jim Vorel

---
15. Ondine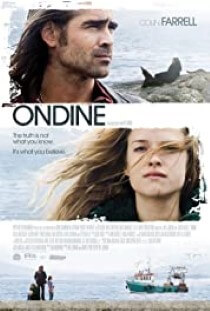 Year: 2014
Director: Neil Jordan
Stars: Colin Farrell, Alicja Bachleda
Rating: PG-13
Runtime: 111 minutes
Ondine might not be Neil Jordan's most enduring film (considering his portfolio includes films like like The Crying Game and Michael Collins, but it's one of his most magical. Colin Farrell stars as Syracuse, a poor Irish fisherman and a recovering alcoholic in great need of a Pick-Me-Up bouquet. When a beautiful girl washes up in his net, he's not sure quite to make of the mystery. His young daughter knows though; she's convinced that Ondine is actually a silkie, a legendary magical creature that shape-shifts between human and seal froms. The gradual unfolding of the truth is the business of the film. It's a tribute to Jordan both that he's able to treat that mystery with a straight face, and that he's able to allow its unfolding to happen at a glacial pace without losing the momentum of the story. The film's atmosphere is perfectly suited to its setting, a rural Irish town where daily routines seldom change, where things happen slowly, but where magic could be hiding around any corner. Recommended for anyone with a tolerance for modern-day fairy tales.—Michael Dunaway
---
16. Downsizing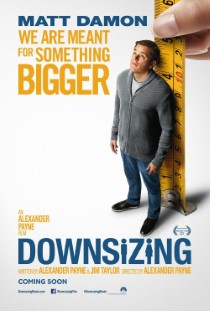 Year: 2017
Director: Alexander Payne
Stars: Matt Damon, Hong Chau, Kristen Wiig, Christoph Waltz, Jason Sudekis
Rating: R
Runtime: 135 minutes
What hamstrings Downsizing is how Payne goes about that thesis. Chau gives a funny, low-key performance as a woman with very little sympathy for Paul's sad-sack demeanor. He may have been dealt a bad hand by his wife, who left him behind, but it's nothing compared to the hardships that Ngoc has faced. There's poetic justice in Paul encountering someone like Ngoc, whom he'd probably have never met if he had remained normal-sized, but Payne patronizingly reduces her to a cutesy symbol of oppression. So many meaningful movies this year have given voice to such characters by letting them be the protagonists of their own stories, so by comparison Downsizing feels antiquated and off-key. Although Downsizing is often thoughtful, funny and poignant, ultimately it really is just another movie about a middle-aged white dude pondering his insignificance—with the added demerit being that he learns valuable life lessons thanks to a marginalized woman of color. Surely Payne doesn't mean this to be as offensive as it comes across. Ironically, Downsizing is about how dissimilar people who have all been brushed aside learn to come together, discovering that what they have in common binds them far more intensely than their superficial differences divide them. And so we're left with a deeply humanistic film that's also deeply flawed—a movie about compassion that doesn't necessarily extend the same courtesy to all its characters. In this way, Payne and Paul are well-matched: They're both trying to do their best, even if their aim isn't always true. —Tim Grierson
---
17. Day of the Animals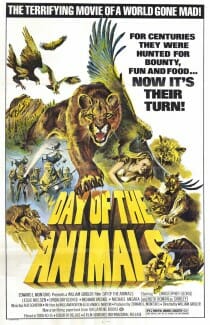 Year: 1977
Director: William Girdler
Stars: Leslie Nielsen, Christopher George, Lynda Day George
Rating: PG
Runtime: 97 minutes
After Jaws became the first true summer blockbuster in 1975, "animals attack" films proliferated. 1976's Grizzly was the first big success in the "Jaws on land" variants, and director William Girdler followed it up with Day of the Animals, which could probably be considered the logical zenith of the "nature attacks" premise—an all-out war of all animals vs. all humans. As in, solar radiation somehow causes every animal above 5,000 feet of elevation to go insane, attacking anything in their path. A group of hikers are menaced by all kinds of animals—mountain lions, bears, birds of prey and even pet dogs. Leslie Nielsen, five years before his career-altering comedic turn in Airplane!, appears as the primary human villain, channeling a bit of his Creepshow character from the early '80s. It's sort of an ugly film to watch today, but if you've always wanted to see a shirtless Leslie Nielsen fight a bear, it's really your only option. Regardless, of all the films on this list, it's the one I'd most like to see remade with a big budget. I want to see that movie, and all the killer koalas it would surely entail. —Jim Vorel

---
18. C.H.U.D.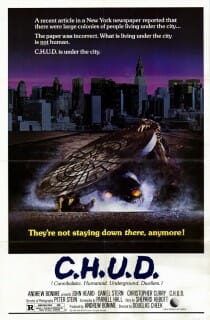 Year: 1984
Director: Douglas Cheek
Stars: John Heard, Daniel Stern, Christopher Curry
Rating: R
Runtime: 88 minutes
It stands for "Cannibalistic Humanoid Underground Dwellers," if you were wondering. C.H.U.D. is a product of its time, the sort of mid-'70s/early '80s horror film that sets itself in street-level New York City when the Big Apple was renowned as the crime-ridden cesspit of the nation. Cynical as hell, it imagines a race of cannibal monsters created by toxic waste dumped into the New York sewers, where it transforms the local homeless population. In execution, it's sort of like a Troma film that has a larger budget, maintaining a grimy and tasteless aesthetic that nevertheless has a memorable quality that is hard to define. I think the effects are a part of that—quite icky, but fleeting. I look at this scene of a C.H.U.D. being beheaded and can't decide if it's terrible, awesome or terribly awesome. C.H.U.D. has lived an entire second life as comedy material, with references ranging from The Simpsons to an April Fools prank from the Criterion Collection. — Jim Vorel

---
19. The Tomorrow War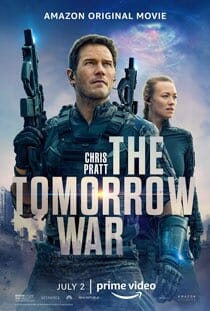 Year: 2021
Director: Chris McKay
Stars: Chris Pratt, Yvonne Strahovski, J. K. Simmons, Betty Gilpin, Sam Richardson
Rating: PG-13
Runtime: 138 minutes
Within a bloated 138 minutes, director Chris McKay and writer Zach Dean attempt to cram together a coherent story involving time travel, humanity-eating aliens, forced conscription, cute science moppets, father/son & father/daughter estrangement, over-the-top action set pieces, comedy and a Vietnam allegory. You should be tired just reading that. And worse, they don't land any of it well. Unfortunately, The Tomorrow War isn't allowed to be the dumb, "just go with it" summer spectacle it should have been, a la Independence Day. Instead, McKay and Dean force it to be a self-aware and "smart" time-travel drama, with feelings big enough to crack generational war trauma issues, among lots of things that go "boom!" and "pew, pew, pew." The story itself is too convoluted and speciously conceived to try to dissect without making your brain scamper to its safe place. All you need to know is that in 2022, soldiers from 30 years in our future will dramatically appear in the middle of a World Cup soccer match to tell humanity that in 11 months, aliens will overtake the planet in an extinction level event. Thus, all able-bodied people from 2022 need to prepare to go with them into the future to save our collective existence. With minimal debate, every nation creates a forced conscription draft—which yes, is kinda fascist—for a seven-day tour of duty. Only 30% ever come back, but everyone is now considered a hero and you're saving your kids and grandkids! No one really talks about those who don't have kids, or who aren't patriotically predisposed to accept being cannon fodder, but that's a silly quibble, right? Because Chris Pratt as Dan Forester is the poster guy example for what everyone should be in this story: Handsome, a Gulf War vet, a science teacher and perfect dad of a science-obsessed six-year-old daughter. To be nice, the film looks great. The aliens are intense and threatening but they're ciphers in terms of being anything more than endless stomachs. And the cast really tries. But to quote Sam Richardson's nerdy character Charlie when he's forced to unload a clip into the aliens for the first time, his spontaneously screamed string of "Shit, shit, shit…" really sums this all up. —Tara Bennett
---
20. Sharknado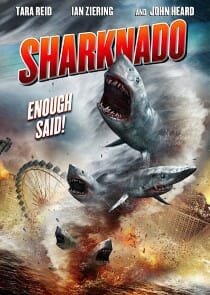 Year: 2014
Director: Anthony C. Ferrante
Stars: Ian Ziering, Tara Reid, Cassie Scerbo, John Heard
Rating: NR
Runtime: 85 minutes
B-movie geeks and bad movie fans are not kind to the original Sharknado, and I don't think that's entirely fair. It gets flak from that audience for being "purposefully bad," but it is possible to make an entertainingly goofy film in this way … it's just pretty rare. Now dragged down by an increasingly forced run of sequels, all of which I've reviewed for Paste because I'm a crazy person, it's easy to lose sight of how slapdash (and thus amusing) the first film was. There's absolutely no budget behind Sharknado, which makes the gaffes introduced by a tight shooting schedule all the more apparent and hilarious. The sky goes from dark to sunny in between shots in the same scene. The film idles in place for 20 minutes while trying to get kids out of a school bus, just to shamelessly pad itself out to "feature length." Tara Reid tries to get dialog to come out of her mouth, and fails spectacularly. In short: There's fun stuff here. Don't be a bad movie hipster; embrace the original Sharknado. The sequels, feel free to ignore. —Jim Vorel