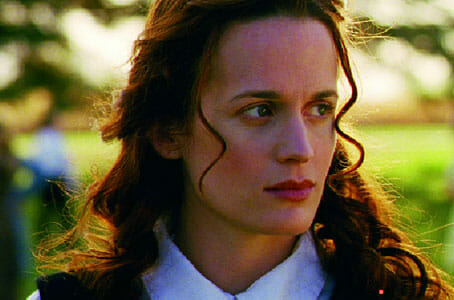 Sweet Land
Director: Ali Salim
Writer: Will Weaver, Ali Selim
Cinematographer: David Tumblety
Starring: Elizabeth Reaser, Tim Guinee, Alan Cumming
Studio/Running Time: 20th Century Fox, 100 mins.
Anyone nostalgic for the stately Americana of PBS's vintage American Playhouse series will appreciate this modest yet overachieving memory play, ushered into existence with a hand from actor/producer Alan Cumming, someone usually known for friskier excursions. Conceived as a stylish evocation of the Norwegian settlement of northern Minnesota in the 1920s, the film belongs to a pop-cultural lineage that stretches from the bucolic banalities of Garrison Keillor to the heartland harmonies of The Jayhawks. It's an affirmation of land, faith, work and love, all of which triumph against provincial prejudice and the small-mindedness of village groupthink.
Director Ali Selim, a Minnesota native, has an innate feel for the particularities of time and place. His precise observations are heightened by Mark Orton's chamber-pop score, which subtly juxtaposes whimsy and melancholy. Cinematographer David Tumblety gives it all an epic, sweeping majesty. His minimalist vistas of blue skies and yellow wheat fields have the timeless tint of a forgotten postcard. The camera drinks in the horizon and calls to mind the visual primacy of Terrence Malick's plow opera, Days of Heaven. This, even if Selim's drama of social diplomacy suggests a bit of Merchant Ivory transposed to Paul Bunyan territory.
Elizabeth Reaser is a little-known actress whose widest exposure came as the anonymous Jane Doe on several episodes of Grey's Anatomy. Yet, watching her carry Sweet Land through nearly every frame, many viewers will feel as if they've known her forever. She's all fine-tuned nuance as Inge, a mail-order bride who arrives in small-town Minnesota by train shortly after World War I. Her new husband-to-be, Olaf (an excellent Tim Guinee, expressing deep feeling with few words), is expecting a lady of pure Norwegian heritage, and he's in for a surprise. Inge is German, which is not a very good thing to be in these circumstances. The war is still fresh in everyone's minds, and the insular Norwegian community is wary of such an outsider. As the news leaks and spreads, the uptight Lutherans who preside over local protocol discourage the couple. first, the minister (John Heard) refuses to marry them, then shuns the pair from the church when they cohabitate under the same farmhouse roof.
Much of the story, told in a contrived double-flashback, feels like padding; it's filled up with the small details of how Inge and Olaf not only work their land—there's much vigorous trudging and threshing—but sympathetically come to terms with each other: two strangers in a strange new land, further estranged by their choice to commit to each other. Of course, the adversity faced by the couple is what helps knit them together, aided by the understanding shoulder of Olaf's best friend Frandsen (played by Cumming, whose telltale impishness survives even his Lutheran drag). Frandsen is far more successful as a buddy than as a farmer, and his failing fortunes anticipate a crisis when the bank opts to foreclose on his property. Ned Beatty, in one of several prime supporting performances, plays the porcine money-man come to auction off the land. It's here that an impulsive act cracks through the steely veneer of the village fathers, with unexpected consequences.
The film's pleasures come less from plot development, of which there's little, and more from the spirited engagement Reaser brings to her role. She has a fire burning under her bonnet, and is rather fiercely disinclined to indulge the claptrap imposed by her would-be neighbors. Her defiant courage—and willingness to dig deep into the dark Minnesota mud with her mate—has a proto-feminist zeal that's probably a lot closer to the frontier spirit than quaint homilies about Middle American values. If Sweet Land seems a bit precious in its devotion to period detail, and what surely must be a kind of Minnesotan creation myth, its generosity to its cast is equally lavish.