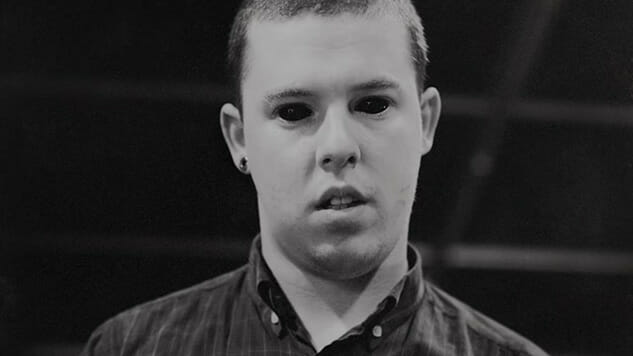 The fashion world is no stranger to the power of cinema. From Givenchy to Yves Saint Laurent, Tom Ford and John Paul Gaultier, the figureheads of fashion have been engaging in a dialogue with film for over 100 years. And while enfant terrible Lee Alexander McQueen, the creator of Lady Gaga's infamous "armadillo" shoes and Bjork's look for Homogenic, was hardly the first designer to draw inspiration from the movies, he was at least one of the most radically honest about where his inspirations lay. He was interested in New Hollywood and '90s sitcoms, Danish silent cinema and '80s horror movies, James Cameron and James Bond creator Ian Fleming. He, with his contemporary John Galliano, changed what a catwalk could be: It could be cinematic.
Film and pop culture weren't just instrumental in the crafting of McQueen's garments, but in his shows as well. His Autumn/Winter collection of 1999 took place in a gigantic snow globe, titled The Overlook, and his Spring/Summer 2005 collection gave a nod to Harry Potter and the Sorcerer's Stone.
The man who changed fashion (even Anna Wintour says so) has been the subject of several TV documentaries, planned films, a video essay, a play (co-starring Diana Agron of Glee!) and an abandoned biopic by Weekend director Andrew Haigh. And now directors Ian Bonhôte and Peter Ettedgui reveal a striking side of McQueen. Cliché though it is to say, their beautiful film McQueen demystifies McQueen's status as genius or tortured artist and instead focuses on how he poured his humanity and vulnerability into his art.
So, to commemorate the release of McQueen, the new biographical documentary, in select cities on July 20, here are eight films you should watch if you love McQueen the man—or even just the movie:
1. They Shoot Horses, Don't They?
Year: 1969
Director: Sydney Pollack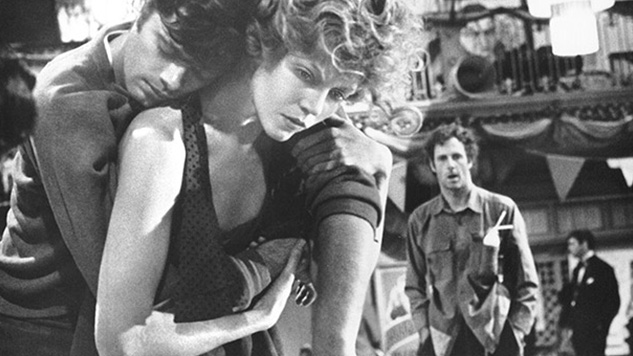 Down-on-their-luck Depression-era nobodies in search of a little money dance and dance and dance until they can no longer stand on their feet anymore. The possibility of a modicum of fame is barely enough to keep them going. In one of her most electrifying performances, Jane Fonda plays a woman competing in a dance marathon, watching as promises of the American Dream shatter and the suffering of the contestants is exploited for everyone else's entertainment. Pollack's brutal critique of Vietnam War-era politics was recontextualized by McQueen for his Spring/Summer 2004 show, Deliverance, in which his models took to the dance floor, raced around like their film star counterparts and tore through their couture clothing, leaving the final dancers drained and dead on the floor. McQueen was insistent that his shows create some sort of feeling, whether it be of disgust or rapturous attention, and was, in several ways, inclined to make his collection material manifestations of biting the hand that fed him. Deliverance, like his other shows, would focus on snarling at the audience, the critics and the buyers, diabolically suggesting that his work was a kind of killer, that consumption and capitalism were effectively destructive. His preoccupation with critiquing the very industry that gave him, fueled by ambivalence and pathos, fame is one of most important aspects of his art.
---
2. Harry Potter and the Sorcerer's Stone
Year: 2001
Director: Chris Columbus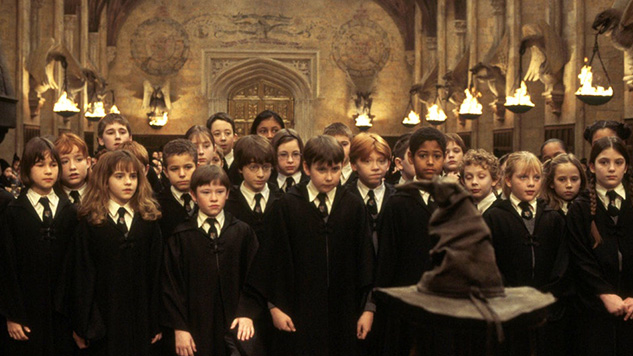 The grand finale of the first Harry Potter movie is a dangerous game of chess, a suitable metaphor for the book series' overarching understanding of the political and personal machinations that shaped how Harry, Ron and Hermione experience the wizarding world. The evil of the books wasn't just Voldemort, but a corrupt system that still had trouble dealing with the historical oppression of "mud bloods," wizards and witches with no previous magical lineage.
McQueen followed up Deliverance with his Spring/Summer 2005 show, It's Only a Game, using a chess board to deconstruct the racist, Eurocentric trends in haute couture. McQueen once said, "I want to be honest about the world that we live in, and sometimes my political persuasions come through in my work. Fashion can be really racist, looking at the clothes of other cultures as costumes… That's mundane and it's old hat." In It's Only a Game, McQueen pits West against East as a human board game, his Western style clothing reminiscent of Edwardian garments, referencing Picnic at Hanging Rock, and his Eastern derived clothing, eschewing appropriation, looking like the bastardized product of colonialism: football uniforms and a kimono. The two teams face off, models as players walking decisively from square to square. McQueen was not ignorant to the racial politics of his shows, he just liked to push them; so, when the black model playing for the team on the East is facing up against what look like two rooks, the message is clear: Whiteness will win.
---
3. Vertigo
Year: 1958
Director: Alfred Hitchcock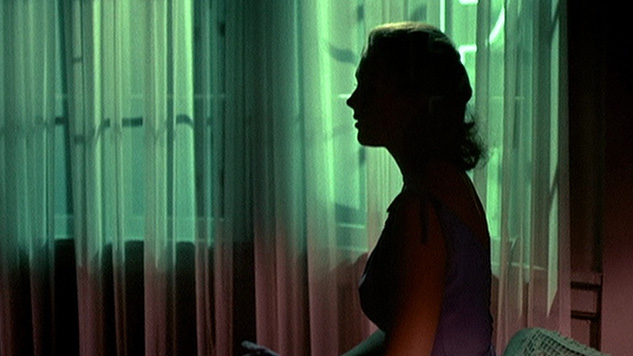 McQueen's second favorite aesthetic reference was birds. Birds appear in almost every collection of his: patterns on skirts and jackets; wings on models; taxidermy birds on heads, necks and chests. While pointing out that the designer loved Hitchcock's adaptation of Daphne Du Maurier's The Birds would be too obvious, what's more interesting is his interest in doubles. His collection The Man Who Knew Too Much for Autumn/Winter 2005 was his most explicit pastiche of the Hitchcock Blondes' look—his Savile Row-trained hands present in the severe precision of each cut of every garment—but doubles, twins or freakish siblings appeared throughout his work, not unlike Hitchcock's. The twins make an appearance in his Kubrick-inspired The Overlook for Autumn/Winter 1999, and the opposing teams of It's Only a Game are intentionally mirrors of one another.
One of his last collections, Autumn/Winter 2009's The Horn of Plenty was a deadly "best of" collection, reworking many of his previous garments to be like their evil doppelgängers. Fashion is obsessed with its own history, and McQueen would use self-reflexivity as a way to critique both himself and the industry at large. Hitchcock's own film Vertigo does much the same, both a study in obsession and doubles, but also perhaps a critique of the director's obsession with mirroring the relationships he had with the women in his films, in the films themselves. His blondes are both distinct and archetypal, representing a constant struggle for these women, from Janet Leigh to Eve Saint Marie, to exist on their own terms. In Vertigo, Judy Barton (Kim Novak) fights against the concentration of her identity, the mutation of it, into a past idea of her that James Stewart seeks to embalm. While McQueen always sought the future, he would "double" certain garments, particularly in The Horn of Plenty. That collection was described as the "biggest slap in the face" to the industry by Vogue: If his garments in their original form were once challenging but beautiful, they were now grotesque, overdrawn, mocking, kinky. They were the maggot-infested middle finger to fashion and consumption, the remnants of impeccable stitching still there.
---
4. American Psycho
Year: 2000
Director: Mary Harron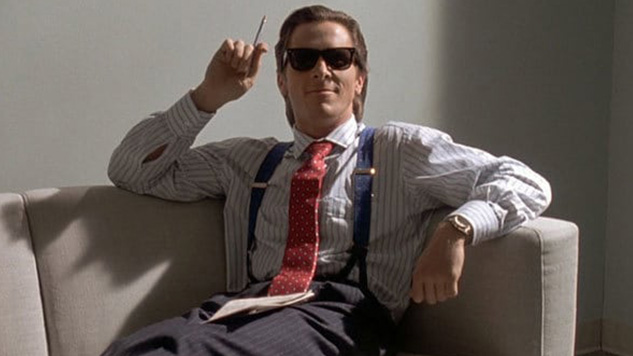 Movies influenced McQueen's menswear lines as much as his womenswear, with work like Death in Venice inspiring his Spring/Summer 2007 collection Harlem, Peter Brook's film adaptation of Lord of the Flies the central focus point of his Spring/Summer 2006 collection Killa and Mary Harron's take on Bret Easton Ellis's American Psycho for his Autumn/Winter 2007 collection The Forgotten. Harron's film is an undeniable influence on The Forgotten; every model looks like the same kind of Wall Street monster, like clones of Christian Bale's sociopathic, maybe psychopathic Patrick Bateman. But if Harron, who transformed a fairly misogynistic text into a commentary on not only Reagan era consumption and greed, but also Reagan era gender norms, McQueen riffs on this idea, turning his models into robots with little less than blank stares and perfectly cut suits, like transporting American Psycho into a dystopic future where everything and nothing has changed, yet another disdainful side eye to his industry and his audience.
---
5. Melancholia
Year: 2011
Director: Lars von Trier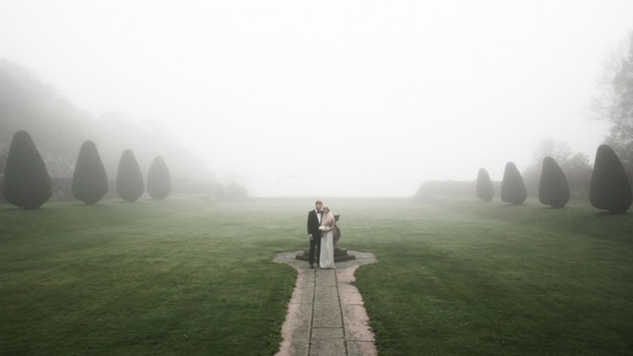 Alexander McQueen's relationship with woman can only be described as "complicated," kind of Lars von Trier-esque. His garments could degrade and empower women within the same show, could be weapon and armor, and his button-pushing provocations unleashed a fury of press covering both his tastelessness and his brilliance. One of his earliest incitements was his Autumn/Winter 1995 show, Highland Rape, which featured women walking down the catwalk in various states of horror, acting out trauma, their clothes slashed or ripped. It was a dangerous metaphorical game that McQueen played, the show an examination of the ethnic genocide of 18th century Scotland, committed by the English. Cheekily calling his a "corrective history" of Vivienne Westwood's "fake history," he used bumsters (low rising pants) and tartan to explore exploitation and violence.
Still, given the provocateur he fashioned himself to be, he indulged in the imagery he used. Though he walked similar fine lines between empowerment and exploitation in collections like Joan (Autumn/Winter 1998), Eshu (Autumn/Winter 2000) and Voss (Spring/Summer 2000)—which used fetish model Erin O'Conner, recreating Joel Peter Witkin's photograph "Sanitarium," (1983) in an enormous reflective glass box, forcing the audience to confront their conception of normative beauty—there was a depressive humanity and tendency in McQueen's art that is too often sidelined in favor of talking about his more shocking creations. Lars von Trier's Melancholia is the director's most human film, most in touch with tenderness and vulnerability, almost as if the controversial director had briefly graduated from impishness to real raw exposure of the human soul, via the contrast of sisters Justine (Kirsten Dunst) and Claire (Charlotte Gainsbourg) and their reactions to a wedding at the end of the world. Though Voss's asylum setting is most literally derived from something like The Green Mile, it's in this, Joan, Le Dame Bleu (Spring/Summer 2008), The Widows of Culloden (Autumn/Winter 2006, a sequel to Highland Rape) and the unofficially titled Angels and Demons (Autumn/Winter 2010, McQueen's uncompleted posthumous collection) that beauty can be found beyond his fixation on the grotesque. Le Dame Bleu is particularly notable for how personal his clothes could be: a dedication to his late friend and mentor, Isabella Blow, who had committed suicide not long before. Vogue wrote at the time, "McQueen mustered the clarity to dispense with smoke and mirrors…"
Melancholia is not filled with the fury or the occasional infantile provocations of the director's predecessors. Instead, the film imagines not that depression is beautiful or romantic, but that sometimes the only way to process depression, or death for that matter, is through romanticism. With Wagner's Tristan and Isolde prelude over the end of the world (at the beginning of the film), von Trier uses references to German Romanticism to articulate Justine reconciling with her emotional wreckage.
Blow loved Philip Treacy hats, and so Le Dame Bleu was filled with them. The stage was barer than most of his shows, leaving the critics and audience to focus on the clothes. Also a fan of romanticism, McQueen revived his love for Blow, with whom he had a tumultuous friendship, and had his garments voice their shared desires, similarities and mental health struggles. A headpiece by Treacy featured a flurry of butterflies, drapery danced on the air and framing the catwalk was an abstract set of lights that sparkled ethereally in blue. The beat of the wings could be heard, as if Blow had left this earth and McQueen wanted to follow.
---
6. Phantom Thread
7. The Bitter Tears of Petra von Kant
Years: 2017; 1972
Directors: Paul Thomas Anderson; Rainer Werner Fassbinder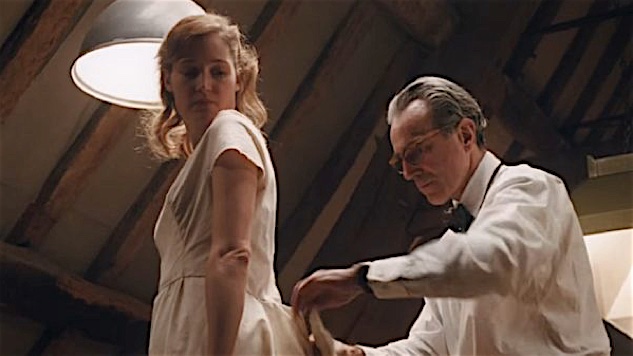 Both films are about fussy, domineering designers and their tempestuous relationships with their muses, and it's hard not to see them as bookends to McQueen's clothes and persona. Reynolds Woodcock (Daniel Day Lewis) sews locks of hair into his jackets, and so did McQueen. Petra's (Margit Carstensen) relationship with Karin (Hanna Schygulla) has the trajectory of hot and cold, and McQueen was vicious and fiery with his boyfriends. While both films thrive as morbid romantic comedies of obsession and sadomasochism, they give a bit of insight into two sides of the same fashion coin: Petra von Kant plumbs the depths of the emotional cataclysms that can singlehandedly inform the art, and Phantom Thread looks at the labor of being a designer, and what happens when you have to reconcile with the art as commerce.
---
8. The First Monday in May
Year: 2016
Director: Andrew Rossi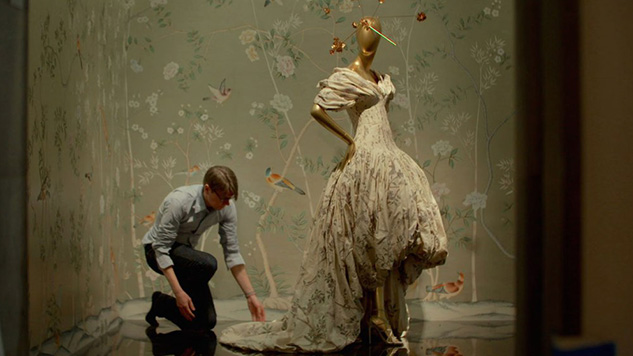 While almost all of the other films in this list somehow related more directly to McQueen's clothing and shows, there's an appreciation to be had about how the fashion world he inhabited operates, both within the context as fashion as art and fashion as commerce. Rossi's documentary, which depicted the curation of the Met Costume Institute's annual spring exhibition for 2015 and the organization of that year's Met Gala, was dismissed as a commercial for Vogue and the Met Costume Institute. But the complexities and nuances of the film seem brushed aside in spite of what the film was actually documenting: That year's exhibition was, as organized by head curator of the Costume Institute Andrew Bolton, China: Through the Looking Glass, a survey of western fashion that was inspired by Chinese, or more broadly, East Asian aesthetics. It's a prickly subject, one that has Bolton bending over backwards to intellectualize and justify what could be described as cultural appropriation given how often the designers and garments ruefully pilfered design without context. Rossi watches Bolton have many uncomfortable conversations with Chinese journalists, the head of the Asian Art Department at the Met (within which the exhibition was integrated) and Artistic Director of the exhibition, Wong Kar-Wai. In one scene, Bolton suggests placing the Mao-influenced clothing in the same room as the Buddhist art, to draw the comparison of how deities transformed and functioned in different political and temporal landscapes in China. Wong is, justifiably, gobsmacked. While it's certainly entertaining to watch these awkward, often cringe-worthy conversations take place, the film has a sharp eye on the difficulties of discussing race, legacy and oppression within art and commerce, and what the implications of curation mean for a culture that has been fantasized about but rarely allowed to speak on its own terms.