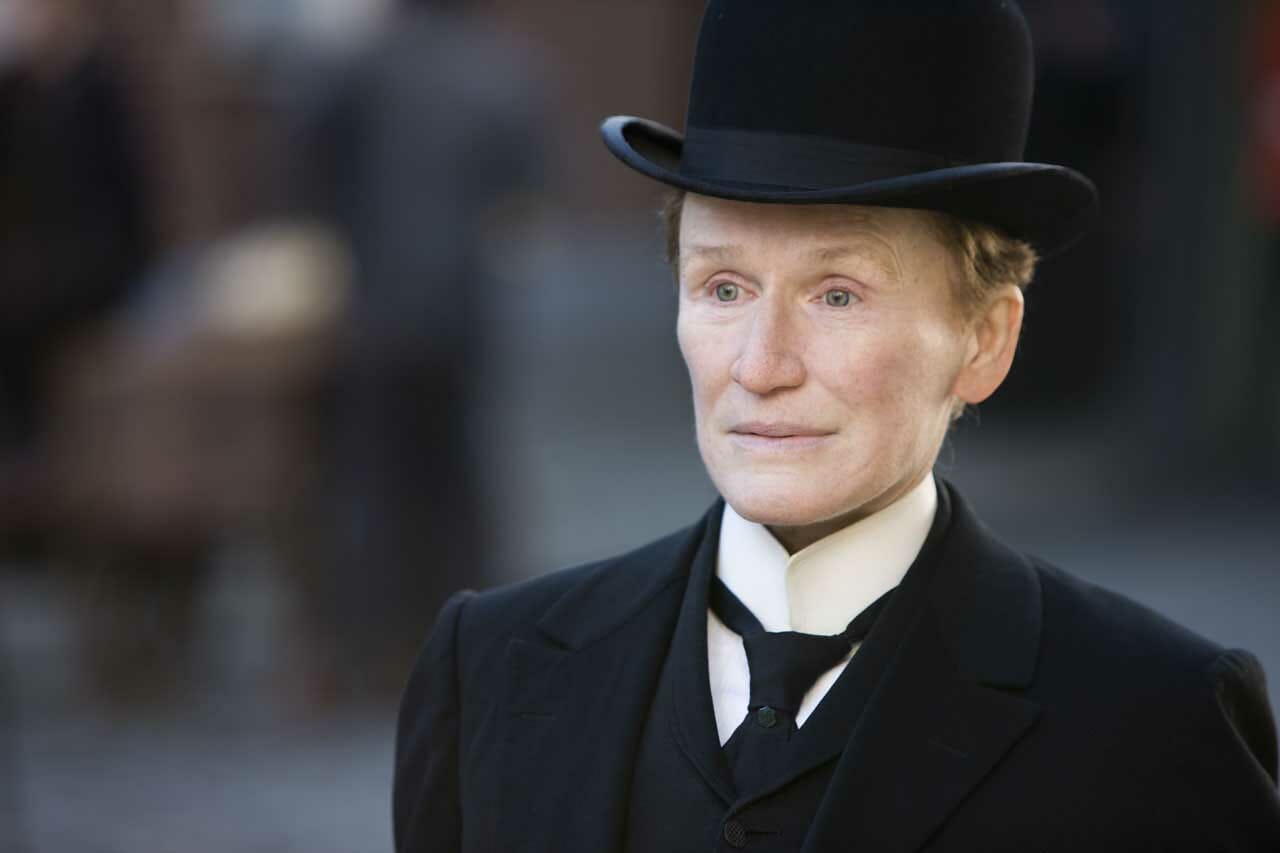 In a role she's carried with her for nearly 30 years, Glenn Close stars as the titular waiter, a "sweet little man" whose attention to detail and ability to blend in with the wallpaper has rendered him a valuable, if not indispensable, staff member at Dublin's Morrison Hotel. Albert doesn't look guests in the eye out of deference but also because he harbors a secret: Albert is a woman. And in 19th-century Ireland, with abject poverty lurking right around the corner, it's worth wrapping one's breasts for three decades to ensure a decent living and perhaps even a shop of one's own one day.
Close first played Albert in a theatrical adaptation of George Moore's short story in 1982, for which she won an Obie Award. She's been keen to reprise the role on-screen ever since, eventually scripting the story herself and even contributing lyrics to Sinéad O'Connor's rendition of the theme song. Albert marks a 180-degree turn from Patty Hewes, the part she's played on TV's Damages for four seasons: where Patty is rich, Albert is poor; where Patty is powerful, Albert is powerless; where Patty is aggressive, Albert is timid; and where Patty is manipulative, Albert is manipulated. As Albert, buttoned-up but fraying at the edges from the stress of maintaining "his" ruse, Close gives an emotionally naked performance as bare as her unstyled hair and makeup-free face.
Albert is not the only one at the Morrison with a secret or a dream, though, and the strength of director Rodrigo García's film lies in the subtle ways it riffs on these themes. Alcoholism, infidelity and pregnancy are just some of the scandals unfolding within the hotel walls while everyone from the establishment's proprietor Mrs. Baker (Pauline Collins) to the new handyman Joe (Aaron Johnson) scheme for a better life.
When Albert meets a chap in a situation not unlike his own, his eyes are opened to possibilities he never considered before: Love, a life, are attainable. With dreams of opening a tobacconist's and acquiring a wife to work at the counter, he approaches sassy chambermaid Helen (Mia Wasikowska) about "walking out" with him. Reluctantly, she agrees, egged on by her boyfriend Joe to milk Albert for whatever sweets or alcohol or cash he'll part with. But, as the audience knows, this scenario, for a variety of reasons (age, gender), can only end badly.
Without giving too much away, one cannot discuss Albert Nobbs without mentioning Janet McTeer, whose character serves as Albert's foil. Bringing both levity and gravity to the material—the pair's stroll on the beach in bonnets and dresses is as poignant as it is amusing—McTeer's turn is as transformative as Close's in a modest film with memorable characters tackling big themes.
Director: Rodrigo García
Writers: Glenn Close, John Banville and Gabriella Prekop
Starring: Glenn Close, Mia Wasikowska, Aaron Johnson, Brendan Gleeson, Janet McTeer, Jonathan Rhys-Meyers, Pauline Collins & Brenda Fricker
Release Date: Dec. 21, 2011 (limited), Jan. 27, 2012 (wide)