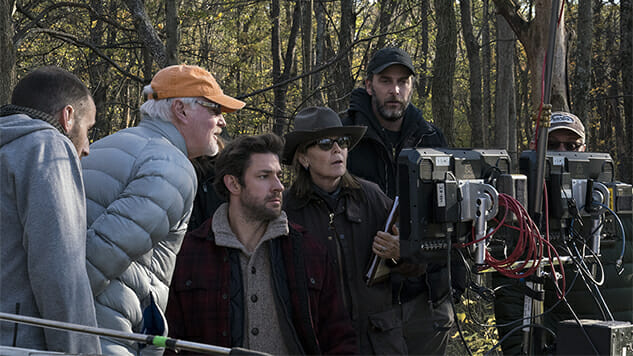 Filming on A Quiet Place: Part II just wrapped.
John Krasinski, the writer and director of the film, tweeted a sweet picture of him and wife and star Emily Blunt on a forebodingly familiar bridge:
Well… that's a wrap on #PartII See you on March 20th! pic.twitter.com/9u4xcFjm5n

— John Krasinski (@johnkrasinski) September 25, 2019
Krasinski stepped behind the camera to direct for the first time with A Quiet Place last year. The film was a terrifying, action-packed turn away from his mundane but funny days at Dunder-Mifflin in The Office, and a successful one. A Quiet Place was a box-office hit, making $340 million against a budget of just $20 million.
Blunt, Millicent Simmonds, and Noah Jupe are returning for the sequel, while Dijimon Hounsou (replacing Brian Tyree Henry) and Cillian Murphy are new additions.
Krasinski co-wrote the unique and terror-inducing script for A Quiet Place with Bryan Woods and Scott Beck while also starring in the film, but wrote solo for the sequel. Not much is known about the follow-up yet except that it is expected to explore the origins of the monsters from the first film. Viewers couldn't discern much about the vicious creatures in the first installment, but that mystery much contributed to the film's success. It will be interesting to see how Krasinski handles this plot point, as A Quiet Place certainly showcased his ability as a writer and director.
The film is set for release March 20, 2020, so as Krasinski said, we'll see more (but probably not hear much) then.