Kate Hudson and Michael Shannon Can't Withstand the Rom-Com Blandness of A Little While Lie
Movies
Reviews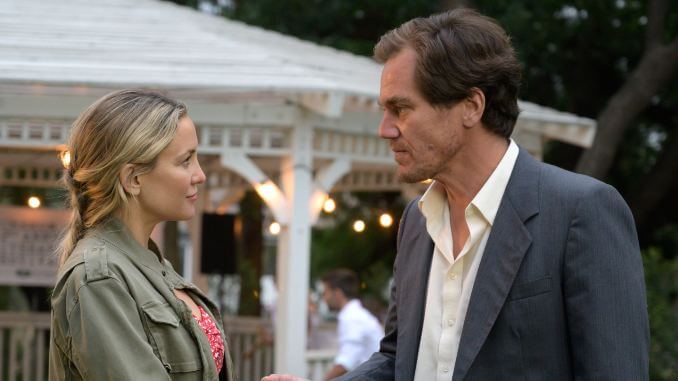 A Little White Lie's early developments feel comfortably predictable for a romantic comedy—appropriately zany, with two lead actors who convincingly embody their roles, binding an unwieldy ensemble together with the sheer wattage of their star power. Writer/director Michael Maren's second film follows Shriver (Michael Shannon), a struggling handyman tasked with fixing toilets and silently eating takeout with his cat. He is quickly mistaken for a famous author and invited to speak at a literary festival by a determined professor, Simone Cleary (Kate Hudson). Shannon, not particularly known for his forays into romantic comedy, embodies the grumbling sweetness of someone clawing their way out of anonymity. His gruffness compliments Hudson's sweetness. If he is hunched over, she stands upright; if he scowls beneath his heavy brow, she gazes with wide eyes.
The distinction between these two is reflected in the obvious shift in setting. Shriver's world in New York is cloaked in shadows, while interior settings are covered in dark wood and mysterious stains. Simone's fictional college campus is open, perpetually bright and soundtracked with the chatter of students and staff wandering between outdoor book stalls. When Shriver first appears on campus, Maren cuts between shots of branded tote bags, confronting our protagonist with a wall of English students all waving their newly finished manuscripts. They overwhelm him with their sunny determination, closing in on him in the same way the monster in a horror film would chase the hero.
Maren's choice to root this story in academia is a smart one for many reasons. Cleverly locking these characters into an insulated landscape full of identically renovated halls and classrooms no doubt served the film's budget, but it also built a compelling style of communication for these characters. The slew of witty quips and rapid-fire dialogue already bandied about in romantic comedies is naturalized in this kind of setting. Yet even with these storytelling shortcuts, the film's visual blandness is disorienting. The onslaught of freshly painted buildings and overly manicured lawns may be an accurate portrayal of American academia, but it isn't a cinematic one.
Initially the plot followed a familiar set of storytelling beats, but it quickly devolves into something unrecognizable. A Little White Lie careens from the comforting warmth of the romantic comedy into a murder-mystery-meets-psychological-thriller-meets-romantic-drama. As this story unspools in increasingly unhinged shapes—casting all of its earlier potential aside—it becomes obvious that Hudson and Shannon were solely responsible for the film's veneer of charm; beneath this lies an unruly mess of creative decisions. Perhaps these farcical developments could be excused if Maren had leaned into the unmoored silliness, but there is an unwillingness to abandon the film's earlier realism. Inexplicable story beats have to be outright explained to avoid confusion (and I was still confused).
All of A Little White Lie's problems can be summarized by Alex Wurman's score. At first promising, inviting and light to compliment the fundamental cheeriness of the genre, it becomes all-encompassing, bearing down on the viewer with a menacing edge. There is rarely a scene without the score lightly humming in the background, each piece of music blending into the next, backing the audience into a tight corner of garishly white walls and anonymously designed sounds. This is indicative of the film as a whole, so unusual in its twists and turns, yet still frustratingly non-specific.
A Little White Lie struggles under the weight of such a muddled visual and auditory language, only clarifying in bursts that coalesce in spite of, rather than because of, Maren's creative decisions. Hudson and Shannon remain as watchable as ever, singular in their abilities to draw an audience in. Their romantic chemistry may not be a reliable engine to propel the film forward, but their contrasting energies are uniquely engaging. The supporting cast lend the story heft where they can, but the scale of A Little White Lie is too small to contain the wild, wandering tangents of the plot.
Director: Michael Maren
Writer: Michael Maren
Starring: Kate Hudson, Michael Shannon, Da'Vine Joy Randolph, Don Johnson, Aja Naomi King, Zach Braff
Release Date: March 3, 2023
---
London-based film writer Anna McKibbin loves digging into classic film stars and movie musicals. Find her on Twitter to see what she is currently obsessed with.