In the words of the great Jessica Day, "I hope you like feminist rants, because that's kind of my thing." Here goes.
Why are all the fellas taking on the role of God in movies and television? Obviously, the Holy Bible has something to do with it. All those masculine pronouns and "Our Fathers" make it difficult to prove my case. And for that reason, we have to appreciate the directors and writers who have boldly offered their own interpretations of the good book on television and in film. Some of the best performances of God (and there have been many) have been delivered by women, and we'd like—no, we demand—to see more of that. The good news is that we have Oprah Winfrey's upcoming performance in The Shack adaptation to start looking forward to (thank you, Forest Whitaker). In the meantime, let's reminisce about five other glorious times when God was (appropriately … ahem) a woman.
1. Whoopi Goldberg, It's A Very Merry Muppet Christmas
Officially, Goldberg plays "Daniel's boss" in the movie. But since Daniel (played by David Arquette) is an angel, one can assume that she was unofficially playing God. As the boss, Goldberg's omniscient character witnesses the financial woes of the Muppets as they try to save their beloved Muppet Theater. She allows her angel to step in and help restore Kermit's faith. She was a good God/boss, and a kind God/boss. It should also be noted that she looked incredible in white.
Fun fact: Goldberg also played God (this time, by name) in Little Bit of Heaven.
2. Marianne Faithfull, Absolutely Fabulous
The English pop/rock singer/songwriter appeared as God on a few episodes of the BBC sitcom, but this is one of the best scenes. Eddy has a near-death experience in "The Last Shout: Part One" that sends her to the not-so pearly gates (because Faithfull as God has gotten rid of all of that stuff from Michelangelo and traded it in for a more minimalist look). The fact that this is just one of our three femme Gods says a lot about how we can't help but worship women who rock.
3. Sandra Bernhard, One Hell of a Guy
The beloved, foul-mouthed comedian (who will block you so fast on Twitter if you mess with her) is the voice of God in this 2000 romantic comedy. She never appeared in the movie, but we'll take it. (We don' really have a choice' there are literally so few women who have played God.)
4. Alanis Morissette, Dogma
There is no television or movie God greater than a God who dons flip-flops and a metallic jacket. With her tutu-esque white skirt. Kevin Smith's God in the 1999 film Dogma has become iconic, at least in the minds of Kevin Smith fans (but, we're all Kevin Smith fans, right?), and those of us who secretly or openly imagine the big man upstairs to be a small woman who likes to do handstands against trees.
5. Cher, Will & Grace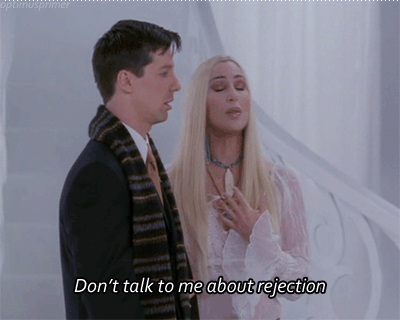 This is not much of a stretch when you think about it. There are millions of people the world over who would proudly declare Cher their choice of deity. In the "Artificial Insemination" episode, Jack knocks himself unconscious and has a vision of the great and powerful pop star, who encourages him to return to performing even though the odds are against him—she knows a thing or two about this.
Shannon M. Houston is Assistant TV Editor at Paste, and a New York-based freelance writer with probably more babies than you. You can follow her on Twitter.