Revisit One of the Most Influential Films of All Time With 2001: A Space Odyssey's 70mm Trailer
Images via Warner Bros. Pictures/YouTube
Movies
News
2001: A Space Odyssey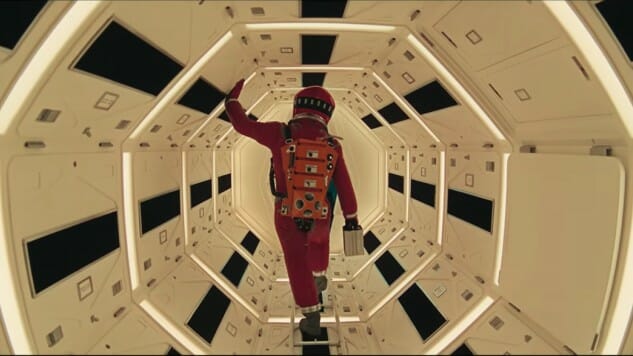 50 years ago, Stanley Kubrick's 2001: A Space Odyssey debuted. It became a classic for its exploration of film style, for its technological advances in cinema, and for the birth of a new sub-genre within science fiction and narrative storytelling. Now, audiences can experience the phenomenon that started a film movement and affected all films to come after.
Oscar-nominated director Christopher Nolan will introduce the 70mm rerelease of 2001 at its Cannes premiere on May 12. "For the first time since the original release, this 70mm print was struck from new printing elements made from the original camera negative," Nolan explains in a statement. "This is a true photochemical film recreation. There are no digital tricks, remastered effects, or revisionist edits. This is the unrestored film—that recreates the cinematic event that audiences experienced 50 years ago."
Kubrick's daughter, Katharina, and his longtime producing partner and brother-in-law, Jan Harlan, will attend the Cannes screening. The film won an Academy Award for Best Visual Affects at the 1969 awards ceremony. Kubrick received a Best Director nomination for the film, as well as a Best Screenplay nomination for his work with Arthur C. Clarke.
Why is this such a big deal to screen in 70mm? Well, when a film is shown in 70mm as opposed to the usual 35mm or digital film, the frames are larger in size and the aspect ratio is much wider. This allows audiences to see a wider and sharper film, thus making small details more noticeable. Very few studios release films in 70mm and even fewer theaters shows them due to the high cost. Recently, Nolan's Dunkirk and Interstellar were both screened in 70mm, as well as Quentin Tarantino's The Hateful Eight. When it comes to an older film like 2001, it's better to view it unrestored and in 70mm because there is an authentic edge in the cinematography that can be lost in a digital projection. Older films that rely on more on cinematic clout are simply better seen in 70mm than any other format.
Enjoy the new trailer for 2001's 70mm restoration below and be sure to go and see this miraculous film in a theater this May.