Holistic Travel: The Rise of Hotel-Based Personal Trainers
Top Image Courtesy of Only YOU Atocha
Health
Features
travel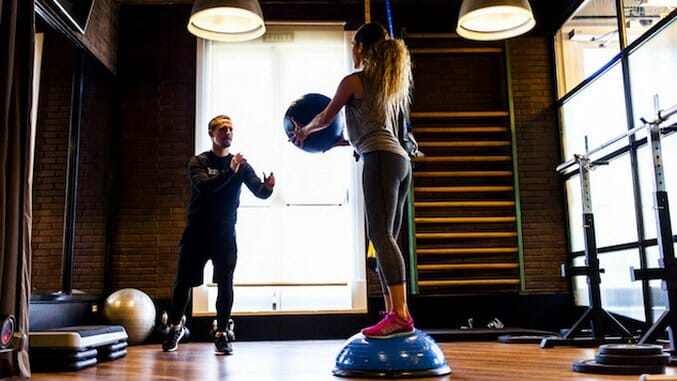 After two weeks of travel throughout South Africa, I settled in to my last stop: the five-star Saxon Hotel in Johannesburg. I only had one night before my 15-hour flight back to New York City the following afternoon. When I woke up in the morning, I crossed the koi pond and entered the fitness center, hoping to squeeze in a quick workout session before my long travel day ahead. The airy space, with floor-to-ceiling windows looking out at the courtyard's ponds, was lined with state-of-the-art machinery, from spin bikes to Kinesis stations. But this wasn't what impressed me most. It was resident science exercise practitioner, available for one-on-one personal training sessions.
The Saxon is just one spot where the newest amenity to roll out at hotel gyms isn't the latest Technogym equipment—it's a personal trainer. With wellness programs adding everything from green juice to scheduled fitness classes to the menu, hotels—from five-star luxury to budget-savvy all-inclusives—are looking to make gyms similar to what guests would find back home, offering personal training sessions to suit any travel schedule.
The Saxon's fitness program is practically designed with business travelers in mind. Take the post-flight stretch, for example, where guests are guided through a session with the trainer to help increase flexibility, raise energy levels and reduce muscular discomfort after hours of sitting strained on a long-haul flight. "We have definitely found that our guests enjoy having the option of a personal trainer in the hotel," said managing director George Cohen in an e-mail. "Many guests are happy to work out on their own, but they would prefer to have someone there to guide them, offer them advise and show them new techniques that may work better." Some guests even have their personal trainers back home send over their program, so they can stick to schedule with the in-house trainer at the Saxon while traveling. "With guests having relatively short stays at the hotel, we do find that the benefit of personal training is more from a guidance and assistance point of view," Cohen explained.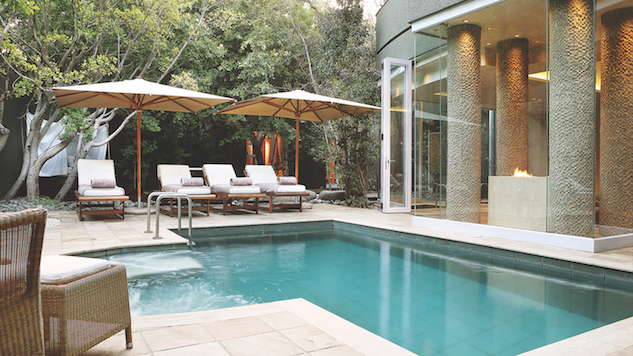 Image: Courtesy of Saxon
According to a piece in the Evening Standard, some of London's most luxurious hotels started adopting this trend a few years ago, with landmarks like Claridge's rumored to spend a year searching for the perfect celeb trainer like Steve Mellor to fill the position. Founder of the Freedom2Train "full body blasting workout" personal training brand, sessions with Mellor (whose clientele spans Arctic explorers and Olympians, as well as actors and models) start at a cool £110 (about $140) an hour.
What started as a luxury at haute hotels is no longer reserved for the elite, as fitness centers have adopted in-house personal trainers as part of the program at boutique hotels across Europe, as well as at all-inclusives in the Caribbean. In Madrid at the new boutique Only You Hotel Atocha, travelers can grab a bottle of water and running map from the gym before setting off on a circuit around the neighboring Retiro park, one of the largest in the city. They can also book a solo or group session with personal trainer Fran of Capitán Emo, with half-hour sessions starting at 40€, about $45. Personal training is just one part of the package here, as Capitán Emo offers everything from nutritional guidance to body measurements at a handful of hotels across the country, including Ushuaïa Ibiza Beach Hotel and Hard Rock Hotel Tenerife in the Canary Islands.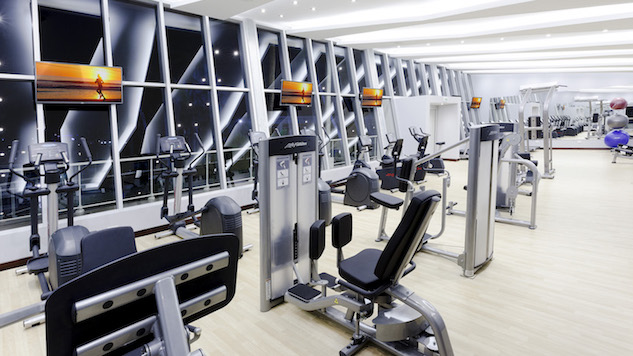 Image: Courtesy of Sonesta Ocean Point Resort
On the Dutch side of Saint Maarten in the Caribbean, five-star all-inclusive Sonesta Ocean Point Resort opened in December 2014 following a $25 million investment revamping the former Ocean Terrace building. Now the adults-only property is debuting another new amenity: a 1,700-square-foot fitness facility with views over the popular plane-spotting Maho Beach. While the "resort-within-a-resort" is part of a larger complex that includes two other all-inclusives, only guests staying at Ocean Point have access to the new facility, where they can book personal training sessions through the hotel's concierge. Sessions start at $100 for the first hour and include a 30-minute meal planning consultation. Part of the reason why personal training was added to the new SunFit Mind & Body Activity Programme: travelers of all ages are looking to keep their mind and body more active during vacation.
"Over the past 10 years, there has been a fairly significant evolution in the holiday experience, and the demand and offerings at hotels has become more varied than ever," explains Shep Shepherd, director of entertainment at The Maho Group. "Chilling on the beach will never go out of fashion, but guests are now looking to fill their resort holidays with so much more activity, and fitness and wellbeing programs have landed right at the heart of that demand."
---
Lane Nieset is Paste's Jet-Set Bohemian columnist and a freelance writer covering all things travel from her home base in Nice, France.