Ryan Lochte on Cross-Training, a Clean Start and Competing in 2020
Photo by Michael Simon, StarTraks
Health
Features
Ryan Lochte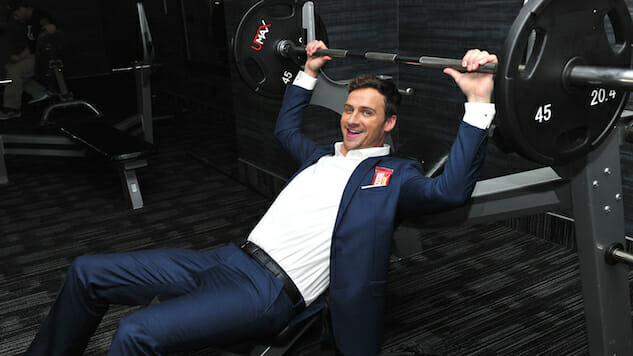 Remember five months ago when no brand would touch Ryan Lochte with a 10-foot pole? Those days have come and gone, and he's back in the game … or should we say swimming pool … with a PowerBar partnership.
And it seems he's found the right match; the 12-time Olympic medalist does eat between 6,000 and 8,000 calories a day, so he could definitely use some of those protein bars.
He's bound to work up an appetite spending up to five hours a day in the pool—not that we'd know. We cannot relate to Lochte's lifestyle in the slightest.
Of course, we can relate to the Adonis-like athlete and soon-to-be father's imperfections. After a controversial Rio run-in in 2016, he's ready to leave last year behind (OK, we can't really relate, but we've made our fair share of mistakes).
"I'm putting 2016 in the past," the 32-year-old told Paste Health. "I'm looking forward to 2017. My clean start is everything."
So that's the reason he gravitated toward PowerBar—the brand has a new Clean Start Pledge initiative spurred by their launch of Clean Whey products.
Starting the year off right with a resolution, Lochte pledges to swim faster. But that's not the only thing he's looking forward to this year and beyond.

Paste Health: What are your future competition plans? Will you be participating in the 2020 Olympics?
Ryan Lochte: I'm definitely going to 2020. There's a lot more I want to accomplish in sports. I'm not done.
PH: What is your training regimen now?
RL: I knew after 2016, I wanted to take a break. I didn't really get that break, though, because I went straight into Dancing With The Stars. Putting a fish on land—it just doesn't work. It was really hard for me, so I didn't really get a break from anything. Now that everything has calmed down, I'm taking a little break. Working on my move—I'm living in Charlotte, North Carolina right now and moving to L.A., and that's where we're going to start our family out there. Once I get out there, I'll get back in the water—which should be happening in a week or so.
PH: When you're in training mode, how many hours a day are you spending in the pool? How many hours are you spending cross-training?
RL: On an average day, every swim session is about two to 2.5 hours. Sometimes I do two-a-days, so I'll go in the morning and then go at night. That's five hours of just swimming in the pool. Then I do a lot of cardio. I'll do an hour of abs, situps, running on the treadmill. And then I do weightlifting. I do Olympic lifting and Strongman workouts. It's about 30-40 hours of working out a week.
PH: What does your diet entail?
RL: I've been eating PowerBar ever since I started swimming. My fiancé, she's a big health person, she eats healthy all the time. I was the opposite; as a swimmer, I was burning so many calories in the pool that I could eat anything I wanted—I just had to get the right protein. Now, I'm watching what I eat. A lot of things have changed in my diet. I'm no longer eating fast food. I'm making sure I have the right amount of calories each day.
PH: Are you the type of guy to jump on a health or fitness trend, like going gluten-free or getting suck into SoulCycle?
RL: No. I have never adopted any major food trends. Because swimmers need protein, so it would be hard to become vegan or something. I have to have meat. I've never tried that gluten-free [diet], or anything like that.
PH: What's your cheat day meal?
RL: My cheat day is Friday. Ever since I was 8 years old, every Friday I've eaten pizza and wings. It's a family tradition. I've only missed it, like, six times in my life.
PH: You're often compared to Michael Phelps, but what is something you always beat him at?
RL: Any land sport! I could put any [amount of] money [on it], I could beat him in basketball.
PH: When you retire from swimming, do you want to stay in the fitness world?
RL: Honestly, I don't know. I'm doing some movie gigs, acting and stuff like that. Whatever opportunity is presented to me, I'll be more than happy [to consider]. The biggest thing now is my family—having a family of my own now.
PH: What's your advice for novice swimmers who use swimming as an exercise regimen?
RL: Have fun—that's what life is all about. Life is too short. You've got to embrace every moment. Enjoy it. To me, swimming is so much fun. When I set foot in any kind of water, I'm just at home.
Hilary Sheinbaum is a travel, health, food and lifestyle writer.