Bodies in Balance: An Interview with Jessie Graff, a Superhero and American Ninja Warrior
Photo Courtesy of Jessie Graff
Health
Features
Fitness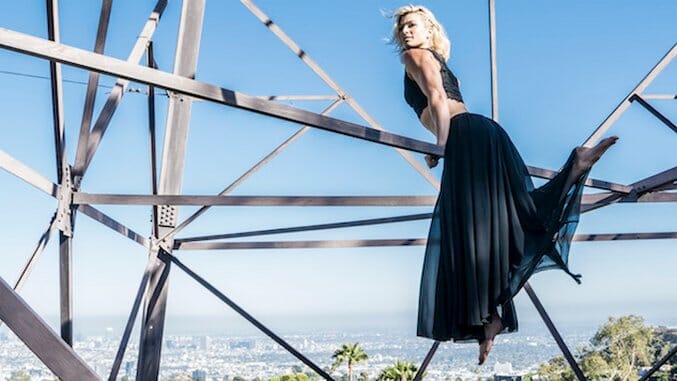 My daughter and I were discussing strong female leaders the other day when I asked her who she looks up to. Since she is only nine-years-old, I secretly hoped she would say "You, of course." But, to my surprise, good old mom only secured the number three spot—right behind Michelle Obama and Jessie Graff.
Up until a year ago, I had no idea who Jessie Graff was. My daughter (and son) talked incessantly about this Graff woman and the freakishly amazing strength she displayed as she performed her "killer moves" (as they liked to say). And judging by the enthusiasm and obvious respect and appreciation for their modern day superhero, I knew it was time to get to know this fiercely admired woman.
Jessie Graff: Fearless and Focused
Back in September, Graff—who is a professional stunt woman—became the first woman to ever complete Stage One of American Ninja Warrior. An amazing accomplishment respected by anyone who follows the show, but for Graff, she was just getting started. This fearless athlete stepped up to the platform one more time, and when it was all said and done, became the first woman to complete Stage Two of American Ninja Warrior: USA vs. the World .
But, this record-setting finish did not come easily.
Shortly after the buzzer sounded, Graff slipped and fell on her very first obstacle, the Snake Run. "When I fell, it was so devastating," she says. "This was my chance as a woman to show we could compete on an international level against men," she explains. Knowing she still had something to prove that night, her team decided she was definitely not done. As she walked off the course, Graff was greeted by her teammates, who asked one question: "Jessie, how do you feel about doing Stage Two?" And what can only be described as one of the most touching displays of teamwork and respect, that extraordinary group of competitors sent Graff back in to make history.
"I have so much appreciation and gratitude for the fact that I was able to try again right away," says Graff. "My teammates gave me that chance, but also had faith that I could perform—that I would come back from it," she adds. "To have a chance at immediate redemption, its such a rare thing on Nina Warrior," she explains.
Graff on Working Out
Whether she's flying through the air of the American Ninja course, kicking and jumping her way through a 19 hour day on a movie set, or practicing her super-human grip strength anywhere she possibly can, being active and exercising is a priority every single day for Graff. Describing her workouts as "utter chaos," Graff does her best to separate push day, pull day and leg day.
But, if she's working an extra long day—which she commonly does—she's limited to what's available and can often be found improvising with props like a chain link fence for pull-ups. If she's not working—and it happens to be pull day—her workout becomes an all day adventure spent searching for the many ways she can work her grip strength and pull-up strength. Which for Graff, is a lot of rock climbing, lat pull-downs, and various pull-ups.
When it's leg day, Graff can be found flipping and kicking her way to a stronger lower body. She usually starts with flipping techniques and exercises. And if it's more of a kicking day, she will go to Taekwondo or workout with friends who are world champions at sport martial arts. Together, they work on 540's, spin kicks or flip kicks. After she's worked on all of the volatile moves that require fresh legs, she takes on a stair workout to burn out her legs and work on explosive jumping moves. And if there's still time (yes, she IS that determined), Graff finishes out her day lifting weights. "Since my knee injury, I try to be really regular with all of the joint stability and strengthening exercises because I want to build an armor of muscle around my joints—I don't want to break again," she explains.
As far as a few of her favorite skills she's working on right now, Graff says she loves focusing on precision and spends a lot of time training with parkour moves, such as leaping from one rail to another. Her motto for fitting in workouts with an ever-changing work schedule, can be best described as: "Just be ready for anything."
Graff on Being a Role Model/Superhero
One look at the females in the audience when Graff is crushing the course and it's obvious this fierce competitor is seen as a superhero in the eyes of seven-year-olds and seventy-year-olds. And in a society where image can be all-consuming, her fresh take on strength and optimum health is changing how young girls (and adults) view their bodies. "I meet so many women who will work out for hours to look weaker because they feel pressure to look skinny, she says. "It's scary that we live in a culture that encourages women to be less healthy. And it's truly amazing to me, that I get to be part of changing that perception, so that little girls will want to grow up to be strong," explains Graff. As a kid, Graff said she looked up to her mom, Jackie Chan, Buffy, Xena, and the Power Rangers, to name a few. "As much as I love taking inspiration from established heroes, I think it's more important to be my own hero," says Graff. And her catchphrase: "Be your own hero," is certainly inspiring others to do the same.
---
Sara Lindberg is a freelance writer specializing in health, fitness and wellness.