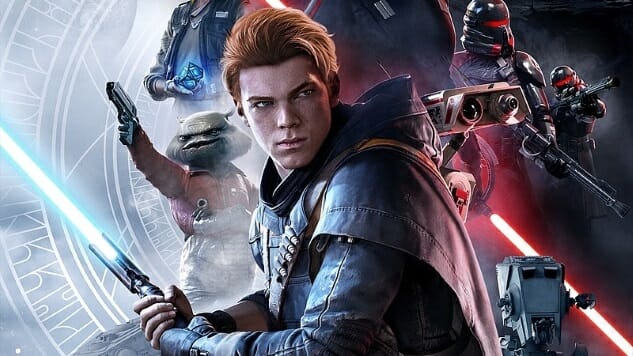 The Star Wars refuse to be contained. We've got a new movie and TV show to look forward to later this year, all kinds of books and toys and comics, and a big ol' theme park land opened at Disneyland just a week ago. And, most recently of all, we have more news about the next Star Wars videogame, Star Wars Jedi: Fallen Order, which will be out in November for the PC, PlayStation 4 and Xbox One.
Earlier today publisher EA revealed what Fallen Order will look like in action, releasing the first in-game trailer during the EA Play event. This 13-minute clip offers up a healthy amount of footage for fans to sift through from this third-person action game, which is being developed by Respawn Entertainment, the designers behind the excellent Titanfall series. Set after the prequel trilogy, in the wake of Order 66 and the official collapse of the Jedi, Fallen Order follows the adventure of a surviving Padawan as he tries to escape the Empire. He might just be a Padawan, but this guy has a way with a lightsaber, can bust out some Force moves, and has a friendly little robot strapped to his back.
If you're looking for confirmation that this new Star Wars game is, indeed, full of Star Wars stuff, this video should be very reassuring. Probably not as reassuring as the well-documented fact that Fallen Order is a single-player game, which should be a big relief for Star Wars fans who were alienated by the heavy focus on multiplayer and microtransactions in the most recent Star Wars Battlefront games. Here's a Star War you can sink your laser sword into by your lonesome, made by the team that gave us one of the all-time classic single-player campaigns in Titanfall II.
Check out the footage below, and keep an eye out for Forest Whitaker popping up as his Rogue One character, Saw Gerrera. Star Wars Jedi: Fallen Order will be out on November 15, 2019.