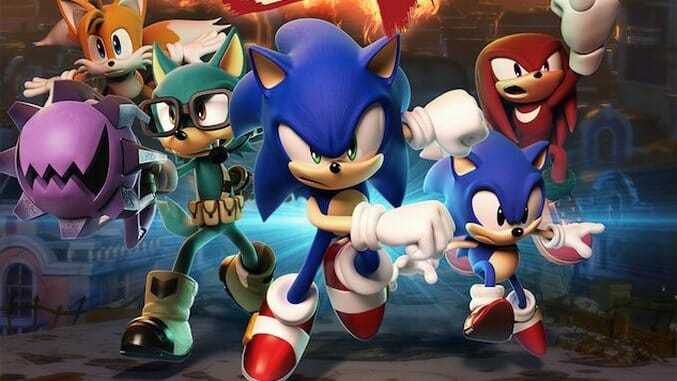 It sure is a big year for the speedy blue hedgehog. After coming off of the well-received retro Sonic Forces, Sega is refocusing on the more modern-oriented Sonic Forces, which is now set to be released on Nov. 7 of this year.
A pseudo-sequel to Sonic Generations, this game has Modern Sonic teaming up again with Classic Sonic, along with a third custom character of the player's own creation. The heroic trio is battling (as always) the nefarious Dr. Eggman, who in this game has finally succeeded in his quest for world domination. While Eggman has assembled his own team of classic Sonic villains, the Sonics do so as well to form a "Resistance." Each of the three main playable characters will have their own unique style of gameplay, similar to Sonic Generations.
In addition to the standard edition of Sonic Forces, Sega will release a physical Bonus Edition, which will include a Sonic Forces controller skin and 13 in-game character cosmetic items. This edition is currently available for preorder for $40.
Sonic Forces arrives Nov. 7! The physical Bonus edition is available now for Pre-Order, and includes a controller skin + SEGA/Atlus outfits! pic.twitter.com/04dwUFcEq4

— Sonic the Hedgehog (@sonic_hedgehog) August 31, 2017
Sonic Forces will be playable on Nintendo Switch, Playstation 4 and Xbox One on Nov. 7.