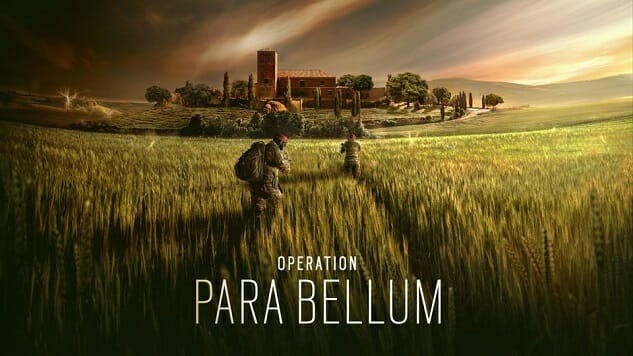 Ubisoft has revealed the details for the forthcoming Operation Para Bellum expansion, coming to Rainbow Six: Siege in June 2018. The expansion is set to be their largest content update yet, adding an all-new Italian countryside map called the Villa, some gameplay updates, and two new defending operators, Alibi and Maestro.
The two new operators come with some pretty interesting abilities that are sure to change up the dynamic of the game. "Alibi is notable for her deployable Hologram," which allows her to set up indistinguishable decoys of herself on the map. Meanwhile, Maestro is bringing along "his remote access turret, which is also bulletproof, capable of seeing through smoke, and able to fire low powered-laser beams."
Another feature coming to the update is the Pick & Ban system. This new system gives players the ability to block operator picks, forcing players to choose another. This new system, along with some gameplay updates are sure to change up the dynamic for players. These updates include:
•Deployable Bullet Proof Cameras
•New Counter Defuser Animation
•Dropshotting Adjustments
•Weapon Sight Misalignment Adjustments
•New Observation Tool Management
•Operator Speed Adjustments
•Echo Buff
•Clubhouse Map Buff
In Ubisoft's latest sales and earnings report, the company states that Rainbow Six: Siege has "more than 30 million registered players, record engagement in fourth-quarter 2017-18 and esports viewership up by approximately 300.0% for the Six Invitational." Rainbow Six: Siege has been growing strong for a while now as it enters the second season of its third year, making it one of the most popular entries in the series.
You can watch the gameplay breakdowns for the two new defending operators in the video below.