Paste Goes to the PUBG Mobile Club Open World Finals
Main image is a YouTube screenshot
Games
Features
PUBG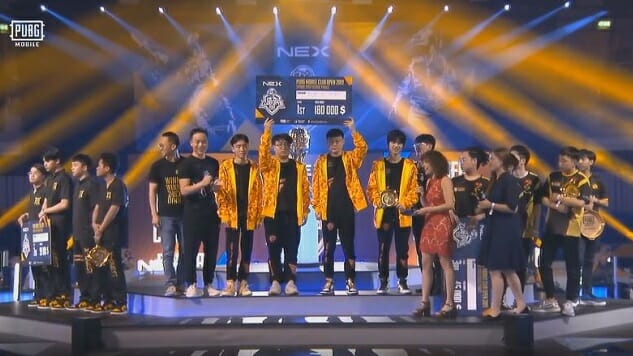 Last week the PUBG Mobile Club Open World Finals were held in Berlin, Germany. Three days of heightened competition stretched across the last weekend of July in one of the most beautiful cities on the planet. The 16 best teams from all over the world would compete for the top three places, all of which earned the position holders a big money prize—$180,000 to be exact. Beyond these basic facts, I had no idea what to expect as I boarded my seemingly days-long flight to Germany's largest city from Atlanta. Oh, I also happened to arrive on one of the hottest days Berlin has seen in ages. It was like I never left home.
I've played some PUBG Mobile here and there, and it works quite well. It is an efficiently scaled down version of the battle royale videogame that took the world by storm a few years back. But I have logged hundreds of hours in the Xbox One version and I've long watched streamers play the PC version from casual to competitive levels. So, going into this event, my main question was how will a videogame meant to be seen on a 3-4 inch screen be scaled to be seen and consumed in a big sporting event-like capacity? Well, the PUBG Mobile Club Open World Finals answered my question in a cavalcade of pyrotechnics, set design, and grounded commentary.
Day 1, and each day that followed, opened with a live music performance. Did I enjoy these performances? Nope! Did I know who any of the musicians were? Also, nope! This event did a stellar job at making this twenty-two-year-old feel old as hell. The only name I recognized on day one was NBA player Giannis Antetokounmpo, who showed up in a wash of pyrotechnics to introduce the celebrity event. It was hilarious, and the celebrity event, like everything else, worked surprisingly well.
Being a neophyte to PUBG Mobile I was genuinely worried that I would not be able to follow the flow of competitive mobile play and that everything would get lost in the deafening sounds of gunfire, shoutcasting, and exploding grenades (really, the event was so loud). But when each shoutcaster and between-match commentator was introduced I realized that PUBG Corp expected that neophytes like myself would be tuning into this. The live-commentary, though full of shorthand and words that I did not truly grasp until the last day of play, was grounded and welcoming. The between-match hosts emphasized the fun of it all, the tactics and just how much this game has permeated the eastern world. And conversely, the match shoutcasters kept all of what we were seeing on big projected screens easy to follow and, by being quite animated, easy to get into a groove of who to root for and why.
The layout of the event was also quite intriguing. There were bleachers on either side of a giant square-shaped center where the commentators/casters and players were. Each of the 16 teams had an area sunken into the showfloor where they sat and played on mobile devices, with each of the four players facing one another in a square. They had headsets to communicate and viewers were urged to view the matches on the many gigantic screens that hung above the event floor. Having the players be so easy to see made the PUBG Mobile Club Open World Finals feel all the more grounded. I could see how each team communicates—some stoic and tactical while others were more free and joking with their communication—and how teams choose to both celebrate victory and commiserate in defeat. Furthermore, with this being a mobile game, being able to see how each player held their touchscreen device was, well, absolutely wild. If the claw grip from Monster Hunter's PSP days made you balk, then these grips were wholly alien.
As interesting as the event space was, what people came from all over the world to see was riveting competitive play, and they got three days worth of some of the most intriguing competitive gaming that I've watched in years. Each of the 16 teams had their own story, their own hyper-animated fans (it felt like a wrestling show at times—posters, chants and all) and their own way of play. There were fan-favorites, but there did not seem to be any heels. Each team just seemed happy to be there and to compete at such a high level. Team Soul out of India were the clear fan favorites. Their entrance to each day's competition was met with roaring cheers and they soaked it all up. It was clear to me why players loved them—they took the energy given to them by the crowd and gave it back ten-fold. Southeast Asia's Bigetron Gaming were also clear fan favorites with folks chanting "Bigetron! Bigetron! Bigetron!" each time they won. Other teams from all over the globe had fanbases of various sizes in attendance, and it was so interesting to see so much representation from all over the world.
Spacestation Gaming was the team representing the United States. Mobile gaming has not permeated the west like it has the eastern world. Its ease of access and low-barrier to play—plus, many countries have console tariffs and bans—has made mobile gaming the biggest digital interactive medium in vast parts of the world. And fans flocked from all over. The event was a melting pot of cultures and languages that came together for something they're all passionate about: PUBG Mobile. Passions ran high in each of the three days of competition as teams ranked up and down the competition's leaderboard. Amazing plays, ranging from lucky grenade throws to last chance 1v4s, were met with cheers, applause, and the exuberant commentary of the shoutcasters.
Teams would earn points based off of two factors: getting kills and winning matches. Matches juggled between each of PUBG's maps and saw each team vying for tactical placement, the best loot and that number-one spot on the tournament leaderboard. As each day progressed, it seemed like there was no clear winner and loser. The top leaderboard spots changed as frequently as they could until the last day. The final day of competition saw everything come down to the wire. Tensions were high and the feeling of nervousness was palpable throughout the whole event space. Either China's Elite Esports or X Quest F teams seemed poised to take the number one spot. But upsets were had, kills were made and at the end of it all TOP ESPORTS was crowned victorious. The three teams shared the number one spot throughout the day, but due to two victories on that last day, TOP ESPORTS skirted its way to victory by only 20 more points than X Quest F. TOP ESPORTS' final score was 344 and X Quest F's was 324. It was about as close as it could be.
The final day's matches were played at such a high level of competition that it was incredible to watch. Some played it safe while others, in a desperate bid for points, threw everything on the line and played fast & loose to sometimes successful results. But in the end, TOP ESPORTS took the number one spot on the podium, as well as the $180,000 grand-prize. Oh, they also got super shiny jackets. Think of the Masters' jackets by way of the Jersey Shore.
Though fan favorite Team Soul never ranked very high during the tournament's entirety, they were the first team to ever represent India in an esports tournament, which is a victory unto itself. Also, their player Naman Mathur (Soul Mortal) won the PMCO Fan Favorite Player award; which further shows that team's love amongst fans all over the world.
In the end, the PUBG Mobile Club Open World Finals was a riveting experience for both veterans and newcomers alike, and one cannot help but contemplate why it hasn't permeated audiences in the west. Maybe it is due to Fortnite or the west's affinity for console and PC gaming, but the stigma around mobile games is still something that haunts the general videogame discourse on a near daily basis. If you harbor such a stigma, think long and hard about why that is and if it really is worth so much effort, and then tune into one of these events. They are utterly riveting and feel more akin to WWE matches than they do to the classic sporting events that a lot of esports try to ape. Gameplay was important, but what made this event so special was the personality and humanity that permeated every single aspect of the PUBG Mobile Club Open World Finals.
---
Cole Henry is an intern at Paste. He's on Twitter @colehenry19.