PUBG Mobile Adds First-Person Mode, Arcade Mode, Royale Pass
Images via PUBG Corp. & Tencent/YouTube
Games
News
PUBG Mobile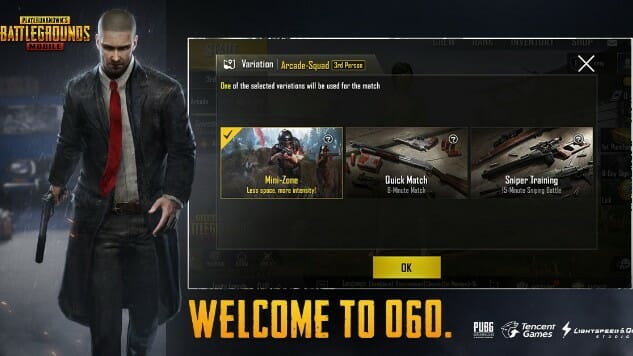 Big things are happening for those who play Playerunkown's Battlegrounds on mobile. According to Tencent Games and PUBG Corporation, new updates are coming to the mobile version of the popular battle royale game, including a new first-person mode.
The first-person mode is a new addition to the mobile version of the game, following in the footsteps of the PC and Xbox One versions. While the game is normally played from the third-person perspective, this should be a nice change of pace for players on the go.
PUBG Mobile will also see the following expansive updates:
– Arcade Mode: Mini-Zone – This all-new Arcade Mode drops 100 players into a smaller circle with triple the number of weapons. Players can expect matches to last 20 minutes.
– Armory – Players can now check out weapon statistics and compare the performance data of weapon accessories.
– Royale Pass – Players complete daily and weekly missions to earn points and increase their rank. Complete a certain number of missions every week for additional crates.
– Airplane and Weapon Finishes – The player with the highest "Royale Pass" level can now choose the finish of the starting airplane. Besides, all-new weapon finishes are now available for players to unlock and customize on mobile.
– Emotes – PUBG MOBILE now has some new gestures and movements for players to clap, taunt and laugh at opponents.
The new Royale Pass is similar to the recently announced Event Pass for PUBG on PC. The Event Pass adds more missions, levels and rewards, giving players a new way to play. The first Event Pass will arrive with the Sanhok update. Meanwhile, the new Arcade mode should fit well for players on mobile, making matches more frantic and faster paced.
The battle rages on in 2018 on PC and Xbox.

New Snow Map – Winter 2018
New Ballistic Shield
Sanhok PC release – June 22
Sanhok Xbox Release – Summer 2018

Read all the details of our #E32018 announcements here: https://t.co/awYtWr4qAApic.twitter.com/cKol0h83J8

— PUBG (@PUBG) June 10, 2018
Update 6.0 drops today and is just the latest in a line of additions to the game. With Tencent announcing that PUBG Mobile has over 10 million active users as of May, the new updates aim to satisfy an ever-growing community.
Watch the announcement trailer for PUBG Mobile's 6.0 update to get a better look at what to expect.