Another Overwatch League Player Caught Using Homophobic Slurs
Image via Blizzard
Games
News
Overwatch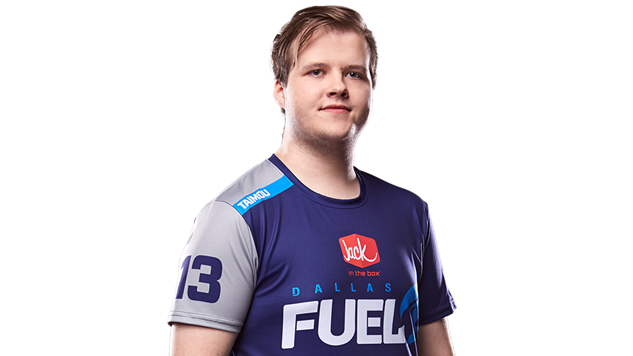 The Overwatch League is in the thick of the second stage of its inaugural season, but the league's short history has been riddled with player conduct issues, ranging from the use of homophobic slurs to racist memes, and a severe lack of response and transparency from OWL management. Now, the league is having to contend with yet another roster member using homophobic slurs.
According to ESPN, the Dallas Fuel's Timo "Taimou" Kettunen was reported to Blizzard for using homophobic slurs during a Twitch stream through its customer service support system on Jan. 23. Taimou is shown in clips from his stream calling the "appropriate parties" a "fucking faggot kid" and a "batty boy." He appeared to flippantly shrug off his comments as being "unintentionally toxic" a few moments afterward.
The report was filed to Blizzard just three days after Taimou's Fuel teammate "Felix "xQc" Lengyel told an openly gay OWL player to "suck a fat cock." Lengyel received a four-match suspension and a $2000 fine the next day, but Taimou is still yet to be punished. In fact, it appears that Fuel management were not even aware of Taimou's statements until Friday.
What is known is that Blizzard support was aware of Taimou's comments in January, but the ticket was marked as resolved and the complaint was closed in its support system. The community member who reported Taimou was later told by Blizzard support that they could not discuss "how we investigate these or what actions we will be taking from here" due to "privacy/security concerns," but assured them that "this has not been ignored."
It is unknown how early OWL management was aware of Taimou's statements, but they were made aware of them on Friday, as well. Presently, no discipline has been levied against Taimou, though he has not played for the Fuel since Feb. 21. It's a far cry from the swift response by the league to Lengyel's homophobic remarks and Park "Joon-yeong's on-camera delivery of the middle finger during a league broadcast.
Overwatch League commissioner Nate Nanzer has been criticized for not publicizing the league's code of conduct, like many other professional sports leagues that OWL claims to emulate, since Jan. 24, three weeks into the first stage of the OWL season. The league's code of conduct still has not been made public.
Quickly after the story was released, the ESPN reporter who broke the story, Jason Wolf, was confronted with his own past homophobic and racist tweets as a means to discredit him. According to Compete, ESPN is "aware and looking into" Wolf's past remarks, but that doesn't negate Taimou's statements or the Fuel's and OWL's lack of response to them.
The Overwatch League has yet to publicly comment, but the Dallas Fuel did release a statement:
In regards to the Dallas Fuel we do recognize that our players and all those in the Overwatch League are constantly under the microscope. Contact from ESPN is the first I'm aware of receiving related to what you reference below. As an organization, we strive to provide players with advice and resources to help them balance professionalism needed to compete at a league level with the individual personalities that may have gained them popularity or their own followings. As you've seen recently, we certainly do look into any situation that goes against a code of conduct befitting the team and/or league.