Nintendo Switch Sales Expected to Overtake Wii U by the End of the Year
Images via Nintendo
Games
News
nintendo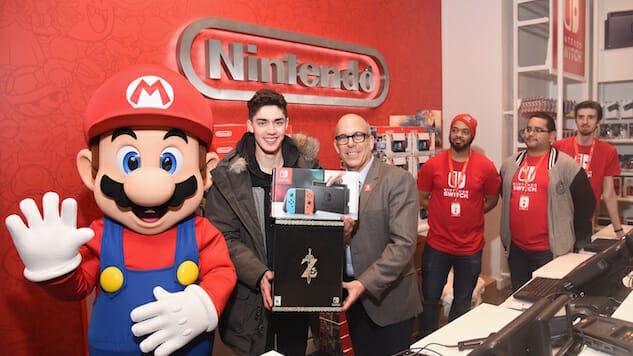 It is fair to say that Nintendo has been avoiding many of the pitfalls of the Wii U with their new hybrid console, the Nintendo Switch. Per Reuters, the company is anticipating that this will translate into sales, with the Switch expected to overtake the Wii U's low sales benchmark in its first year.
The Wii U had lifetime sales of 13.56 million units, a paltry number compared to the original Wii's first-year sales of 20 million consoles and lifetime sales of 100 million. Nintendo gave a projection of 10 million for the Switch's first year, but has since bumped that projection up to 14 million units. The console is already a little more than halfway to that target, with reported cumulative sales of 7.63 million.
The supply shortages that plagued the console's launch are easing, with the Switch much easier to find on store shelves today. Increased production of the console was a direct response to reports of its scarcity, says Nintendo President Tatsumi Kimishima. "The true power of the Switch would be tested during the upcoming holiday season," Kimishima adds, with Microsoft adding more competition with its 4K-capable Xbox One X on Nov. 7.
With critically acclaimed titles such as Super Mario Odyssey, Nintendo should expect some satisfying results during the Black Friday frenzy and the holiday season. While Nintendo is branching out to mobile, with games like Animal Crossing: Pocket Camp, Kimishima is still committing to the console business, saying that these mobile games will "increase encounters with non-gamers to stimulate console sales."
Nintendo's latest title, Super Mario Odyssey, is available now.