Nintendo Announces Numerous Forthcoming Indie Titles for the Switch
Images via Nintendo
Games
News
nintendo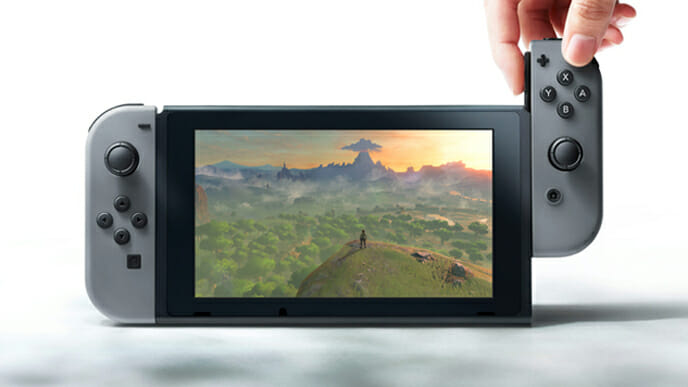 Ahead of Gamescom 2018, Nintendo has announced numerous upcoming indie titles slated for release on the Nintendo Switch. These titles—some new and some old—will all be available to be played on the show floor, and according to the video, fans can expect more Nintendo news at Gamescom. Here is the list of the games included in the highlights.
Night Call
This title is developed by Raw Fury and will release in early 2019. You play as a cab driver who secretly operates as a detective to aid the police of Paris in investigating potential serial killers. The trailer shows a variety of dialogue options that you'll choose from to interrogate numerous characters sitting in the backseat of your cab.
Monster Boy and the Cursed Kingdom
This is a puzzle platform game developed by FDG Entertainment and releasing on Nov. 6. The trailer features an energetic song as it shows the protagonist, who can transform into a variety of monsters, exploring the game's world and engaging in fights with enemies small and large.
The Gardens Between
This surreal puzzle game involving time control has gorgeous visuals and is being developed by The Voxel Agents. It will release on Sept. 20.
Streets of Rogue
Developed by Matt Dabrowski and published by Tynibuild Games, this is a "brilliantly barmy brawler" that releases in winter of 2018. You can fight, sneak and hack your way through randomly generated cities, and you won't need to do it alone—the game features four player co-op.
Bad North
This is another game developed by Raw Fury, and is available right now. Defend your home island from Viking invaders in this "brutal real-time tactics" rogue-like. The trailer shows the player commanding their troops, and upgrading them with skills and weapons.
Moonlighter
Developed by Digital Sun and published by 11 bit studios, this title will release in the fall. The trailer shows the protagonist, who is an innkeeper by day and warrior by night, in this action RPG with rogue-like elements.
This War of Mine
This popular game is developed by 11 bit studios and will be ported to the Nintendo Switch in November. The trailer depicts a war-torn world that is portrayed in detailed graphics, accompanying it with the slogan, "In war, not everyone is a soldier," alluding to how you play as a civilian instead of a soldier.
Children of Morta
This title is currently in development by Dead Mage and will be published by 11 bit studios. Releasing in early 2019, this action RPG that takes place in a colorful fantasy world with beautiful retro pixel art will allow you to create a family lineage.
EVERSPACE
This game is developed by Rockfish Games and will release in December. Play as a bounty hunter in a rogue-like space shooter with vibrant colors and the ability to customize your ship. The Stellar Edition includes the base game and the Encounters expansion.
Baba Is You
Developed by Hempuli and releasing in autumn, this tricky puzzle game operates on the belief that you "don't just make the rules, you are the rules." You'll need to flex your puzzle-solving skills, as this quirky-looking game has over 100 levels that players can look forward to.
Slay the Spire
An extremely acclaimed game with a 10/10 rating on Steam from Early Access players, this is developed by MegaCrit Games and will be published by Humble Bundle for the Nintendo Switch in early 2019. Although it is another rogue-like dungeon crawler on this list, it distinguishes itself through its card deck-based gameplay.
Windjammers and Windjammers 2
Both of these titles are developed by Dotemu. The first game is releasing on Oct. 23 and its sequel will release sometime in 2019. The Neo Geo cult classic will make its way to the Switch before the newly announced sequel so that fans can warm up in anticipation.
Terraria
This title, developed by Re-Logic, is a popular adventure game that has sold over 12 million copies and will be ported to the Nintendo Switch sometime in 2019.
Prison Architect: Nintendo Switch Edition
One of the most interesting titles on this list is developed by Introversion Software and already available. The game, which was originally released in 2015, has you manage your own correction facility. Your job is to secure the prison, look after your inmates and ultimately help rehabilitate them into becoming productive members of society. The game also has a story mode that explores the nuances of the prison system. Fans can look forward to two expansions and an add-on pack to be released later this summer, in which you play as an inmate who seeks freedom from the prison.
Morphies Law
Last on the list is a team-based online shooter developed by Cosmoscope and available today as of 1 p.m. ET. Control Morphies that were given one purpose by humans: to grow as big as possible. The more you shoot, the more powerful you become and the closer you get to achieving a titan-like scale. The game features 4v4 online multiplayer and eight-person local multiplayer, with offline play against bots.
Watch the video showing all these titles below.