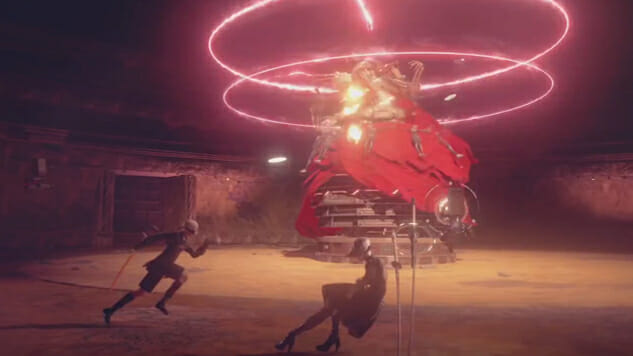 NieR: Automata was released last year to critical praise and academic interest alike while managing to sell pretty well, too. For a videogame that it is as heady and repetition-focused as NieR: Automata, its success is a testament to the originality and focus of creator Yoko Taro's vision. That being said, since the game's initial release last year, it has only been available on PlayStation 4 and PC. That changes today—Tuesday, June 26—as NieR: Automata is now available on Xbox One via the NieR: Automata BECOME AS GODS edition.
Recently announced during Microsoft's E3 showcase, the BECOME AS GODS edition includes the base NieR: Automata experience, along with all of the game's previously released downloadable content and new cosmetic options for the playable characters, 2B and 9S.
NieR: Automata takes place in a distant future in which mankind has moved to the moon and Earth is only populated with AI lifeforms, all with varying degrees of sentience. One day, otherworldly invaders attack Earth without warning and, in response, a new breed of android infantry is sent into the fray to combat said invasion. That is the core story in the broadest of strokes, as NieR: Automata deals with some existential topics that are both shocking and intriguing in their relevance, and the story is delivered in such a way that the game requires multiple play-throughs to experience it in its desired entirety. Finally, Xbox players can experience this interesting and thought-provoking title.
NieR: Automata BECOME AS GODS is available now available for digital download on the Microsoft Store. Check out the launch trailer for it below.