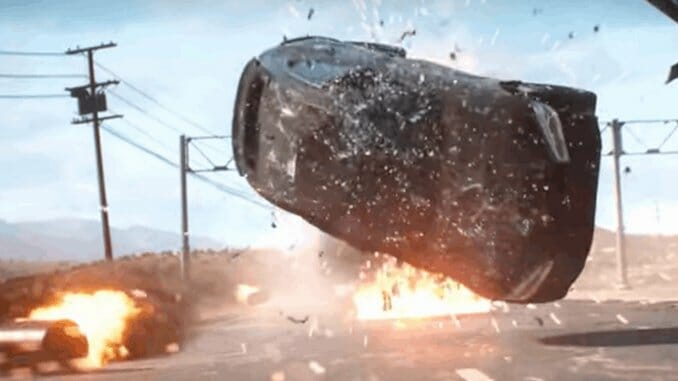 After their underwhelming reboot two years ago, EA looks to reclaim gamers' goodwill with a new iteration of the long-running Need For Speed franchise. Along with the trailer, it's been announced that the game will officially be called Need For Speed Payback and will come out on Nov. 10.
The release trailer focuses on the three playable characters—Tyler, Mac, and Jess—who are really upset about some sort of betrayal. As the clip goes along, we're treated to several slow-motion car crashes and streets on fire. The trailer is gorgeously rendered and showcases beautiful vehicles screaming away from the cops.
Fully embracing the Fast and Furious comparisons, EA claims the game will be full of "intense heist missions, high stakes car battles, epic cop pursuits, and jaw dropping set pieces." Players will be pitted against The House, "A nefarious cartel that rules the city's casinos, criminals and cops,"— in an epic tale of revenge and smashing cars into each other. The game is set in the fictional Fortune Valley and will reportedly feature the deepest customization the franchise has ever offered players.
Gamers who preorder the regular edition will receive a Platinum Car Pack and access to five cars at launch, each of which is outfitted with "Platinum Blue Tire" smoke. The five cars are:
– Nissan 350Z 2008
– Chevrolet Camaro SS 1967
– Dodge Charger R/T 1969
– Ford F-150 Raptor 2016
– Volkswagen Golf GTI Clubsport 2016
Preordering the Deluxe Edition still gets you the Platinum Car Pack but throws in a bunch of other bonuses such as more customization items (like a license plate and NOS color), and even some in-game discounts and XP bonuses. You'll also get the chance to start tearing up the roads three days earlier than the jerks who just buy the game from the shelves.
Check out the launch trailer above.