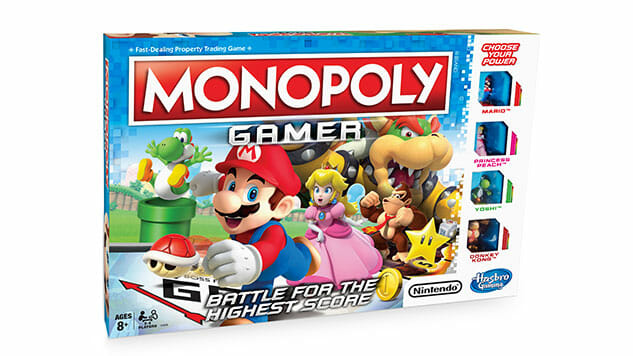 Monopoly is no stranger to themed boardgames, and Hasbro's latest iteration, Monopoly Gamer, is just that but with a sheen of everyone's favorite crimson plumber, Mario.
The concept is still the same—you'll duke it out with your pals, running around and around the board to buy property and get those coins, but here's the twist: special powers and boss battles. The player at the end of the game with the most coins and points wins.
During your trek as Mario, Donkey Kong, Princess Peach or Yoshi, each character will have a special power to call their own. For example, Princess Peach has the "Super Star" power, which allows her to collect rent from the bank when she lands on the corresponding space. And did we mention power-ups? There's a whole new die for that. Fire flowers, anyone?
If the original cast isn't enough for you, you'll be able to add to your repertoire of characters with power packs featuring Luigi, Boo, Rosalina, Wario, Diddy Kong and more. These will be sold separately for $2.99.
The standard version of the game will be available everywhere starting in August, but starting today, you can catch the collector's edition with an exclusive Bowser character token at GameStop for $39.99.