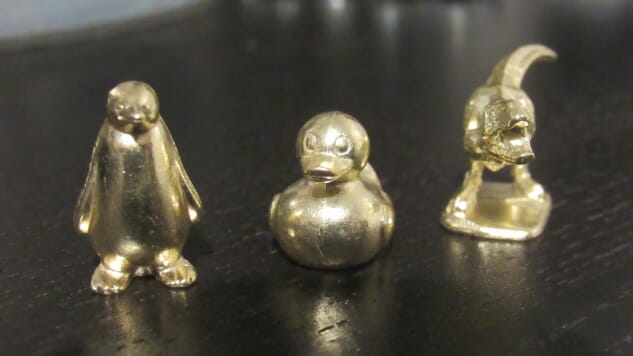 Monopoly purists have been dreading this day for months: the results of January's Monopoly Token Madness vote are out, and some old favorites are getting the boot.
Including, yes, the boot.
We knew the thimble was on its way out, after decades of unwavering service. Hasbro has now announced the full line-up of tokens that will be launching later this year, and two other classic tokens are leaving alongside the thimble. If you're used to picking the wheelbarrow or boot, you'll want to find a new favorite—the two iconic tokens have been part of the game since 1937, but will be replaced in the new version being released this fall.
Perhaps you'll find your new regular piece among the three new tokens being added to the game? If you're a big fan of penguins, rubber duckies and T-rexes, you're in luck: those are the three new pieces.
The full list of winners of the Monopoly Madness Vote, which let fans from over 100 countries vote for their favorites from a list of 64 contenders (including all the classic tokens), includes some of the tokens most associated with the game. The top hat emerged from the scrum unscathed, as did the battleship and racecar, all three of which have been staples since 1937. The Scottie dog didn't arrive until 1942 (apparently he had nothing to do with his master now at war) and isn't going anywhere. The cat, which replaced the iron in 2013, is still kicking. Those five will be joined by the three new tokens later this year.
Hasbro is conveniently announcing all of this just a couple of days before World Monopoly Day, which is apparently a real thing happening this Sunday, March 19, even though the birthday of the game itself is Feb. 6. No doubt you'll be able to find a variety of fun Monopoly celebrations at your local town square or village green this Sunday.
Here are photos of the three new tokens, along with the full current line-up that'll be in games this fall.