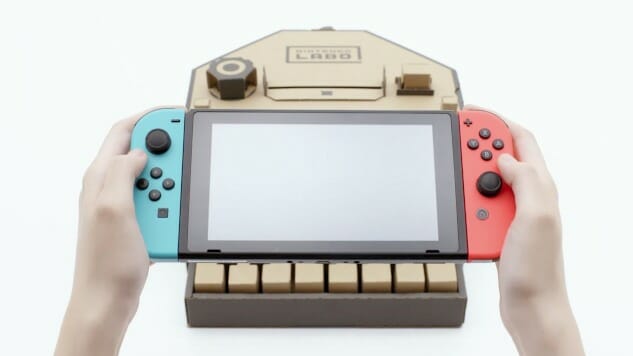 Here's what the game world has on tap for April: the surliest son of a bitch in videogame history returns, presumably to be a total dick to his son. One of the most pinball-appropriate metal bands finally get their own pinball machine. A beautiful and absurd Japanese crime epic adds a new chapter. And Nintendo tells us it's cool to play with boxes, as long as those boxes do neat interactive things with videogames. April's going to be one weird month for games, basically, and we absolutely can not wait for any of it. Here's what we're most excited for in April.
5. God of War
Release Date: 4/20
Platform: PlayStation 4
Even gods of war grow up. And Kratos had a ton of growing up to do, after throwing a decade-long tantrum that resulted in the graphic dismemberment of basically every Greek god. Now that he has a beard and a son and no Greek gods to kill anymore, he's sailed his vengeance boat over to the colder, moodier waters of the Norse gods, who he'll no doubt carve up in luridly detailed ways soon enough. Will the addition of a young son and a beard give this God of War the kind of depth missing from the earlier games? Or will this latest example of daddening up a videogame be just as grisly and, uh, misogynistic as it's been in the past? Hey: we'll find out soon enough.
---
4. Minit
Release Date: 4/3
Platforms: Xbox One, PC, PlayStation 4
Minit looks like the original Zelda drained of all color, with some kinda duck looking guy wandering around with a sword getting into all types of mischief. There's a catch, though: every 60 seconds our young duck friend kicks the bucket, and you have to start over again from the beginning. The stuff you've done stays done, though, so you now have another minute to add on to your accomplishments and finish the quest. It's a classic adventure broken up into discrete and easily manageable chunks of time—an interesting experiment in form with a cool aesthetic.
---
3. Iron Maiden: Legacy of the Beast
Release Date: April
Platform: Uh, it's a pinball machine. Check whatever arcades or bars in your town have pinball soon.
Iron Maiden might not seem as big a band as the others who have recently starred in Stern pinball machines—namely, Metallica, Aerosmith and AC/DC. They're probably better, though? Or at least more fun, and more appropriate for a pinball machine, considering how awesomely ridiculous their whole image is. Almost every single one of their album covers already looks like pinball backglass art, and their skeleton mascot Eddie could've come straight off a late '70s machine. And songs like "The Number of the Beast," "Run to the Hills" and "The Trooper" will provide a propulsive soundtrack perfect for pinball. I'm not even a huge fan of the band but I can't wait to try this one out.
---
2. Yakuza 6: The Song of Life
Release Date: 4/17
Platform: PlayStation 4
The cult of Yakuza grows steadily in the west, with last year's American releases of Yakuza 0 and Yakuza Kiwami getting even more rapturous praise from the press than previous installments. Yakuza 6 promises more of the open-world freedom (and occasional absurdity) that's made Yakuza such a cult hit. With the ability to just kind of hang out and do what you want to do, from playing old Sega games in arcades, to hitting up batting cages, to just screwing around online, the Yakuza games are as much about simulating life as they are letting you explore a life of Japanese crime. Of course it's a simulation of an exceedingly bizarre life, one that involves lots of punching (and, in Yakuza 6, apparently mixing it up with some of New Japan's best wrestlers), but it's that open-ended sense of possibility, along with a quirky sense of humor, that makes these games so good.
---
1. Nintendo Labo
Release Date: 4/20
Platform: Switch
Nintendo's cardboard construction kit might look more like a toy than a game, but I've got some news for you, buster: all games are toys. The toy vs. game thing is an unnecessary distinction, especially when we're talking about Labo, which is like a sub-platform for the Switch that lets you turn your console into a variety of different tools that interact with original software. One kit lets you turn the Switch into a piano, a fishing rod, and the handlebars of a motorcycle. Another turns into a makeshift suit that lets you control a big brawling robot on the screen. Labo is a fascinating turn from Nintendo, who have always tried to find new and whimsical ways to play with videogames. If any developer has ever proven that all games are toys, it's clearly Nintendo, and if Labo works it could open up fascinating new vistas for videogames.
---
Garrett Martin edits
Paste
's comedy and games sections. He's on Twitter @grmartin.