Konami Releases Launch Trailer for Metal Gear Spinoff Metal Gear Survive
Images via Konami Digital Entertainment
Games
Video
Konami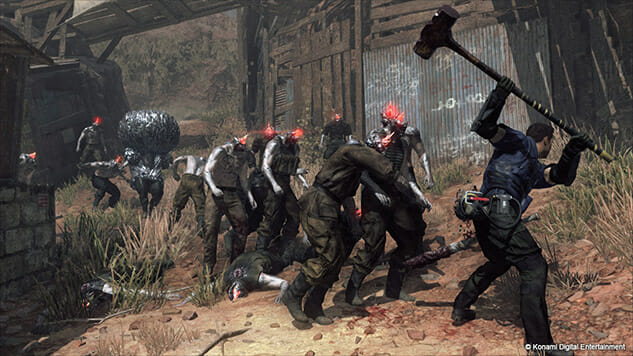 The day Metal Gear fans have been anticipating has arrived, as Metal Gear Survive was released in the U.S. today, Feb. 20. To celebrate the game's U.S. release, Konami unleashed the action-packed trailer above.
As seen in the trailer, players become a lone soldier trying to fend off zombielike creatures while protecting and upgrading the Mother Base. Survive introduces a new element to the Metal Gear series: a single-player mode. According to Konami, players can "explore a strange ruined world" while seeking "answers and a way to return home." Fans still get to team up with other players and friends for missions in the co-op multiplayer mode, like the previous games.
Metal Gear Survive has a lot riding on its success, since it is the first release in the celebrated franchise since the departure of creator Hideo Kojima in 2015. Metal Gear Informer points out that, unlike previous installments, the game will not be cross-generational by being available only on Xbox One, PlayStation 4 and PC. The game was produced by Metal Gear veteran Yuji Korekado along with Masahiro Ito (of the Silent Hill series) creating the creatures in the game.
The game is available both digitally and physically for $39.99, but players must have an internet connection to play the game.
Along with the U.S. release, Metal Gear Survive will be released on Feb. 21 in Japan and Feb. 22 in Europe.
With this latest entry, Konami must prove that Metal Gear can survive without Kojima's talent and direction.