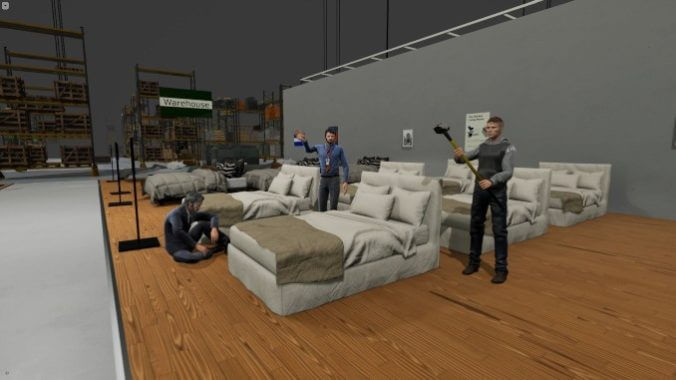 The Scandinavian furniture chain IKEA has issued a cease and desist letter to the developer behind a co-op horror game called The Store Is Closed, which they allege bears a likeness to their brand. As reported by Kotaku, IKEA's lawyers are arguing that because press outlets have drawn comparisons between the setting of the game and the store, it infringes their copyright. They have given solo-developer Jacob Shaw only 10 days to "remove all indicia associated with the famous Ikea stores."
The Store Is Closed is an upcoming survival co-op that takes place in an "infinite furniture store" based on the collaboratively written SCP wiki, where players build up fortifications to survive waves of enemies. It is currently on Kickstarter and has raised a little over $60,000.
As for the accusations of copyright infringement, the letter said, "Your game uses a blue and yellow sign with a Scandinavian name on the store, a blue box-like building, yellow vertical striped shirts identical to those worn by IKEA personnel, a gray path on the floor, furniture that looks like IKEA furniture, and product signage that looks like IKEA signage. All the foregoing immediately suggest that the game takes place in an IKEA store."
According to Kotaku, who received an early build of the title, this blue and yellow sign and the exterior of the building only appear in the menu. As for similarities with the furniture, Shaw says he used a generic furniture asset pack, and any similarities here are coincidental. Most importantly, the game itself and its official marketing never use the term IKEA, which seems to be why the company's lawyers had to cite press outlets' coverage, which Shaw obviously has no control over, as the grounds for their cease and desist.
Regardless of the veracity of their legal claims, IKEA is a multibillion-dollar company that can fight a potentially costly legal battle against Shaw. As he told Kotaku, "I was going to spend the last week of my Kickstarter preparing an update for all the new alpha testers. But now I've got to desperately revamp the entire look of the game so I don't get sued." Whether IKEA would actually press charges with this seemingly flimsy legal argument is unclear, but it doesn't seem as though Shaw has the luxury of finding out.