Get a First Look at "Ghost Mode," Hitman 2's Competitive Multiplayer Mode
Images via Warner Bros. Interactive Entertainment/YouTube
Games
News
Hitman 2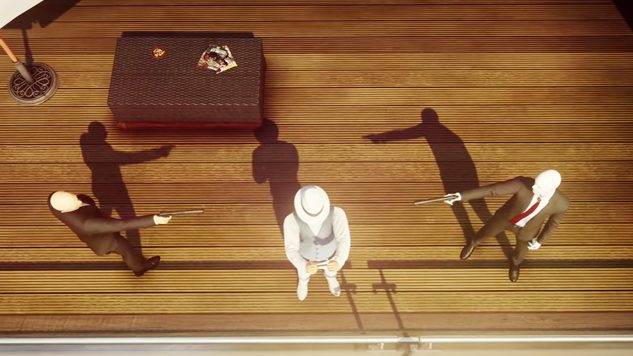 The Hitman franchise is expanding in more than just the areas you can traverse. For the first time in the history of the videogame series, a competitive multiplayer component will be included in the forthcoming game.
On Friday, Warner Bros. Interactive Entertainment unveiled "Ghost Mode" for Hitman 2. It is a competitive mode in which you compete against one other person, trying to be the first to get five assassinations. Both players start with the same time at the same point, with no weapons at their immediate disposal. Targets are randomly selected every time so every competition will be unique. Use tactics you would use in the single-player campaign—like using disguises in order to infiltrate a setting and take out your target—to win against the other person, whom you will see as fully white and hence a seeming "ghost" version of Agent 47.
If your opponent secures a kill, you'll have a limited time to react. You have to be careful, though, because if you get spotted, your kill won't count. It's interesting to note that if things do get messy, the other person isn't affected by your chaos; you exist in "separate realities," according to the reveal trailer. Your opponent is "free to advance like a ghost."
Upon Hitman 2's launch, Ghost Mode will be playable on the Miami, Fla., location. The mode will be available for other locations post-launch.
Watch the trailer for Ghost Mode below. Hitman 2 will be released on Nov. 13 for PC, PlayStation 4 and Xbox One.