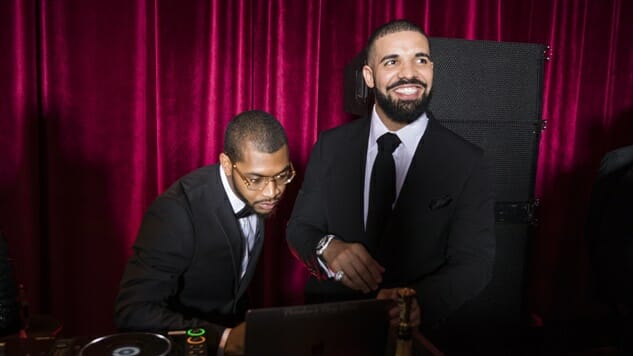 Tuesday night saw the reunion everyone wanted, even if they didn't know it: Drake and Ninja streamed some more Fortnite together. They didn't break Twitch this go-round, but there was plenty to unpack, including something that could alter the game itself.
The night kicked off with Drake losing a $5,000 bet to Ninja after the prolific streamer led the duo to victory. "I'm a man of my word, I got you … send me the info," said the Toronto-based rapper, preparing to fork over a cool $5,000 to his partner.
.@Ninja was always going to win that $5K, @Drake. ???? pic.twitter.com/mzsV8aUC5k

— B/R esports (@BResports_) April 11, 2018
The real news came afterward, when Drake revealed that one of his collaborators, producer Murda Beatz, is already experimenting with sampling Fortnite for use in future tracks. The fact that Drake is currently working on a new album led to the conversation shifting to his interest in rapping about the game itself. "It has to happen, it's just gotta be the right way," said Drake.
Before committing to the game's inclusion in his latest bars, Drake laid down the gauntlet to Epic, declaring, "I say when Epic give me the emote, when Epic gives me the 'Hotline Bling' emote, I'll do it. Until then, I'm on strike." He isn't the first to clamor for the goofy, yet celebrated dance moves exhibited in the "Hotline Bling" music video. Many fans have pelted Epic with requests for an emote.
Epic told Kotaku it has no comment on the rapper's request, but the developer has a history of giving fans what they want and embracing the laughably strange developments its community has created within the game. If they were willing to embrace rocket riding, it's hard to argue against the eventual inclusion of some meme-worthy dance moves.
The ball is in Epic's court now.