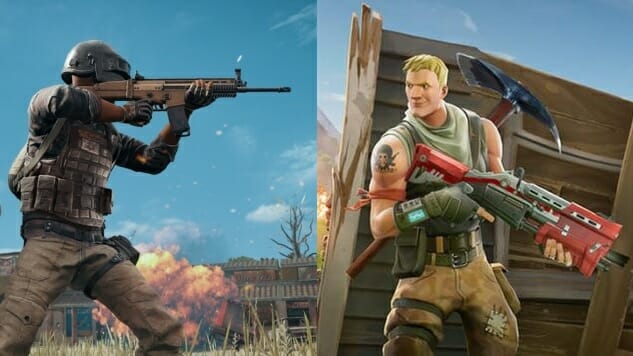 The biggest game in the world, Fortnite Battle Royale, has found itself on an unfamiliar new battleground: South Korean court. PUBG Corporation, the developers of Playerunknown's Battlegrounds, filed a copyright protection suit against Fortnite's studio Epic Games in January, the Korea Times has reported. PUBG alleges copyright infringement against Epic Games, who turned its free-to-play game Fortnite into a mainstream phenomenon on the level of Minecraft or Pokémon Go after introducing a battle royale mode similar to Playerunknown's Battlegrounds. Both games are multiplayer shooters that pit 100 players against each other in a scenario similar to the movie Battle Royale, with only one player emerging victorious at the end of the game.
Playerunknown's Battlegrounds quickly became a smash hit on Steam after being released in Early Access in March 2017, breaking records for player count within a few months and dominating the viewership stats on the live streaming site Twitch. Fortnite was originally launched as a free-to-play co-op shooter in July 2017, but exploded in popularity after Fortnite Battle Royale was released in September 2017. Fortnite's mainstream success eventually dwarfed Battlegrounds, attracting more players with its free-to-play model, widespread availability on most major platforms, and more accessible art style and aesthetic. By March 2018 Fortnite Battle Royale was the most popular game on Twitch, and when an iOS version was released in April 2018, it reached a new level of popularity. Playerunknown's Battlegrounds is still a huge success, with over 40 million copies across all platforms, but it can't match the ubiquity of Fortnite Battle Royale.
PUBG's parent company first commented on the similarities between the two games shortly after Fortnite unveiled its battle royale mode in September. Core game mechanics can't be copyrighted, but according to that Korea Times article, PUBG was looking at similarities in user interface and "core elements" between the games. They didn't file suit until January, though, which is the same month that Epic Games announced a deal with Neowiz Games to expand Fortnite Battle Royale's presence in the Korean market.