Dragon Ball FighterZ's Newest DLC Fighters Get May Release Date
Two more superpowered beings enter the fray
Images via Bandai Namco
Games
News
Dragon Ball FighterZ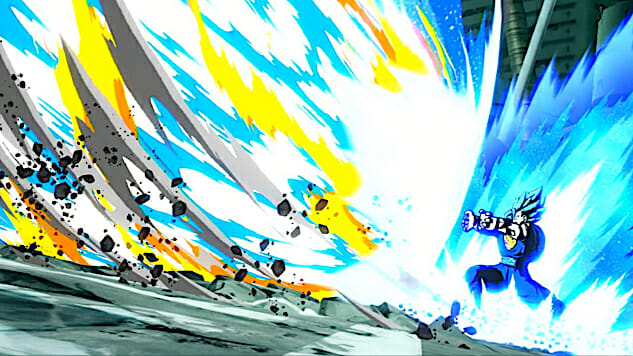 Dragon Ball FighterZ's already well fleshed-out roster is about to include two more punchy fighters with very anime names, Fused Zamasu and Super Saiyan God Super Saiyan Vegito. Both fighters will be available on May 31 as standalone purchases or as the newest additions to the purchasable FighterZ Pass, the game's season pass. Bandai Namco U.K.'s tweet that broke this news also features some hi-res screenshots of SSGSS Vegito in action, once again highlighting just how beautiful and true to the anime's bombastic style Dragon Ball FighterZ is. The only glimpse at Fused Zamasu in these images is the corner of his face as Vegito lays a super-powered fist into it. Yet, both characters have already gotten reveal trailers that showcase them in the chaotic action of the team-based fighter.
A new battle of gods is about to begin in #DragonBallFighterZ…Here come SSGSS Vegito and a sneak peek of the dramatic scene with Fused Zamasu!

Both Fused Zamasu and SSGSS Vegito will be available on 31st May as stand-alone or in the FighterZ Pass! pic.twitter.com/u1wzzr582W

— Bandai Namco UK (@BandaiNamcoUK) May 21, 2018
If the implementation of these new fighters equals that of previously released downloadable content fighters (Bardock and Broly) and Dragon Ball FighterZ's initial roster, then fan service, easter eggs and lore-based finishing moves will give players even more to dig into and discover.
Dragon Ball Z is an important property to an entire generation of players and anime fans alike, and Arc System Works seems to understand this, as their game is fan service of the utmost and unmatched quality in the realm of videogames. Dragon Ball games have ranged from downright atrocious to decent at best, and Dragon Ball FighterZ bucks this trend by being an amazing fighting game for hardcore fans and fighting game fans alike. There is a reason this game has shaken up the fighting game community more than anyone could have ever expected—it is pretty dang great.
Check out the reveal trailers for SSGSS Vegito and Fused Zamasu below.