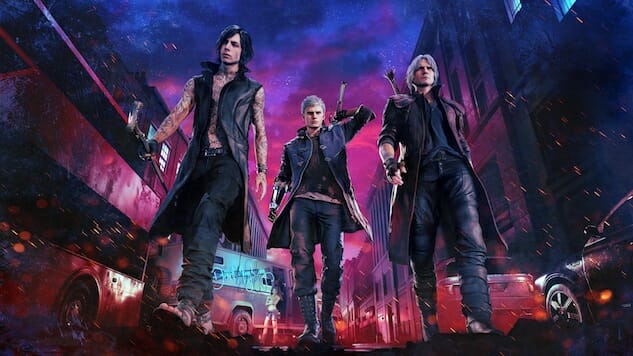 At the Tokyo Game Show on Wednesday, Capcom released a new trailer for its forthcoming Devil May Cry 5. It's a violent escapade through a bit of the gameplay, as well as the cinematics; Dante slices through demons, catches up with old friends and meets new ones, heavy metal blaring throughout. In a press release, Capcom describes the game as Dante's most over-the-top adventure to date.
For those who haven't already seen anything from the game, see Dante's motorcycle as evidence. In the trailer, it splits into two parts that become … blades, or axes or clubs, or something? Regardless, Dante is using his motorcycle to beat the devil out of all the baddies in his way and it's gnarly.
Also playable are Nero, Dante's demon hunting buddy, and V, a new character who Capcom says will be fleshed out over the next few months. So far, all we know is that V is a new client that speaks totally in poetic verse. Each character will feature a unique gameplay style, so there should be some variety in combat.
Those ready to preorder Devil May Cry 5 can check out the deluxe edition, which includes Nero's Devil Breaker and Mega Man-inspired Arms, the option to replace in-game cutscenes with live-action versions, as well as other yet-to-be-announced goodies, per Capcom's release.
Devil May Cry 5 will be playable Mar. 8, 2019 on Xbox, PS4 and PC.
Watch today's new trailer here.